Brad Paisley is an American hero, with 3 Grammy's, 14 Academy of Country Music Awards and 14 Country Music Association Awards, it's fair to say he is the main man of American Country music. As a long time user of Fender Telecasters, what better way to honour one of the highest grossing artists on the planet than with a new signature Tele.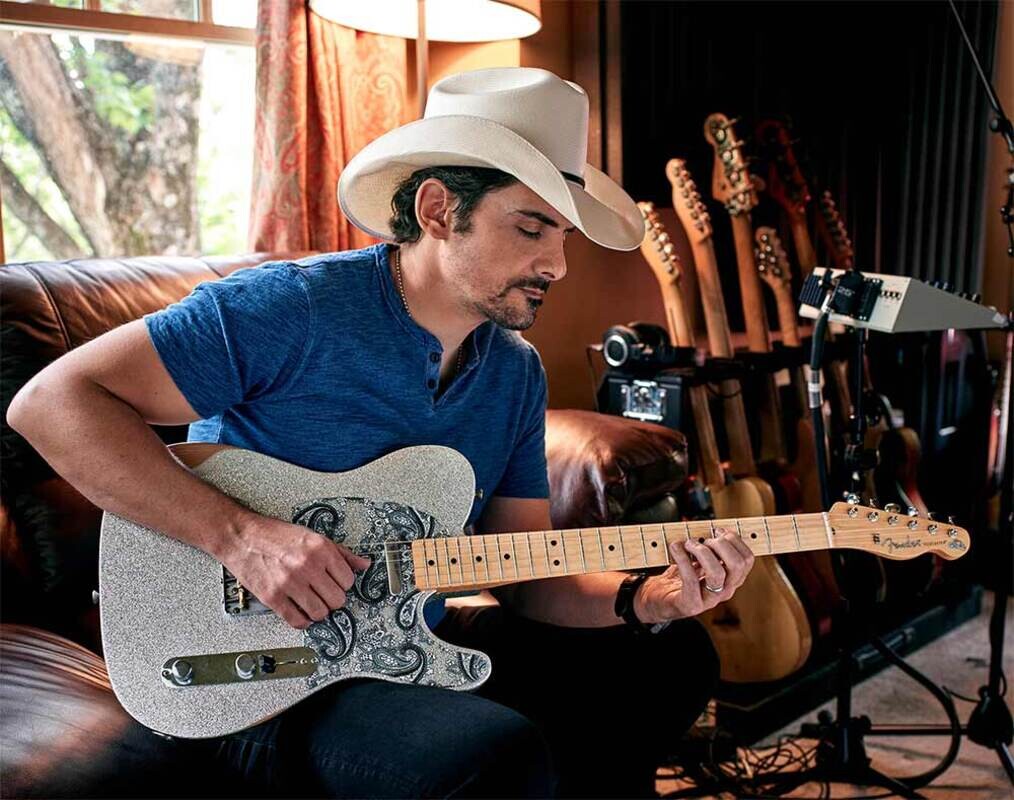 The Brad Paisley Road Worn Telecaster is a limited run that brings all the boot stompin', whiskey sippin' swagger that Paisley is known for but in a road ready package that is suitable for players of all levels.
Inspired by Paisley's favourite '63 Tele, a guitar that was toured extensively and refinished in the same majestic Silver Sparkle, the Road Worn Brad Paisley finish has been designed to give the guitar the same natural feel of worn in nitro lacquer. Not only does this feel super comfortable but it allows the wood to breathe and resonate freely, delivering knock out tone every time you hit the stage. With the appearance of a guitar that is fresh off the touring trail, the Brad Paisley Road Worn Tele is the perfect blend of authentic vintage appeal and modern functionality.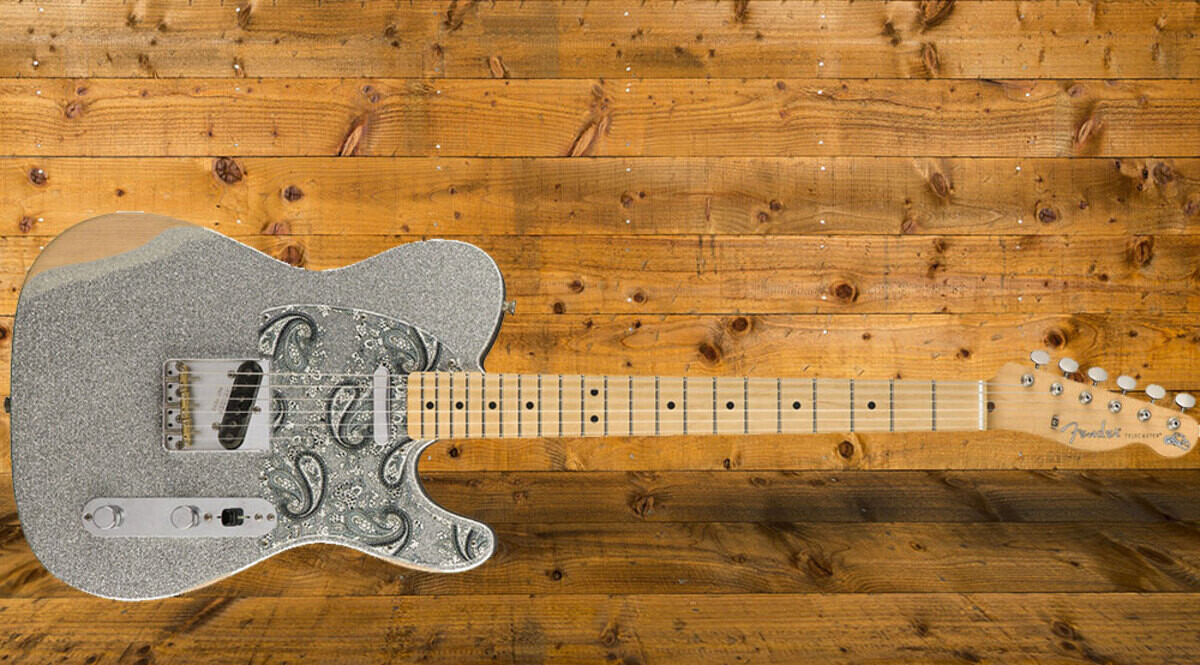 The Spruce/Paulownia/Spruce body offers a unique tonal platform; with an acoustic like resonance it is lightweight and solid, the perfect workhorse guitar. With a clear custom pickguard that features black and silver paisleys this guitar has some serious country mojo! With a cowboy insignia on the headstock, there's no question over who this guitar was designed for!
The lush Maple neck has an "Enhanced V" profile and is designed to comfortably fit your hand, filling out towards the nut for easier chord fretting while flattening out further up the neck for greater comfort while soloing. The oiled Road Worn neck finish adds to the played in aesthetic, it looks great and feels smooth and less sticky under hand. The modern 9.5" radius and 21 medium jumbo frets offer supreme comfort and playability and are perfect for big brash chords and fleet fingered solos!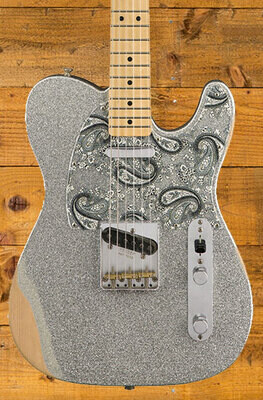 A powerhouse Tele like this needs a pickup set that is going to deliver a killer punch. Selected and approved by the man himself, the Brad Paisley Road Worn Tele features a custom wound '64 Tele bridge pickup paired with a Custom Shop Twisted Tele at the neck. This beautifully matched pair gives classic country twang but with extra warmth and bite, it's a great example of what a Tele should be, versatile, reliable, comfortable and ready to hit the road, hard!
For that authentic Paisley country spank, why not pair your Brad Paisley Road Worn Tele with a Dr Z amp? The DB4, Carmen Ghia, Remedy and Z Wreck all feature prominently in Paisley's live rig and help to sculpt that Grammy Award winning tone. It's a tone match made in heaven!