Gather round and I'll tell you a tale of Peach Guitars, it's a story of heroism, stoicism, and premium guitar retail experiences. Long ago back in 1991 a chap named Derek Peach opened a little guitar shop in the Blake End Craft Centre outside Braintree, at this time he was known for selling metal detectors as much as guitars, which makes about as much sense as a product pairing as those people that cut keys and do shoe repairs for some reason.
Derek took on a keen local lad and blues guitarist to work in the shop by the name of John Priest. John worked tirelessly for Peach and slowly they stopped doing metal detectors and started just focussing on the instruments. After a brief stint working out on the road for a distributor John returned home to Peach, and when Derek decided to retire, John's dad Alan stepped in and together John and Al took over Peach Guitars to run as partners.
Fast forward a few years and the little Braintree shop has expanded to take on the best brands in the industry, and even some that are exclusives to Peach. Word spread about, and Peach became known as a retailer of high end boutique gear, excellent customer service, and a penchant for doing things a little differently.
Recently Peach guitars expanded outwards and took on a huge unit in Colchester, which was intended to serve more modest to midrange price points to fill in the gaps of what we could never fit in at the smaller Braintree store. This was a success, but a combination of the place looking like an old soviet era factory, plus the lack of heating, led Peach further in search of the perfect shop.
As of 2017 Peach has now been trading under the current Priest management for over 10 years, and finally we've found our forever home. Both old shops in Braintree and the Cowdray centre Colchester have been closed to be replaced with one guitar super store on the Severalls industrial estate just off the A12.
With genuine, friendly advice and a desire to help you find your perfect instrument in a relaxed environment, Peach stands apart from guitar shop attitudes you may have previously suffered!
The Peach team work very hard to offer the very best customer satisfaction, from meticulously inspecting each piece of equipment, professionally setting up each guitar, tracking every package, and bending over backwards for after-sales customer service.
John Priest
John is one of the company directors and has been involved with Peach since 1998, so the things that he doesn't know about the products we sell, aren't worth knowing, sometimes he knows too much, quite sad really.
John handles a lot of our top end sales. On regular trips to the USA, when attending the NAMM show, or seeing his friends at Suhr, PRS, Gibson Custom and Taylor guitars to name but a few, he'll often hand pick beautiful figured woods for our own special run guitars.
Chris 'Jeff' Jinno
We still haven't worked out what he is....
However, he's mainly found in the office, taking photo's for the website, working on the website or eating.
Big Al Priest
Customer Complaints Department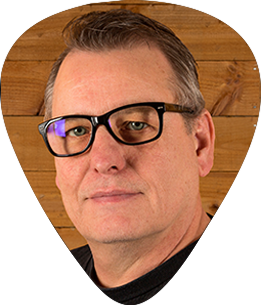 Will
Will is the resident Peach IT geek, concentrating in maintaining order in our vast stock system and creating products and content for the website, along with occasional photography duties, and joining in on the Blogging and social media side of things too.
He can be mostly found buried under of a mountain of paperwork hidden out the back.
Ryan
Ryan is our Master of listings, you'll usually find him glued to his PC writing delicious content about our latest incoming gear.