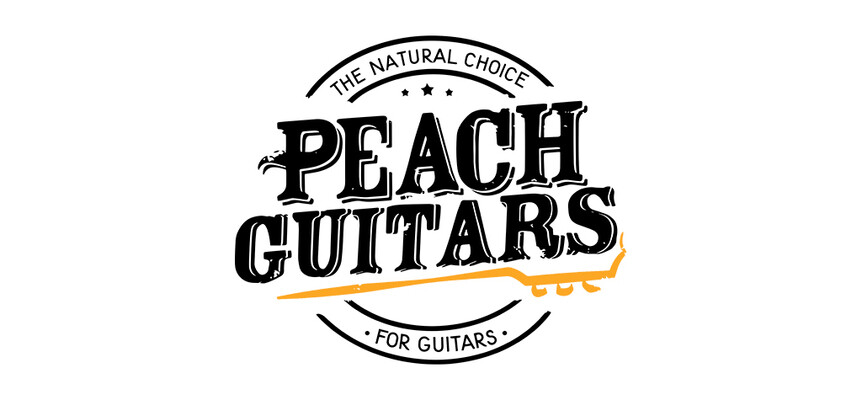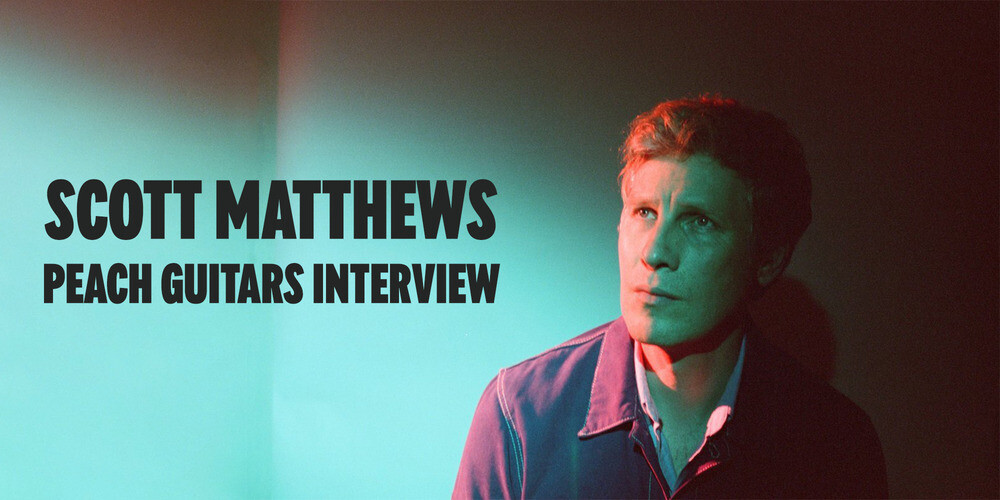 Peach Guitars | Scott Matthews Interview
Peach Guitars were fortunate enough to chat with Ivor Novello Award winning singer songwriter and guitar extraordinaire Scott Matthews recently. Scott is one of the UK's finest performers and 2021 see's him gearing up for the release of studio album number 7, "New Skin", and an extended UK tour from October. We're big fans of Scott and it was a pleasure to be able to chat about the new album, his touring set up and how lockdown has impacted on his creative process.
Be sure to grab your pre-order of "New Skin" from the link at the bottom of the page, you can also find ticket links for Scott's UK tour and Live Stream Requests show on the 27th March.
We've seen you perform solo and also with your band, how does your stage setup change between the two and what is your go to rig for each arrangement?
Performing with a band was quite problematic. I set up the band largely based around me playing acoustic guitar, and that's fine in a recording studio where you have lots of lovely microphones and preamps to play with and you can really mould the sound, you can have the band in another room and it's much easier to have total control. When you have the band in the room, or in a live situation, the acoustic guitar can present some real problems. I was having issues with amplification and some of the more multi layered stuff I'd been working on in the studio just wasn't translating to the band format.
We were playing festivals and big stages and I remember we played the John Peel Stage in 2007 at Glastonbury and it was an absolute catastrophe! It was my biggest gig at that point, it was televised and it was just rubbish! The guitar just got lost, the intimacy of an acoustic guitar just wasn't cutting through on the big stage.
So I really struggled for the early part of my career and it's only been over the last, probably 8 years, that I've found a solution, and that solution is now the same for solo or band performances. I now use a 2 pickup system on the guitar, with 2 very different styles of pickup. I use a K&K under the bridge and then an old Fender Lace Sensor for the magnetic side of things. These go into my amp and then I use an ABC switch with a stereo cable from my guitar, which means I can run 2 or 3 signals from one guitar which is great. It's just nice to know that now we've got control.
Before, when touring, you'd move from venue to venue using a different PA system every night and the sound of your guitar is dependant on the technician understanding how best to get the voice of your guitar across. Most electric guitar players turn up plug into their amp and that's their tone and I thought, well why can't I do that? And so that's why I've set my rig up as I have, to give me that control. From One Show to the next it's identical.
We've seen you using Fender Excelsior amps on several occasions, what is it about these little amps that you really connect with?
Yeah man, I've still got the Limited Edition mint green one and there were only 120 of those made. Obviously they are a cheaper build guitar amp but I've had the whole thing modded, so it's got the aesthetic of a vintage 1950's amplifier but not the insides! I replaced the speaker, I think it's got an Alnico Blue in there now and all the pots and Transformers have been changed. I spent a little bit getting it upgraded, but man it is such a versatile little amp! On the original ones you had this switch for dark and bright, which was actually pretty pointless because they were two extremes. The bright is really metallic and the dark sounds like you've got a sock over a ribbon mic! So I've had a sweep pot installed instead. It's got a 1x15" in there so it takes the lower end of the acoustic guitar really well too, I'm still trying to find an amp that is as versatile and sounds as good.
What's on your pedalboard currently?
It's pretty streamlined actually. It's kind of existed in various guises over the years but I'm not very pedal heavy so essentially it's just very functional. I have Pedal from a guy called James Murphy at Bright Onion pedals which was designed specifically to to work with my guitar and amp configuration, it's really the heartbeat of the pedalboard. That runs off into a Strymon Reverb and then a TC Electronics Alter Ego for the kind of wacky space echo stuff, it's a really nice, solidly built bit of kit. I've got the Electro Harmonix 720 Looper and what I tend to do with that is create some ambient Loops during soundcheck, kind of specific to the venue I'm playing and then save it and use it during the show. I've got a really gnarly drive pedal and a modded tube screamer pedal, which I don't use much but if offers a nice creamy fuzz, and that's it man! When I plug my acoustic in to the pedalboard rig all I really use is a compressor pedal, I like the Cali76 by Origin and I've recently got a Robert Keeley compressor as well. Sometimes it's a little bit of a lottery using a compressor pedal as they can suck all the life out of your sound, it's all about finding the sweet spot.
Your last 2 albums have been via your own label "Shedio Records" do you feel a greater sense of freedom operating like this or does it add extra pressure?
Absolute freedom. In fairness to all the labels that I'd worked with prior to starting "Shedio Records" in 2016, they have all given me absolute freedom, just let me completely loose. Ever since I made "Passing Stranger" in 2006 I've made the records that I've wanted to make, the freedom is great, but I felt even more liberated in 2016 when I didn't have a label. The only drawback of course is raising the capital, you don't want to be too bogged down with things like that, but it's a trade-off, and I have found a blueprint over the last few years. For instance, my record "Home Part 2", we spent 3 days in a studio just tracking some drums and other things that I couldn't do from my studio in my shed. We had a Steinway piano, we had an original Hammond organ with a Leslie speaker, stuff that I just couldn't do in the shed. We booked 3 days in the studio and we got some great stuff that we couldn't have done otherwise.
It's probably more satisfying from start to finish doing it yourself, one of the most satisfying things is being able to keep a really close eye on the process and maybe working around problems and finding new solutions for things. I really enjoy it and I'll continue to do it, but I think the success of it depends on the ambition of the record. I know if I want to double track a String Quartet and do a whole David Bowie "Life on Mars" situation I'll need to think about booking a studio for a day and hiring the musicians. Then you have to weigh up the the risk vs the reward and whether the track demands it or whether there's a work around. You never want to do the song a disservice though, always let the decisions be dictated by the music.
Your debut album "Passing Stranger" was incredibly successful and won an Ivor Novello. With the mix of instrumentals, interludes and full length tracks, was it always your intention to put out such a brave, varied record out as your debut release?
It's strange but that never crossed my mind. People don't necessarily realise that I made the album when I was 29, I came into the industry quite late, but I had 29 years of influence and and experience of these different styles. I bought a Robert Johnson record when I was 14, my Dad would be listening to bands like Fleetwood Mac, Led Zeppelin and Bob Dylan and then when I was in my 20's I started experimenting with these other bands like Soundgarden and the whole Seattle grunge scene. Indian music became quite prominent as well, possibly due to the strong Indian influence around the midlands.
When I listen back to it, it sounds to me like somebody who is still trying to find their feet, somebody who doesn't maybe understand who they are yet. It was only really a few years before that record came out that I got into Nick Drake, and I wasn't really sure if I wanted to keep it to that soft fingerstyle approach and keep a lid on some of the the other tracks like "The Fool's Fooling Himself" which could have maybe been bigger and more bombastic.
We kept the album predominantly acoustic, mainly because I was just getting into the realms of being a songwriter and that was a nice bedrock for us. I can see why people still have a connection to the record, it's such an eclectic mix of styles and there's still a freshness to it, even after 15 years.
You've got a new album, "New Skin" on the horizon what can we expect from that?
Well, I won't digress too much, but the seventh album was actually going to be recorded in a church, a completely live performance, just a guitar and vocal. I was trying to find a new approach to songwriting and I'd been practicing in a church down the road, I had some ideas but then covid happened and plans changed, that really was the biggest of spanners in the works.
I had to rethink the strategy for the album. I was really into an album by Mark Kozelek called "Perils From The Sea", and also Thom Yorke's "Eraser" album. They are both kind of minimal electronica with really coarse drum beats. They had both been lingering and when I found myself in lockdown I started experimenting and creating my own samples and beats. I put something together that is really quite unique for me and I think it's a record that really stands up, I'm really proud of it. I think the songs at their core have a strength and longevity to them and the message is still strong. It's certainly a record of change, and that's how this record feels. There's only one song with a classical guitar and the rest is all electric guitar, the Jazzmaster makes an appearance as does the Gretsch baritone again, they both sit really nicely with the kind of grainy electronic beats. I really love the marriage of textures.
How has lockdown affected you and your workload, have you found it difficult to stay creative?
Like many musicians, it's been a huge dilemma with having the rug swept from underneath my feet and effectively shattering my livelihood with one fell swoop. The challenging aspect of lockdown - in a creative sense - was to suddenly shift my focus and abandon all plans I originally had to record my new record in a church. Maybe the fact I was being dictated to with what I could and couldn't do helped me to zone in on a new plan, to reimagine the songs I'd been working on. On reflection, it was the catalyst I needed to finally explore an idea for a record that was always on my mind.
Have you had to diversify, try new things or find new ways to push your music? Did lockdown open up any new opportunities?
Most definitely. The world of synths and ambient Eno-esque music has always fascinated me greatly and I've always wanted to make a record with that spirit. Lockdown - and its rules of isolation - meant I had to work inside the box to a large degree. I've found out a lot about myself. I had to learn a ton about sampling my own organic sounds. I'd never programmed a beat in my life before but was excited by the potential of where I was going with it.
The whole adventure was like going down a rabbit hole but I cultivated many useful tools that I envisage using for future records.
Has your writing process changed during lockdown?
I think exploring a new sound has naturally lead me to write in a different way. Whenever I listen to expansive – cinematic music I find myself writing about different things and I certainly see different things in the new sounds I've created. I suppose lockdown has essentially stopped us from living life as we usually do and therefore drying up our experiences as a result that I'd personally write about but I feel I've managed to burnish many rough diamonds in the form of ten new songs that I'm very proud to have unearthed.
Do you see live music returning in the same way or will this pave the way for a new and more frequent style of live performance?
Live music will come back with a strong desire, vengeance, heart, hunger and beauty than at any time we've ever known. I sense a great urge from performers to fans to rekindle their sacred experiences. I personally can't wait to play to a live audience once again. Live music will never die. Its heart is impenetrable. A close second though – in terms of live experiences - has been my recent live-streamed shows, which have proved an invaluable lifeline in more ways than one. To be able to connect with fans via Zoom shows has been truly wonderful. My last two shows online have been uniquely heart- warming experiences, which surprised and delighted me. Any scepticism that lingered pre-show, what with it not being a 'real' gig in a real venue were soon banished. I see online shows coexisting with our more conventional touring schedules as they enable fans across the world to buy tickets to a show they otherwise couldn't travel to. They also function as a showcase for overseas promoters to watch. The possibilities are really promising I find.
Should streaming services like Spotify use this lockdown as an opportunity to right some wrongs, pay fairly and help rebuild the industry that they rely on?
Simply put, for many years now, Spotify has needed to address its poor rates and royalty pay outs. They're highly responsible for the industry's demise in some ways and still insist on paying unfairly. Don't get me wrong, it's an accessible platform that helps to discover new music but the creators of the music are still some way short of being paid what is deemed fair. I hope something changes in the near future.
Get your pre-order in for "New Skin" here - https://bit.ly/2PgFtug
Tickets for Scott's tour are available here - https://bit.ly/2NDBGXx
Tickets for Scott's Live Stream Requests show are here - https://bit.ly/3f4J4GO