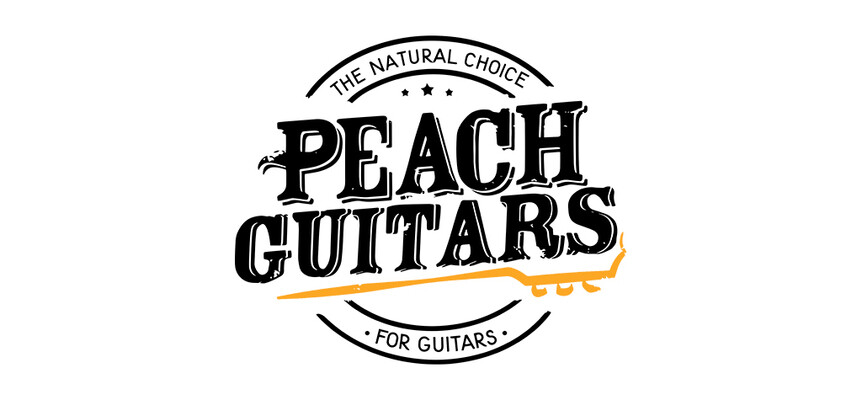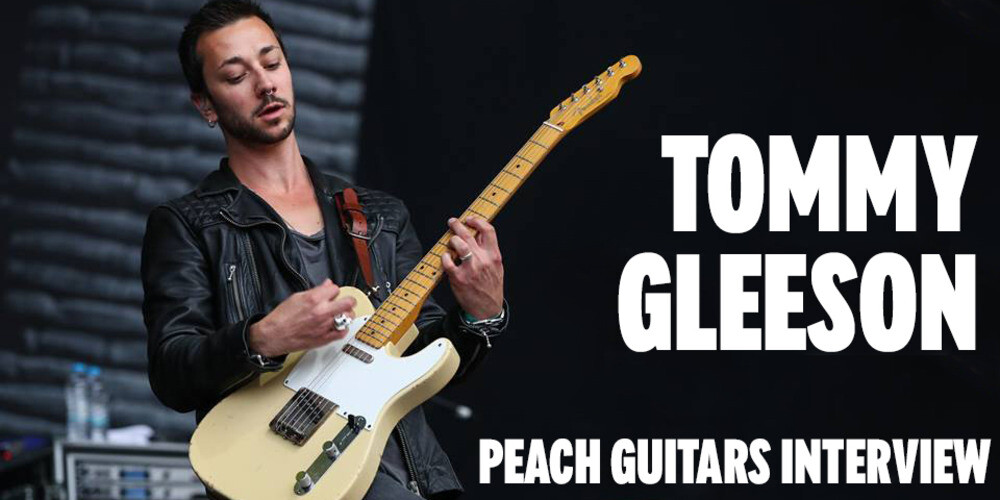 Peach Guitars | Tommy Gleeson Interview
Tommy Gleeson is the touring guitar player for UK Britrock pioneers Feeder, one of the best live bands the UK has to offer! Tommy is a powerhouse player who brings his signature finesse and aggression to some of the most recognisable festival anthems of the last 30 years, it's a match made in Heaven!
He was also the frontman of Kerrang favourites Slaves To Gravity, where his distinctive style and incredible vocal ability saw them secure support slots with Alter Bridge, Buckcherry and Lacuna Coil. We spoke with Tommy recently about life with Feeder, lickdown writing, and what powers his sound, so grab a brew and check it out!
Can you tell our readers of your current live rig setup, is there anything essential to the Feeder sound?
I've really built my live rig around the gig with Feeder. When I first started playing with the band I had been out of the game for a little while, and as a result I'd sold all my touring gear. When I got the call to come and jam with the guys the first thing I had to do was buy an amp! I had always used modern, fairly high-gain channel switching amps in the past, but opted for a different approach to compliment the vibe of this band as best I could. I found a nice '93 Marshall-made AC30 on Reverb from a guy in North London who was effectively using it as a Bong stand, and I threw a small pedalboard together and did the first couple of tours with just that and two teles. It's slowly gotten more and more out of hand since then. Now I run a stereo rig with a modded 50w plexi and a Suhr Badger 35, a substantially bigger pedalboard and - mercifully - a switcher to control it all. I use a variety of guitars depending on the tone I'm looking for, as well as to accommodate the various tunings and capo situations the band uses. My main guitar these days that I sincerely love was built for me by Taka (Feeder bassist and founding member) who makes guitars and basses under the name Rebirth Custom Guitars. It's basically an enlarged-bodied, 25.5" scale duosonic with a Suhr Thornbucker in the bridge and a Mojo Tone gold foil tele-style pickup in the neck. It's a pretty unique guitar but its incredibly versatile and sounds/feels just terrific to me.
The core Feeder guitar sound (as I think of it) is really a jazzmaster through a tonebender into a Vox or Fender style amp, and that's all Grant. I call it the 'PuffBall'. It's a great tone and it really fills up a lot of space in a mix, in a cool way. You have to remember the band started and sort of always will remain at its core a three-piece, and in that respect there's a lot of space to fill. That said, their sound has developed a lot over the years, and on the last couple of records there can often be 3 or more guitar parts happening at any one time, all underpinned by that big old fuzz tone. I see my job as trying to weave a single, cohesive part out of all of that in a live setting in a way that gives the songs the maximum amount of energy and vibe, while always trying to not get in the way of whatever Grant or CC (Feeder Keyboard player) are doing. It can be a challenge and sometimes I really feel for Yaron, our FOH/TM. I don't know how he manages to find space for it all, but somehow he does. He's a genius! So, in an attempt to find my own little sonic base within everything I've gravitated towards a core sound that's a bit more classic rock - a slightly hot-rodded AC/DC thing, coupled with the means to nail all the lovely ambient stuff that Grant writes. It's a really fun gig to be part of and you couldn't hope for a nicer bunch of people to be on the road with.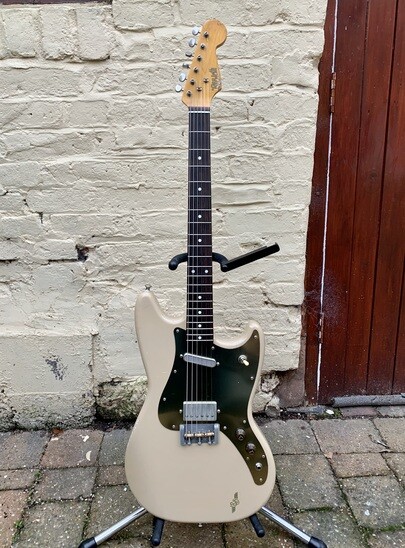 How has your set up evolved over the years?
I'm always tinkering, changing things around, making small improvements and swapping things in and out. I'm a gear head and a nerd and it's just part of the fun of it all for me. As I said, until the Feeder gig came up I'd always favoured modern channel switching amps with FX loops for all the time based stuff. I had a Bogner Ecstasy 101B for a number of years which I admit I do miss sometimes and a variety of Boogie stuff before that (which I miss a lot less).
It was a bit of a learning curve getting used to using pedals for different flavours of drives and running everything into the front end of single channel amps that are set to edge of breakup and never really clean clean, but ultimately I find it a great way to work for the most part. My volume pedal has become my best friend for finding all the in between sweet spots you miss with straight up clean/dirty amps, and running everything in stereo is a real game changer, especially if you're using IEM's.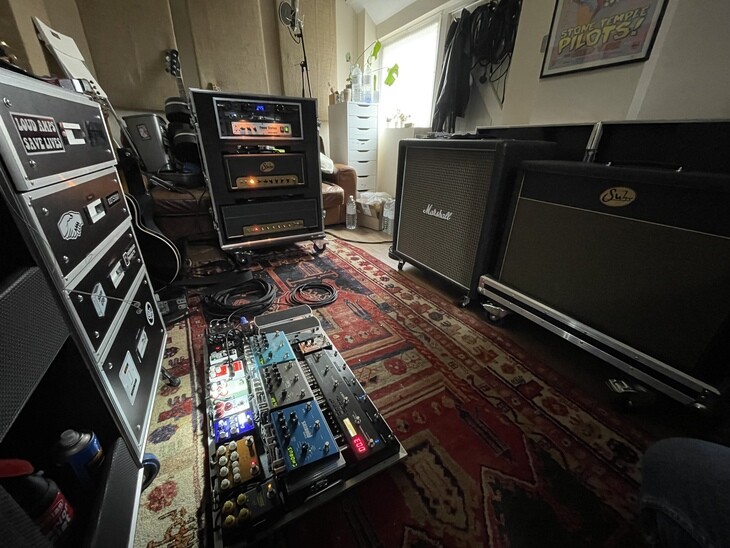 How often is it an open and creative experience for you as a touring guitarist?
With Feeder - as with most things - the song is king, so everything I do is in service of that. I have a lot of respect for Grant as a writer, and as a writer myself I'm aware of the effort that goes into crafting parts that support and compliment the other elements going on around them, so I can't just wig out! It's just not that kind of gig. You also have to be mindful that a lot of these songs are really quite well known, and they mean an awful lot to the people coming to hear them live. Feeder have a strong and dedicated fan base and they know this stuff inside out. If I just did my own thing over the top they'd run me out of town and rightly so.
All that said, by no means is it a militant vibe within the band. There are opportunities to have creative input. We do extended arrangements of some things live and I'll occasionally throw a little something into the mix in the form of a solo or random effect thing. If it's acceptable no one says anything. If it's on the edge, I'll get "the look" from G!
Your studio is burning down. What's the one guitar item you would save?
The first things I'd grab are my hard drives because right now they have all my new solo stuff on them! Guitar wise, I'd save my Les Paul, which belonged to my friend Ashley who is sadly no longer with us. It's really the only thing I have that i consider to be genuinely irreplaceable.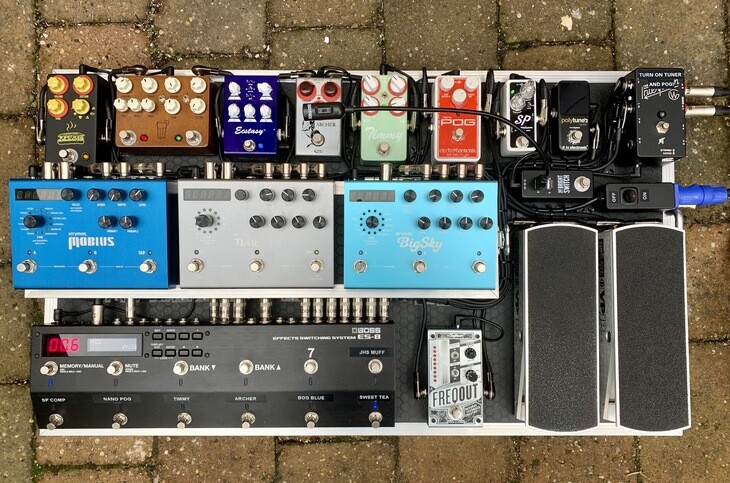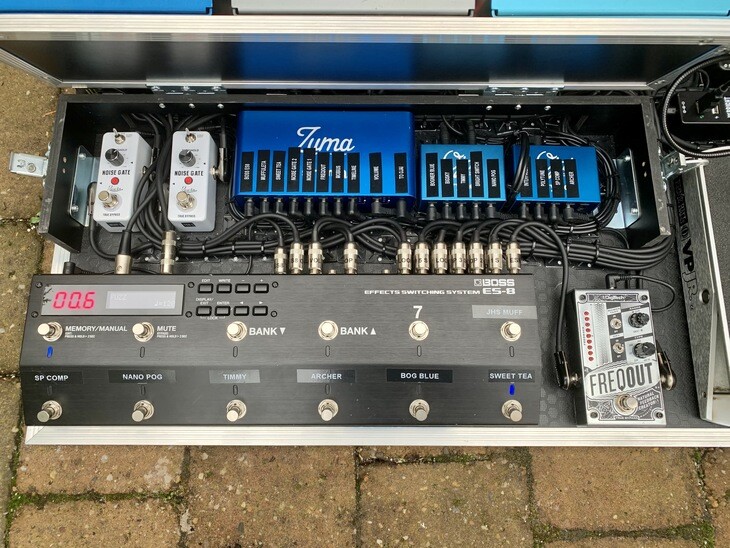 You're often seen rocking a Gibson Lucille, what is it about this guitar that speaks to you? Have you made any mods?
I bought that guitar with my first and only ever advance back in 2003. I liked it because it was so different to anything anyone else seemed to be using at the time, at least in the context of a modern rock band. It felt like a statement. I suppose I've always liked guitars that have a bit of a "fuck you" attitude about them. I've nicknamed it Cher because It's had a fair but of work done to it over the years. There's a neck repair after it got dropped somewhere on the road. Ive changed the bridge pickup for a Bareknuckle Riff Raff and put a TonePro's bridge and tailpiece on it because I hated the fine tuners on the stock TP6. I also removed the Varitone circuit completely because I felt it made the tone too dark. Plenty of mud on its shorts basically. I'm well aware that I've wrecked the value of it in most respects but my wife would never let me sell it anyway!
Do you have any tips/advice for those looking to make a career as session/touring musician?
Well, it was really never my intention to become a sideman or a session guy. I spent 15 years fronting my own bands until I eventually got burned out and decided to take an extended break in about 2013. Then really by sheer chance I had a couple of offers back to back quite out of the blue, one of which was Feeder and the other was Skindred. Both of these were as a result of people essentially vouching for me, and as such I didn't have to formerly audition. In truth, the only gig I've ever actually auditioned for I didn't get, but that's another story. That being the case I'm not sure how well qualified I am to offer advice on the subject, but from what I've learnt I would say that working on being a nice person, being humble and respectful to the people you are working with, knowing how to read a room and a vibe and just generally maintaining a positive attitude and a good energy is just as important if not more than having great chops. There are certainly many, many better guitar players out there than me, but putting time and effort into nurturing good, meaningful relationships with people is absolutely vital if you want to have any kind of longevity in this business. You can be the greatest guitar player on earth but if you're a jerk and no one wants to share a bus with you, you're not going to get the gig.
What music gets you excited and why?
Even after all these years, I still find loud rock guitar music thrilling. It can sometimes seem like a bit of a limited format in some respects, but when it's done right and with great songs there's nothing quite like it. And then you go and see it live - or at least you used to be able to - and it's like a religious experience. I listen to a very broad spectrum of stuff, especially since I started working more and more in production, but in terms of sheer excitement it will always be rock and roll that does it for me. There's a purity to it, and a sexiness. I don't care how Tap that sounds!
Which guitarist(s) were you influenced by the most and why?
My first 'guitar hero' was definitely Slash. I'd been learning to play drums from my dad up until I first heard Guns n' Roses, but they really changed everything for me. Then I discovered Nuno Bettencourt and that had a big influence on my early playing. Of course I could never play like that guy in a million years, but the percussiveness and attitude in the right hand is something that I definitely copped from him. Then Grunge happened and that was like being born again for me musically - Jerry Cantrell, Dean Deleo, Chris Cornell and Kim Thayil.. Billy Corgan... all these really amazing guys who weren't necessarily always the most technical players but had so much style and attitude. Also people like Tom Morello and Dave Navarro, slightly outside of the Grunge idiom. I just think that was such an incredibly fertile period for rock music and a lot of those records are still unrivalled today. The guitar playing is just so inventive and the tones are so varied and cool. I still draw a lot of inspiration from that era. I'm also very appreciative of guys like Lukather, Landau, Larry Carlton and more recently Tom Bukovac. I think that guy is an absolute revelation. He's just so incredibly musical. His YouTube channel has really been the thing that got me through 2020.
Have you had any nightmare experiences whilst gigging?
I've actually been pretty lucky. I've had my share of technical issues over the years but never anything I would consider a nightmare. Things are going to break sometimes no matter how meticulous you are with your gear. You just have to get on and deal with it, but I accept that's an awful lot easier to say now I'm fortunate enough have a regular guitar tech. Of course I've fallen over the monitors and split my trousers once or twice as well, but all in the name of Rock and Roll. Fortunately for me and the first few rows it wasn't quite the full Lenny Kravitz.
Did you have to audition for Feeder or did you guys have a relationship before hand?
Grant and I used to live around the corner from each other and went to the same gym for a while. We got talking there and realised we knew a lot of the same people, one of which was my good friend Chris Sheldon (producer/mixer for Feeder/Foo Fighters/Biffy Clyro). When we first met, Grant was busy doing his solo stuff but later when he and Taka started talking about putting Feeder back together I was lucky enough to basically be offered the gig cold after Chris had kindly put in a good word for me. I actually had to turn it down at first because it clashed with the Skindred shows I was doing filling in for Mikey, and I couldn't let those guys down. Feeder ended up getting Nate from Snow Patrol in to play with them and I assumed my chance had gone. I got lucky again a couple of months later, because Snow Patrol reactivated and I got a second bite at it. Again there was no formal audition. By then I don't think they really had time. I just had to learn 30 or so songs over a period of a couple of weeks and then we did a week of rehearsals as a full band and went straight out on the road.
How has the industry changed since you hit the scene?
Things have changed immeasurably in some ways, and in others it seems not at all. The internet was still a relatively new thing back in the early 2000's when I started out, and neither artists or labels had really figured out how to use it properly or recognised its true potential. Of course now artists have the tools to build huge fanbases directly and release music without the aid of a label at all which is incredible, but they're still subject to deals that cut them out financially at almost every turn, so it's still not a sustainable model. I'm hopeful for the future though. I will say that young bands seem an awful lot more savvy and resourceful than I was in my 20's. The overall work ethic seems to me to be a lot stronger, and expectations a little more realistic.
How has lockdown affected you and your workload, have you found it difficult to stay creative?
When I came back to music after taking a break in 2013 I had the realisation that in order to survive and have any hope of sustaining anything resembling a career, I was going to have to diversify. I'd always been very interested in the production side of things, so since then I've worked hard at developing a bit of a parallel career path producing, mixing and writing for other artists and for library. This year that's been a god send because I have actually had something to focus on. I've finished 2 library records and mixed an EP for a great new band called Battalion of Flies, as well as see another album I produced last year for the band Creature Creature released, which has been very rewarding. I've also been working on my own music for the first time in a long time which I'm really excited about. There have been periods this year where it's definitely been very hard to stay positive and creative, but I treat it like a job. I go to the studio every day and I work as hard as I can from 9-5. Some days you get great results and others you feel like a huge fraud and want to smash your head into the computer screen, but I'm incredibly grateful to have the opportunity to pursue it.
Have you had to diversify, try new things or find new ways to push your music? Did lockdown open up any new opportunities?
I think the biggest thing to come out of this year for me personally was to actually say: "Right, I'm going to write some songs of my own, exactly as I would like them to be, and I'm going to record and release them". I haven't been able to really embrace the cavalier spirit you need in order to do that for quite a long time, but my wife sat me down in March and said "Look, if you don't do this in 2020 you'll never do it". That gave me the shot in the arm I needed. I think she could see that I had all these ideas and all this music swirling around inside of me, but you need a lot of confidence and drive and conviction to actually say "I am going to spend time and money and effort working on this thing to the exclusion of other things even though it may yield nothing". Especially when you have young kids and a mortgage and all that stuff. It feels incredibly indulgent and selfish and reckless in a lot of ways, and getting around the guilt of all that was one of the first major barriers I had to contend with in getting things off the ground. I couldn't have done it without her blessing and encouragement, but without it I think I'd have really struggled this year.
Has your writing process changed during lockdown?
I suppose I've used the opportunity to really explore different avenues that in the past I simply haven't had the time to go into. With everything I've ever done I've always felt there was a degree of compromise necessary, largely because of time constraints or my own limitations but this year time is the one thing we've had in abundance, so I've embraced it. I've really worked at becoming a better guitar player and a better singer. I've gotten into a routine of actually practising which I've never done before, and it's made me realise just how much I've been blagging it all these years! I've got a lot of catching up to do.
Do you see live music returning in the same way or will this pave the way for a new style of live performance?
I admire the bands who have made a go of live streaming shows this year, but there's no getting around the fact that live music is intended to be a shared experience. Without an audience to feed off, you're missing 50% of the equation and the overall effect is just a bit sad and hollow. As for when real gigs start happening again, who knows what it's going to look like. Anything is better than nothing I suppose, but you can't sanitise it too much. Gigs are supposed to feel dangerous. Standing in a big dark room with thousands of other people listening to music really loudly and letting yourself get lost in that moment is just not something you can do by halves.
Should streaming services like Spotify use this as an opportunity to right some wrongs, pay fairly and help rebuild the industry that they rely on?
It's utterly astonishing to me that they haven't volunteered to do so themselves in light of the situation, whereas in fact what they've done is quite the opposite, branding artists as lazy and by reference reducing their art to "content". They obviously know nothing about the fragile nature of songwriting, which given it is their stock-in-trade is quite unbelievable. Artists have had to accept they won't make a living from album sales anymore, so they shift to a touring model, but now they can't tour either and NO concessions are offered up by any of the streaming companies, with the exception of BandCamp? It's just sheer greed and ignorance. I am hopeful though that the pressure that's beginning to be applied by artists and now Government will result in some meaningful changes being made. They have to. There's just too much at stake.
Check out Tommy's website here - www.tomgleesonmusic.com