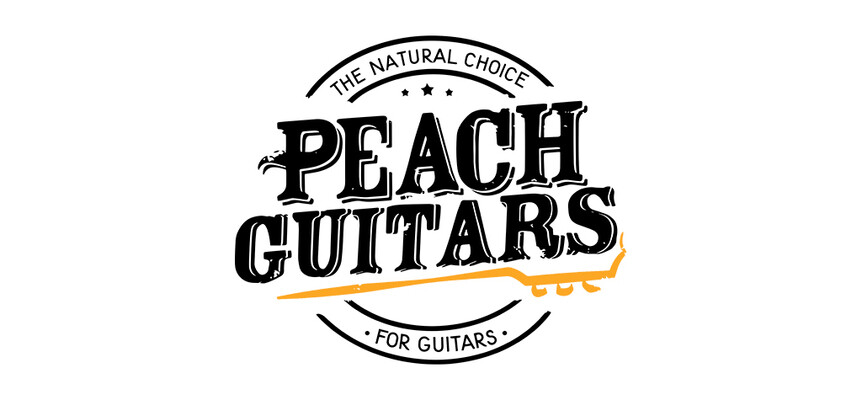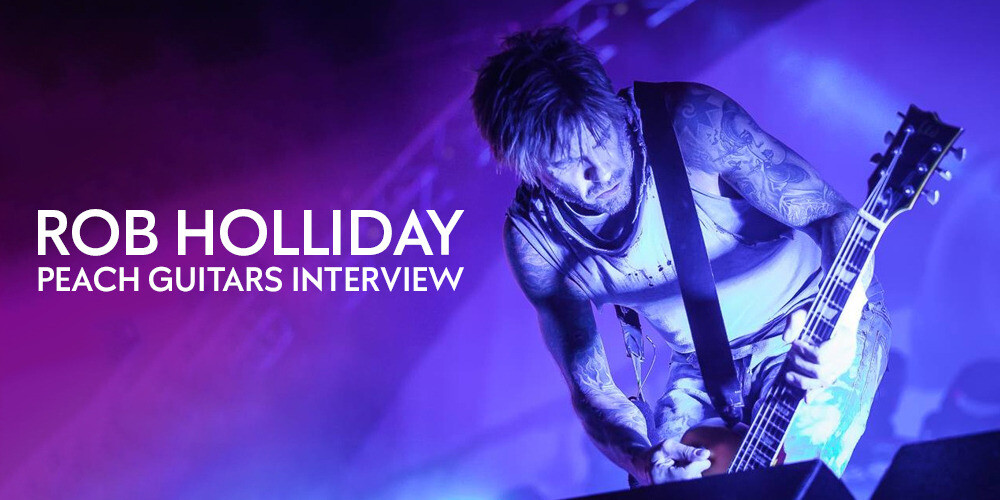 Peach Guitars | Rob Holliday Interview
Being the live guitarist for a major artist is the dream, right? But imagine touring the world with not just 1, but 3 incredible and genre defining artists. Well, for Rob Holliday, that's the reality! His performance CV is enviable and he counts stints playing with Gary Numan, Marilyn Manson and The Prodigy among his highlights. We recently had the opportunity to chat with Rob thanks the guys at ESP, so grab a brew and sink your teeth in below!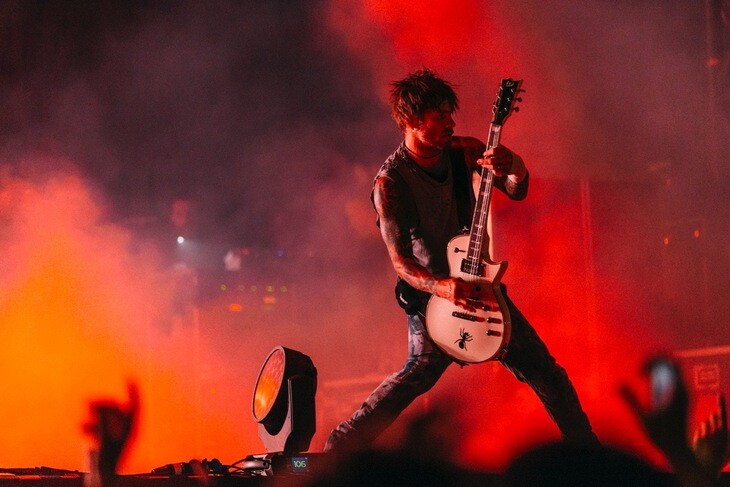 What's your current live rig setup? Is there anything essential to your sound?

Well, it of course begins with some klller ESP guitars!
Some matt black LTD'S
Some black EC 401'S
A few white ones also
A couple of LTD Deluxe & Eclipse - 1
The rest of the rig is comprised of Laney Ironheart heads and 4x12 cabs

The signal chain is ... Sennheiser ew500 wireless system x 6 into a Radial JX62 stage control for selecting guitars. Out of that into a BOSS NS2 for crushing electromagnetic pickup interference, a BOSS Turbo distortion, then a BOSS DD-20 giga delay pedal into the head. Then back into the NS2's return via the amps post pre amp effects loop to get rid of the gain amp noise when not playing. There is a Lehle p-split to bring the impedance up after the wireless and cut any earth hum created by having so many mains powered units in one rack.

The bass rig is a similar set up. Tons of subs from Liam and the synths so the bass guitar is more of a cutting punk bass sound through seperate Laney heads and I just use a multi selector to flip between the two basses.

How has your live sound evolved over the years? Have you tweaked your rig for each project?

I'd say it's always been pretty similar, with Manson I was using Mesa Boogie Triple Rectifiers as he preferred the sound of them overall and I was also using a lot more effects pedals. I had Line 6 stuff, a couple of BOSS pedals - Digitech Whammy - Dunlop Wah and also an acoustic simulator pedal for one of the tracks

How did your relationship with ESP begin? What drew you to them as a brand?

I've always seen so many great players using ESP but I wasn't really into the real metal looking guitars or the kind of pointy looking stuff. But then I came across these ones I've now been using for many years and the just give me exactly what I need with the look I love. I do swap out all the bridge pickups for Seymour Duncan Super Distortion pick ups though!

Is there one guitar in your collection that you connect with best?
I really love the white Deluxe EC1001 CTM Deluxe model. It's superb.

What's currently on your pedal board?
Just a few pedals as mentioned above in the rig rundown and my tech operates them throughout the show when required. It's pretty mild effects wise to be honest, a bit of delay on occasion and more filth in spots, also our front of house does some crazy chorus and chaos pad stuff effect wise out front on a couple of tracks for me.

Which guitarist(s) were you influenced by the most and why?

Mike Scaccia of Ministry, Jerry Cantrell of Alice in Chains, Robert Smith of The Cure and Geordie Walker of Killing Joke are some of my favourite all time guitarists.

How did lockdown affect you creatively?

I think it's effected so many people in so many different ways. I was working on my own band, Sulpher's, 3rd album entitled "Pray For Today, Tomorrow May Never Come" and got quite a bit done, it's still a work in progress and hopefully by the end off this year it will be ready to go!

You've played on stages all around the world. What's your favourite memory from one of your live shows?

Yeah, I've been very fortunate to play with some great acts all over the planet, there's so many great moments, alomost too many to list! One I do have to mention was when the killer Kerry King got up to play "Little Horn" with us on the "Rape of the World" tour, that was totally bad ass!

Any nightmare experiences whilst on the road?

Border police bus raids!

Your studio is burning down. What's the one guitar item you would save?

I think you know I'd get as many of the ESP's out as possible! I'd definitely grab my spector NS-2 Bass that I've owned for so many, many years and I've got a couple of vintage Les Paul Customs that I would have to brave the fire for also.

What does the future look like for Rob Holliday?

Right now we've just finished a UK tour with The Prodigy and then continue working on new Sulpher material.