The Store
Europe's premier guitar store.
Request An Appointment
Let us know what you would like to see and have a one on one appointment with one of our expert team at the store
THE SALOON
The Peach Saloon, the most unique guitar shopping experience in the UK. We wanted something to set us apart, to create a special atmosphere and raise the bar for guitar retail, our Western Saloon is that vision. Full to the brim with the very best production run offerings from Fender, Gibson USA, Eastman, Reverend, Rivolta, Ibanez and Yamaha, the Saloon is also home to a great selection of amplifiers, bass guitars, acoustics and accessories.
Complete with a fully equipped stage. The Saloon has played host to some of the very best. Pete Thorn, Joey Landreth, Nick Johnston, Ron Thal, Mark Holcomb and Greg Koch have all taken the stage and with events throughout the year, the Peach Saloon is THE place to see the best players around!
UPSTAIRS
Upstairs at Peach we house an incredible collection of boutique and Custom Shop guitars to rival any. We have dedicated rooms for Gibson Custom, Fender Custom Shop and Suhr, many of these guitars are hand selected direct from the factory and only the very best make it to Peach.
In our main upstairs showroom we offer the pinnacle of boutique lutherie from the USA, UK and across Europe. With a great selection from PRS, Knaggs, Xotic, Gretsch, Schecter Custom Shop, Patrick James Eggle and Mayones, we specialise in premium guitar retail.
High end amplification from Two-Rock, Friedman, Dr Z, Magnatone, Morgan and Synergy can be found upstairs, whatever your requirements, we can help find the perfect amplifier for you.
GIBSON CUSTOM
Our Gibson Custom room features some of the finest hand selected offerings you'll find anywhere on the planet. With regular trips to Nashville to pick out the best tops and custom builds, we can help secure you the Gibson you've always dreamed of!
Whether it's a Les Paul, SG or hollowbody, make Peach Guitars your first stop for Gibson.
FENDER CUSTOM SHOP
The Fender Custom Shop have a reputation for flawless construction and serious attention to detail. Based out in Corona, California, we always have an incredible selection of Strat's, Tele's and offsets both team built and also from Fender esteemed Masterbuilders.
We have a regular supply of Dale Wilson Masterbuilt guitars and enjoy a great relationship with him, his ageing process is as genuine and authentic as you will find anywhere and we just love his work!
SUHR GUITARS
For over 20 years John Suhr has been designing and crafting guitars of the highest quality. Known for their unreal consistency and often vibrant aesthetic, Suhr craft guitars to suit any situation.
We are one of the UK's largest Suhr dealers and always have a stunning selection.
PEDAL ROOM
Our pedal room is an Aladdin's cave of tone. With over 400 pedals in stock to try out, you're sure to find everything you need to take your sound to the next level.
From the pedalboard staples of MXR, Line 6 and BOSS to the handcrafted magic of King Tone and Origin, you can try them all. With a Wampler Bravado pedal platform amp and a selection of S,T and LP style guitars to use, this room is the perfect place to try the latest releases.
TAYLOR
Taylor Guitars have been at the forefront of acoustic guitar construction for over 40 years. Founded by Bob Taylor and Kurt Listug back in '74, they continue to push forward with revolutionary appointments thanks to the pioneering design skills of legendary master designer Andy Powers.
We have a full range of Taylor Guitars, from the ever popular GS-Mini right through to the elite range of K Series, Builders Edition and Presentation Series, we can help get the perfect Taylor for you.
LOWDEN / GIBSON ACOUSTIC
Considered by many to be the absolute pinnacle of acoustic guitar production, Lowden just keep knocking out models that simply take our breath away. Lowden are known for their subtle use of majestic tone woods and timeless design and our selection boasts some of the finest models available.
Handcrafted in County Down, Northern Ireland, we have one of the largest selections in the UK and every guitar is a masterpiece.
MARTIN #1
This room is home to our incredible collection of CF Martin Custom Shop guitars. Many of these guitars were handpicked direct from Nazareth and feature some of the most desirable tone wood combinations.
These guitars are the absolute top of the CF Martin range.
MARTIN #2
Our second CF Martin room is where the traditional USA production models are housed. We keep great stock across all body shapes and series, including the superb Re-Imagined Series, so whether you want the bold projection of a D-18 or the subtle response of an OM-14, this is the place to be!
MARTIN #3
Our third CF Martin room offers a great introduction to Martin Guitars. Featuring the ever popular 17 Series, these guitars fuse vintage vibes with modern playability and functionality.
NATIONAL / YAMAHA
National are one of the original American greats, their resonators are some of the most iconic guitars ever produced and have been used by numerous top players. We have a great selection of steel and wood bodied resonators alongside our fantastic range of nylon strung classical guitars and Yamaha acoustics.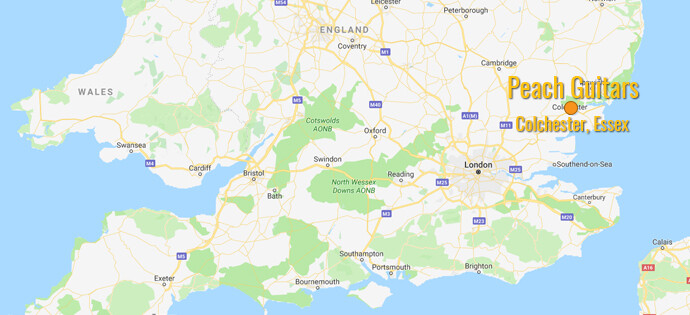 3 Crown Gate
Wyncolls Road
Severalls Industrial Park
Colchester
CO4 9HZ
Our showroom is open for appointments only. Customer service and Sales Advisers are available Monday - Saturday 10am to 5.30pm
Sundays 11am to 3pm
PLEASE PHONE BEFORE MAKING A LONG JOURNEY IN CASE OF HOLIDAYS OR OTHER UNUSUAL CLOSURES.