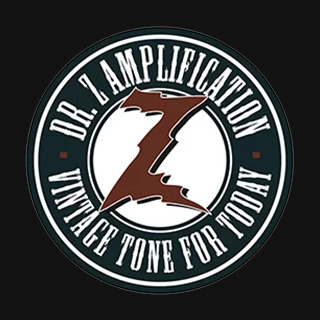 DR Z Amplification Z Wreck | 1x12 Combo - Black w/ZW Grill
All-Tube 30 Watt Amp - Hand-Wired In Ohio, USA
Introducing the legendary DR Z Z Wreck amplifier, a sonic marvel born from a fusion of brilliance. The brainchild of Dr. Z and Brad Paisley, it's a symphony of innovation. A collaboration initiated in 2006, Ken Fischer's touch elevated it to perfection, birthing the iconic Z Wreck. After years of exclusivity, its soulful sound is now democratised. Meticulously redesigned by Dr. Z, every component is a testament to craftsmanship. With its heart in the output transformer designed by Fischer, the Z Wreck offers two plate voltage modes - the vintage warmth of "Comfort" and the dynamic intensity of "Speed." This amp's touch sensitivity is unparalleled, from crystalline cleans to blooming overdrive. The DR Z Z Wreck isn't just an amp; it's an odyssey of sound. Loaded with a Celestion Gold speaker - a wonderfully expressive and revealing loudspeaker affording guitarists an unprecedented degree of dynamic control.
"The touch response of the Z Wreck is unequalled. Does the Z Wreck ROCK? YES!!! Does the Z Wreck TWANG? YES!!! The Z Wreck will deliver exactly what your hands and guitar give it." - Dr. Z
View In Showroom
Request an appointment with one of our team
WAYS TO PAY:

Discover the legendary prowess of the DR Z Z Wreck amplifier - a musical marvel born from a collaboration between two titans of the music industry. The story of the Z Wreck dates back to 2006 when country music sensation Brad Paisley approached the renowned amp craftsman, Dr. Z, with a visionary idea. This marked the genesis of an extraordinary journey that would redefine amplification excellence.
Dr. Z and Brad Paisley embarked on an immersive design dialogue, but to bring their dream to life, they sought the expertise of the venerable Ken Fischer. With a fusion of Dr. Z's innovation and Ken's ingenious touch, the prototype Z Wreck was meticulously crafted and a sonic masterpiece was born. The very name "Z Wreck," an homage to its dual creators, echoed across the industry. The amp's inaugural voyage into the musical realm was aboard Brad Paisley's setup, where it has stood unwavering as a tonal cornerstone since that pivotal moment.
The Z Wreck, however, faced a poignant twist when Ken Fischer left this world at the end of 2006. Dr. Z, stricken with loss, placed the amplifier on a reverent shelf, frozen in time. Yet, fate had other plans. The Z Wreck's siren call persisted through Brad Paisley's interviews, TV showcases, and resonant album tracks. The Nashville flood of 2010, a trial by water, could not dampen the Z Wreck's spirit as it emerged unscathed. It was then that the amp's destiny took an unexpected turn.
Dr. Z, spurred by the thought that such auditory opulence should be democratised, kindled the flame of mass production. Akin to an artisan breathing new life into an age-old craft, Dr. Z revisited the treasure trove of notes exchanged with Ken Fischer. The outcome was an amplifier reincarnated with modern innovations, encased in an exquisite aluminium chassis and birch head cabinet. Each component of the Z Wreck was orchestrated with surgical precision, nurturing short wire lengths and heightened partitions between the front-end finesse and the output brilliance.
At the heart of the Z Wreck lies the very soul of its sound - an output transformer, a testament to Ken Fischer's design mastery, handpicked by Dr. Z himself. This harmonises seamlessly with a novel power transformer, flaunting a multi-tapped secondary that bestows the player with two distinct plate voltage settings. "Comfort" envelopes you in vintage warmth, a mellifluous embrace; "Speed" unleashes a torrent of clarity and dynamic vigour, a realm where notes dance with unbridled intensity.
The Z Wreck's touch sensitivity is unparalleled. It converses in sonic dialects as you rotate the volume knob - below noon, it reverberates with a crystalline cleanliness, reminiscent of the halcyon '60s. Beyond noon, a symphony of crunch builds, blossoming into a bouquet of sustained overdrive. The Z Wreck doesn't just rock or twang, it embodies them, moulding itself to your every whim. Amplifier volume dial past noon becomes a gateway to a world where guitar volume modulation crafts full-bodied cleans and ecstatic crescendos of drive.
In summary, the DR Z Z Wreck stands as an epitome of collaborative ingenuity and timeless craftsmanship. With 30 watts of emotive power, a quartet of 6n14n tubes, and a trio of 12AX7 preamp tubes orchestrated by a 5AR4 rectifier, it is a testament to meticulous engineering. The quartet of controls - Volume, Bass, Treble, and Cut - invites you to sculpt your sonic landscape with finesse. Immerse yourself in the Z Wreck experience - where innovation resonates with legacy, and music finds its truest, most expressive voice.
Loaded with a Celestion Gold speaker - a wonderfully expressive and revealing loudspeaker affording guitarists an unprecedented degree of dynamic control.