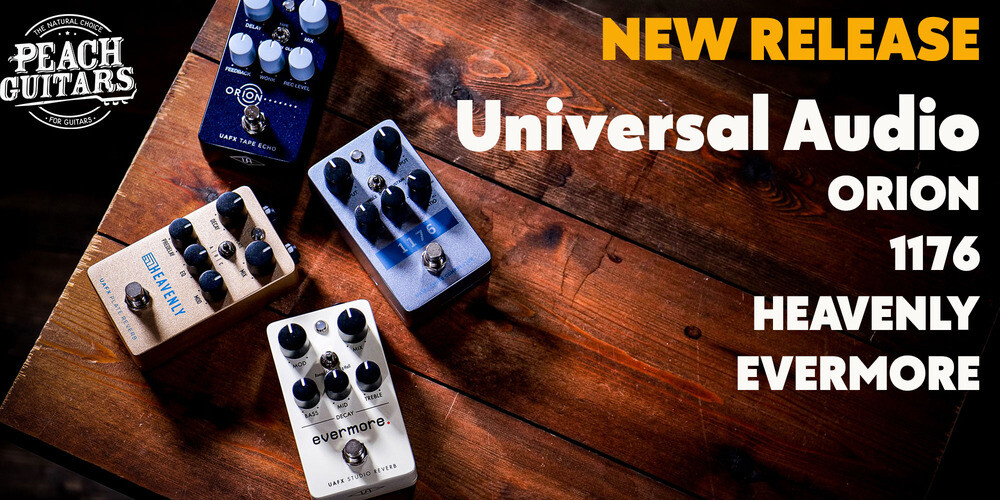 New Release | Universal Audio Pedals!!
Universal Audio have carved out a reputation as purveyors of the finest high-fidelity audio experiences for the working musician. They found their fame crafting preamps and recording hardware back in the '60s and '70s to great acclaim, if you've spent any time in a studio, you've almost certainly experienced Universal Audio!
More recently, UA have been delivering ground-breaking audio interfaces, plug-ins and incredible amp emulators, the "Dream" based on a '65 Reverb being a personal favourite of ours. We also saw the release of the ridiculously awesome Del-Verb, Max and Galaxy '74 earlier in the year (and you can check our content for those below).
So what comes next? Well, let me tell you!
Introducing 4 BRAND NEW Universal Audio pedals, the 1176 Studio Compressor, Evermore Studio Reverb, Heavenly Plate Reverb and the Orion Tape Echo!
We've had these little rippers in the studio already, and let me tell you this, they are incredible. Don't just take my word for it though, click play on the video below and see for yourself.
Let's take a quick look at what's on offer then, first up, the 1176 Studio Compressor. Introduced in 1967, the Universal Audio 1176 remains the king of audio limiting, heard on more classic records than any other compressor. Built on the powerful UAFX engine, the 1176 Studio Compressor delivers the same punchy, expressive tones of the world-renowned hardware, now in a compact stompbox.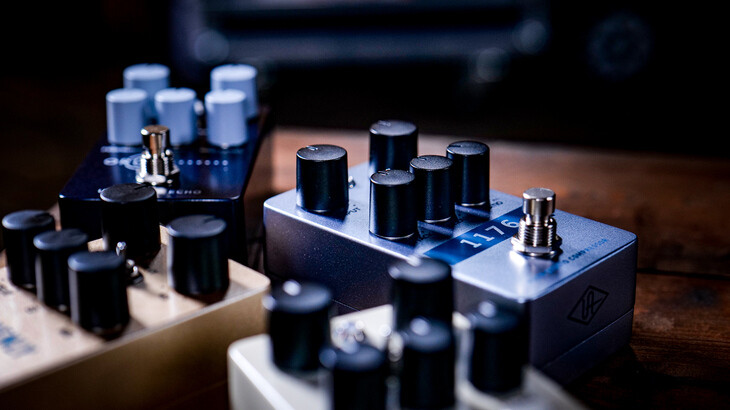 Benefit from 3 super distinct sounds in just one pedal, from the subtle squeeze of a single 1176 to the endless sustain of two units in parallel, ala' Lowell George, or the compressed crunch of Led Zeppelin IV, you can get the same iconic tones and effects heard on thousands of classic records with a trio of legendary 1176 setups.
The UA Evermore Studio Reverb gives you the grainy ambient trails and mesmerising modulations of the iconic late '70/80s early digital device, in a compact, elegantly crafted stompbox. This is the ultimate '80s flavoured reverb!
Built upon the award-winning algorithms found in the flagship Golden Reverberator, Evermore Studio Reverb gives you the stunning ambient effects of the classic hardware used on decades of iconic guitar tracks, right on your pedalboard. Add 3 classic digital programs to your pedalboard with iconic Room, Small Hall, and Large Hall effects, Evermore gives you the exact spaces of the vintage hardware. And the easy-to-use Treble, Mid, Bass decay lines and Mod control ensure perfectly sculpted ambience, from subtle to experimental.
Born out of the award-winning Golden Reverberator, Heavenly Plate Reverb gives you the haunting ambience of the classic 1950's studio plates heard on countless hit records, in a compact stompbox. With 3 uniquely voiced plate effects, Vintage Bright, Vintage Dark, and Modern you've got the full spectrum of plate reverb sounds. Quickly get perfect shimmer, tonality, and dimension with simple Pre-delay, EQ, Mod,and Rate controls.
Finally, the Orion Tape Echo offers 3 vintage tape delay emulations, perfectly emulated analog preamp circuit and wow/flutter, true/buffered bypass, Preamp on/off, and analog dry through. The world's most authentic emulation of a vintage Maestro Echoplex EP-III tape delay. Emerging from the flagship Starlight Echo Station, Orion Tape Echo is the next step in Tape Echo recreation.
We absolutely adore these pedals, and just like all UA pedals, we're certain that the magic of these compact pedals will be gracing pedalboards all over before too long!
As always, you can buy with confidence from Peach Guitars. From meticulously inspecting each piece of equipment, professionally setting up each guitar, tracking every package, and delivering the best after-sales customer service, our team will do our best to make you feel welcome and offer genuine, professional advice.