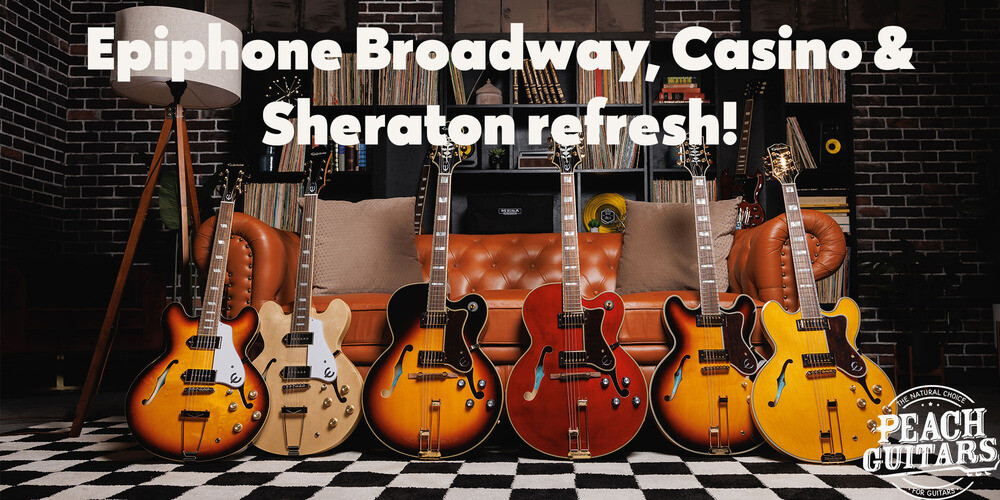 New Release | Epiphone Revamp!!
Epiphone are one of the longest established, and most important, guitar manufacturers around. You might think they are nothing more than an outlet for budget friendly Gibson designs, but you'd be wrong! They have a catalogue of stellar designs all of their own, offering a taste of the quality and artisan skill that inspired Gibson to acquire the brand in 1957.
3 of Epiphone's most impressive models are the iconic trio of the Broadway, Casino and Sheraton. You've all seen them before, and you've certainly heard them, whether it's Noel Gallagher, John Lee Hooker, the Beatles, Paul Weller or even Gary Clark Junior playing them, the reach is far and the output both legendary and prolific.
For 2023, Epiphone has decided to offer a model refresh to these incredible guitars, and we are totally here for it! They have done a fantastic job, making them more player friendly, sweeter sounding and downright cool than ever. So let's take a look!
For over 70 years the Epiphone Broadway has been considered king of the hollow body jazz guitars. Slick and smooth it lends itself perfectly to precision chord work and delicious jazz chops, it's talents don't end here though as it's also found favour with country and roots artists too, the Broadway is something of an all-rounder. Available in a couple of classic Epiphone finishes, Vintage Sunburst and Wine Red, the new Broadway's benefits from Alnico Classic PRO humbuckers, a vintage style Frequensator split trapeze tailpiece, intricate mother-of-pearl and abalone inlays and premium tuners. It's class personified, a total stunner that delivers both tonally and visually.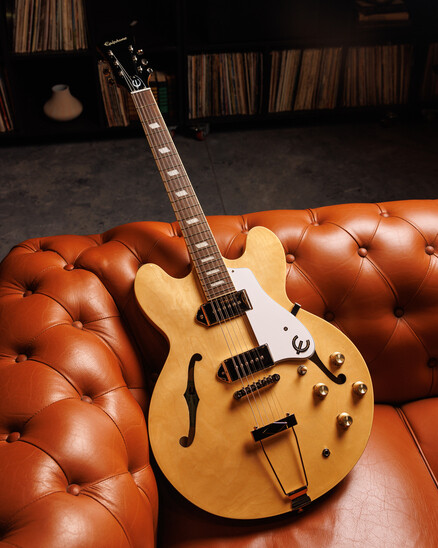 The Casino is probably the one that got you all a little excited, right? Favoured by John Lennon, George Harrison and Keith Richards, it's arguably one of the most important guitar designs of all-time. First introduced in 1961, the Casino is a thinline archtop that was originally designed and built at the legendary Kalamazoo factory in Michigan. It was a gem back then and thanks to the impact it's had on music history it's an absolute icon now! Featuring a layered Maple body, Mahogany neck with SlimTaper '60s C neck and Epiphone PRo P90 dogear pickups, it's everybit the tribute to the classic USA builds of the day. Available in both Natural and Vintage Sunburst, it captures the magic of its vintage counterparts fantastically.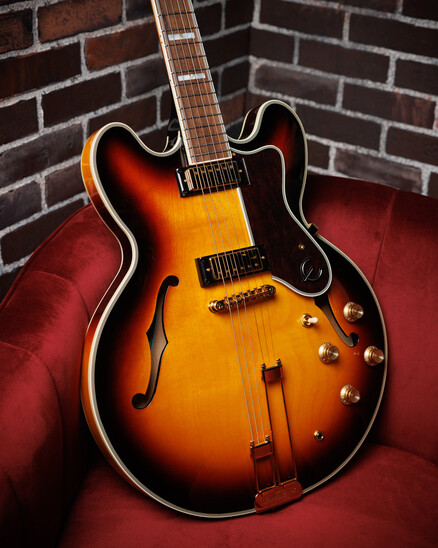 The Epiphone Sheraton, possibly one of the coolest guitars around, packed to the brim with mojo, vibe and just about every other buzzword you can think of, it's effortlessly cool and the 2023 model is no different. The Natural finish (also available in Vintage Sunburst) is electric and perfectly offsets the intricate nature of the bound fretboard with block inlays with abalone triangles. Loaded with a Frequensator tailpiece, LockTone bridge and twin Epiphone ProBucker Mini-Humbuckers, this guitar is 100% the real deal!
As always, you can buy with confidence from Peach Guitars. From meticulously inspecting each piece of equipment, professionally setting up each guitar, tracking every package, and delivering the best after-sales customer service, our team will do our best to make you feel welcome and offer genuine, professional advice.