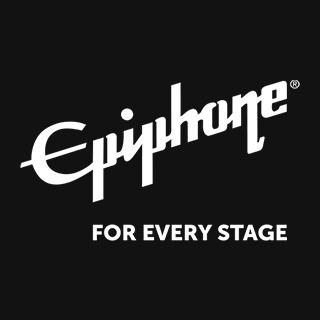 Epiphone Artist Collection | Emily Wolfe "White Wolfe" Sheraton - Aged Bone White
Alnico Classic PRO Pickups - Layered Maple Body w/Maple Centreblock
Experience the Epiphone Emily Wolfe "White Wolfe" Sheraton, a stunning tribute to the rock & roll legend herself. This white rendition of her popular Sheraton Stealth features an Indian laurel fretboard, mother of pearl inlays, Grover Rotomatic tuning machines, and full-sized Alnico Classic PRO humbuckers. With its Aged Bone White finish and timeless design, this instrument is a true masterpiece, delivering exceptional tone and playability. Unleash your musical creativity and make a statement with the Emily Wolfe "White Wolfe" Sheraton.
View In Showroom
Request an appointment with one of our team
WAYS TO PAY:

Introducing the Epiphone Emily Wolfe "White Wolfe" Sheraton, a remarkable masterpiece that pays tribute to the iconic rock & roll sensation, Emily Wolfe. This exquisite instrument is a white rendition of her immensely popular Sheraton Stealth, infused with Emily's artistic vision and unparalleled creativity. Crafted with meticulous attention to detail, the Emily Wolfe "White Wolfe" Sheraton stands as a true testament to the craftsmanship and artistry that Epiphone is renowned for.
To ensure sublime playability and sonic excellence, the "White Wolfe" Sheraton boasts a striking Indian laurel fretboard adorned with 22 medium jumbo frets. The fretboard is embellished with mother of pearl block inlays featuring captivating abalone lightning bolts, adding a touch of sheer elegance. At the headstock, you'll find a mesmerising mother of pearl tree of life inlay on the front, showcasing the instrument's ethereal beauty. On the rear, Emily's distinctive Wolfe logo and a white gloss signature proudly declare this instrument as a true embodiment of her musical prowess.
Equipped with Grover Rotomatic tuning machines and a Graph Tech nut, the "White Wolfe" Sheraton guarantees rock-solid tuning stability and effortless string manipulation, allowing you to explore your musical creativity without compromise. A LockTone Tune-O-Matic bridge and Stop Bar tailpiece anchor the strings, contributing to the remarkable sustain and resonance that define this extraordinary instrument.
Delivering a sonic palette as diverse and dynamic as Emily Wolfe's own musical journey, the "White Wolfe" Sheraton is outfitted with full-sized Epiphone Alnico Classic PRO humbucker pickups. These pickups are meticulously crafted to capture every nuance of your playing style, delivering rich, harmonically-rich tones that will ignite your creativity. With the inclusion of CTS potentiometers, you have complete control over individual pickup volume and overall tone, ensuring that your sound is perfectly tailored to your unique style.
As visually captivating as it is sonically impressive, the "White Wolfe" Sheraton boasts an elegant Aged Bone White finish, exuding timeless beauty and a touch of vintage allure. Complementing the finish is the addition of lightly aged gold hardware, creating a harmonious aesthetic that is both visually stunning and evocative of the instrument's rich heritage.
Built with a layered maple body and a maple centreblock, the "White Wolfe" Sheraton delivers exceptional resonance, superb sustain, and remarkable clarity. The SlimTaper 60's "C" neck profile provides a comfortable playing experience, allowing for effortless navigation across the 24.75" scale length. With a 12" fretboard radius, this instrument ensures smooth and effortless string bending, allowing you to infuse your playing with expressive nuances.
The Epiphone Emily Wolfe "White Wolfe" Sheraton is not just an instrument; it's a statement. It's a celebration of Emily Wolfe's indomitable spirit, artistic vision, and unwavering commitment to her craft. Whether you're a devoted fan or a discerning musician in search of a truly remarkable instrument, the "White Wolfe" Sheraton is ready to accompany you on your musical journey, empowering you to unleash your creativity and make your mark on the world of rock & roll.