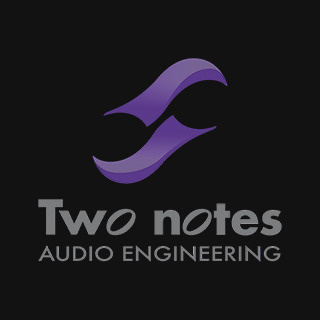 Two Notes Torpedo Hardware | Torpedo Captor - 4 Ohm
Premium Reactive Load Box - Unleash Your Valve Amp
In the normal use of a tube amplifier, it is highly recommended that you always connect its power output to a speaker cabinet prior to powering it up. The speaker cabinet (4, 8 or 16 Ohms) must always be connected to the corresponding speaker output of your amplifier. Not doing so can lead to partial or complete destruction of the output stage of the tube amplifier.
Playing silently or at low volumes is often a requirement, especially at home but more and more on stage or in the studio. To play your amp without a cabinet you need a loadbox. Two notes is known for the most accurate and feature rich loadboxes in the world, using the reactive technology, in other words mimicking perfectly the impedance of a speaker. Your amp will absolutely believe it's connected to a real cabinet.
If you wish to keep a cabinet on stage, the Captor features a direct speaker THRU or ATT output. It allows for full volume or a fixed -20dB attenuation.
The Captor provides a DI output for your amp. The DI XLR output is phantom-powered for ease of use, and features an ultra-transparent op-amp buffer. Use it to pick up the sound of your amp on stage, or to virtually add an amp input to your sound interface.
When using the Captor on stage to feed a PA, you will need to polish the sound coming from your amp. The analog speaker sim is derived from the acclaimed Le Preamp series. You will be able to get a detailed and focused sound for your monitor or the front of house while keeping a low volume on stage. Add a Torpedo C.A.B. M+ with its large collection of IR Cab Sims for the ultimate direct solution.
View In Showroom
Request an appointment with one of our team
WAYS TO PAY:

Compact and straightforward, the Torpedo Captor is the secret weapon in thousands of studios worldwide and an indispensable tool for stages of all sizes. Play and record your amp at home, on stage or in the studio, at the sweet spots.
Includes built-in guitar and bass analog cab sims for standalone use or combine with the included Wall of Sound Plug-In and explore 16 DynIR virtual cabinets.
Push your tube amp to the sweet spots and control the volume with the -20dB attenuator. Get pushed cleans, driving crunch or liquid high gains without flattening the front row or disturbing your neighbours and family.
The reactive load box in the Torpedo Captor accurately emulates the response, dynamics and feel of your rig. Going direct, recording your favourite tube amp and recording silently has never been easier.
Feed your Torpedo Captor dry amp track into the acclaimed Torpedo Wall of Sound DAW plug-in. Torpedo Captor includes 12 guitar and 4 bass Virtual Cabinets captured with DynIR.
With over 400 available from the DynIR Cabinet Collection (inc. Mesa, Victory and Celestion) your tone is right there waiting for you.