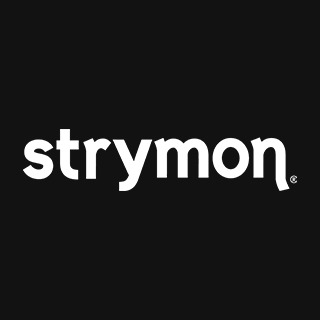 Strymon Mobius | Multidimensional Modulation
Infinitely Organic
Some might say Strymon are driven. When their engineers lock themselves in their sound design labs for months on end, you might say they're obsessed. They have been dedicating themselves to forging a collection of the most organic, luscious, expressive, and versatile modulation effects ever heard.
It was an enormous mission - they painstakingly studied the nuances of the legendary modulations of celebrated tremolo effects, phaser pedals, chorus units, and more from the last five decades. They didn't stop at faithfully capturing these warm and lush vintage sounds - they expanded their vocabulary with extended versatility and sonic possibilities never before heard.
View In Showroom
Request an appointment with one of our team
WAYS TO PAY:

Open Up the History Books of Music.
Mobius gives you twelve legendary, versatile, and inspirational modulation machines, all in an easy-to-use package. Go from mouthwatering vintage chorus sounds all the way to syrupy psychedelic phasers. Get classic, pulsating tremolos all the way to warbling crushed bits. Mobius opens up the history books of music and provides new sounds and inspiration for all of your musical ideas.
Strymon knew they must surpass what has been done - in sound design, audio quality, hardware design, and processing power. Utilising an insanely powerful SHARC DSP, every drop of power is harnessed. Top it all off with 200 presets, full MIDI implementation and a unique Pre/Post Mode and you're on your way to modulation ecstasy.
12 Versatile Modulation Machines
Mobius provides twelve studio-class, fully tweakable, and completely adjustable modulation machines:
Chorus - The Chorus machine features five distinct modes to cover all the classic chorus sounds, from the variable-clock warmth of the dBucket, Multi, and Vibrato modes, to the crisp and clean 80s sounds of the Digital and Detune modes.
Flanger - The Flanger machine's six modes are designed to deliver the historic catalogue of flanging tones with maximum ease of use. Choose from the colour-coded Silver, Grey and Black (+ and -) modes for vintage stomp flanger tones, or go through zero back to the days of tape flanging with the Zero+ and Zero- modes.
Rotary - The Rotary machine captures the sonic swirling complexities of a variable horn and drum rotary speaker. A variety of parameters let you shape the system's sonics and mechanics.
Vibe - The Vibe machine lives and breathes with the warmth and depth that discerning vibe fans will appreciate. Control over waveshape symmetry, low end response, and headroom allow for precise under-the-hood adjustments.
Phaser - The Phaser machine's modes ensure that you're able to easily dial in chewy 2, 4 and 6 stage phasers as well as swirly 8, 12 and 16(!) stage phasers. Each mode was painstakingly tuned for optimum sonic performance.
Filter - The flexible Filter machine gives you Low Pass, Wah, and High Pass filter modes, with resonance control and a host of cool waveforms, including envelope control, to allow for soothing sweeps, funky wahs, and futuristic bleeps.
Formant - Say what? The Formant machine does the talking for you. The Formant machine provides hours of fun as a host of selectable waveforms control the selected vowels. Select random vowels, and who knows what it'll say next?
Vintage Trem - The Vintage Trem machine provides three historic tremolo sounds. Choose the rich complexity of the Harmonic tremolo, the soothing pulses of the Tube tremolo, or the surf and spy sounds of the Photo tremolo.
Pattern Trem - The Pattern Trem machine allows you to sequence up to eight beats of trem subdivision for some unique rhythmic sounds. Choose from a variety of waveforms, including smooth sinewaves, sharp saws, choppy pulses, and more. Easily re-trigger your pattern with a single press of the tap switch.
Autoswell - The Autoswell machine goes beyond the typical 'volume swell' effect, giving you four different types of swell curves to choose from, in addition to a wide range of rise times. The Depth knobs brings in a chorus/vibrato effect to the swelled signal when turned up.
Destroyer - The Destroyer machine combines bit-crushing, sample-rate reduction, and lo-fi filtering alongside vinyl scratches and warps. From an old-timey 78 record, to video-game nostalgia, to a heinously corrupted under-sampled buzz, the Destroyer machine has the power, flexibility and sonic pedigree necessary to really muck things up just right.
Quadrature - The Quadrature machine handles another spectrum of signal corruption. Choose from AM (amplitude modulation), FM (frequency modulation), or Frequency Shifting (single side band modulation) to go where few have gone before. This mode is highly flexible with a variety of waveshapes to modulate the modulation.
Studio-class modulation algorithms deliver meticulous and detailed modulation experiences
Twelve modulation machines to choose from: Chorus, Flanger, Rotary, Vibe, Phaser, Filter, Formant, Vintage Trem, Pattern Trem, Autoswell, Destroyer, Quadrature
Five front-panel tone shaping knobs: Speed, Depth, Level, Param 1, Param 2 (Param knobs assignable per preset)
Additional menu-driven parameters deliver extremely flexible tone shaping options and versatility
200 easily accessible and nameable presets, save and recall at the press of a switch
Three rugged metal footswitches for preset selection, effect bypass, and Tap
LED display for preset info, BPM readout, and extended parameter control
Full MIDI implementation allows extended control for those with more complex rigs
Sturdy and lightweight dark blue anodized aluminium chassis
Stereo input and output
Expression pedal input with selectable control over any knob or combination of knobs, saveable per preset (also configurable as external tap input)
MIDI input and output
Pre/Post Mode for flexible routeing, allowing you to put Mobius in two different places in your mono signal chain
Ultra low noise, high performance 24-bit 96kHz A/D and D/A converters
110dB typical signal to noise
20Hz to 20kHz frequency response
+8dBu maximum input level easily handles instrument and line signals
Premium analog front end and output section
Super high performance DSP in a compact form factor
32-bit floating point processing
True Bypass (electromechanical relay switching)
Selectable high-quality Analog Buffered Bypass
Selectable Tap Subdivision, saveable per preset
Optional Global Tap Tempo mode
Included 9V DC power supply (300mA required minimum)
Dimensions: 6.75" wide, 5.1" deep
Designed and Built in the USA