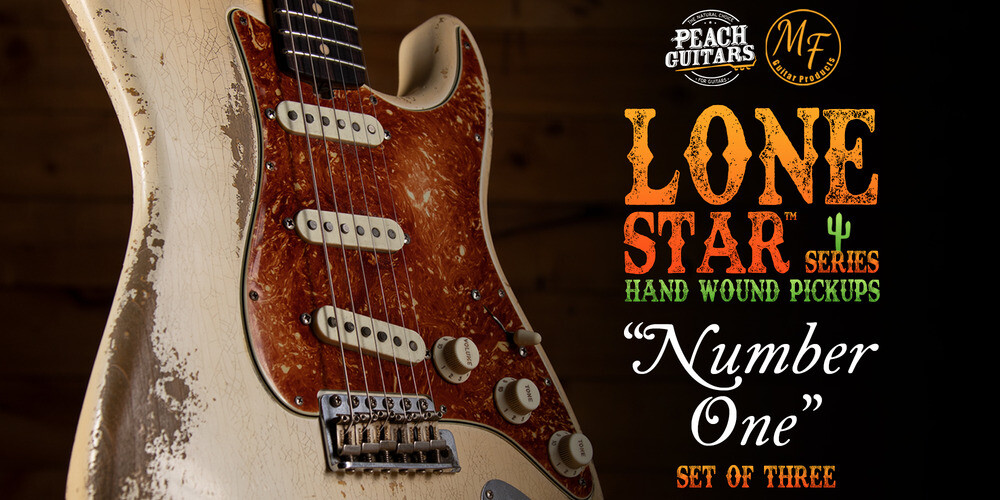 Peach Favourites | Lone Star Series
There are few players who change the game quite as drastically as Stevie Ray Vaughan did. Poncho clad, hat donned, Stevie played a Strat like none before him, man and guitar fused at the hip, his guitar was alive and raising hell.
There is no better example of this visceral connection than his landmark 1983 show in Toronto, Canada. For many guitarists, this is the holy grail of tone, the pinnacle, the sound we all strive for but none can quite replicate. That is, until now!
In collaboration with pickup guru Mark Foley, from MF Guitars, Peach Guitars are proud to deliver the Lone Star Series "Number One" set of hand wound single coil pickups.
The pickups have an incredible clean sound with a bright, yet FAT tone that's never shrill, and when you step on a mid-gain pedal, well, that's where the real magic happens!
Here's what Mark at MF Guitars has to say about the pickups: "The holy grail of Strat tone has to be from SRV's legendary 1983 performance at a world famous club in Toronto Canada . A Stratocaster into a combo of Black Face Amps spiced with a hint of a tube screamer. These Number One pickups are sonically tuned to work within this set up. Using specified A5 magnets that are staggered the same as Stevies Number One and scatter wound with #42 gauge coil wire these pickups deliver a big tone from a low inductance wind."
These pickups are ultimately designed to emulate the tone of SRV's Number One Strat from his legendary performance that night but after running direct comparisons to several original Pre-CBS Strats, we feel that these pickups can hang with the very best Vintage pickups on the planet.
Check out the incredible Dan Patlansky putting the "Number One" set through their paces, this guy knows tone and as a modern master of blues, who better to give these pickups such a glowing endorsement!
Crafted in very small batches by Mark at his workshop in Essex, the Lone Star Series "Number One" pickups are always in high demand, so get your order in now!
Available exclusively at Peach Guitars