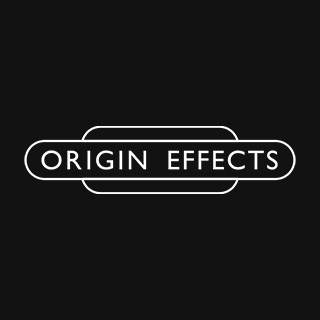 Origin Effects Overdrive Pedals | M-EQ DRIVER Mid-Booster & Drive
Mid Boost, Overdrive & Vintage Studio Mojo
The M-EQ DRIVER is a mid booster & drive pedal, based on a vintage Pultec studio EQ. This unique pedal offers a range of mid-focused tones, from a subtle mid boost to thick, resonant overdrive and features the Adaptive Circuitry recently introduced in Origin's Halcyon Green Overdrive. The M-EQ Driver is a pedal with a character all of its own and offers a new flavour of mid boost and drive. Please read on below for further information.
View In Showroom
Request an appointment with one of our team
WAYS TO PAY:

The M-EQ DRIVER is a Mid Booster & Drive pedal, based on a vintage Pultec studio EQ. Still sought after today, these legendary passive EQs from the 1950s can be heard on thousands of hit records thanks to their highly musical, versatile EQ curves and the ability to overdrive their push-pull output stage. Rather than making an exact replica, Origin have chosen to reimagine this classic piece of studio gear as a guitar-oriented, compact pedal.
Craft the perfect mid boost, add some studio-inspired saturation or push the pedal's valve-like output stage into fierce 'cocked wah' distortion. With the addition of their Adaptive Circuitry, the M-EQ DRIVER is always responsive and precise, with a character all of its own.
Based on the legendary Pultec studio EQs of the 1950s


Choice of mid boost frequencies

Adaptive Cut control responds to volume changes and playing dynamics

Transformer-equipped circuitry

Valve-like push-pull output stage

Ultra-high input impedance

High-quality buffered bypass

Premium components throughout

Designed and built in England
The original Pultec studio EQs are renowned for having some of the most natural and musical EQ curves in existence, so Origin recreated the behaviour of this timeless, passive EQ and optimised it for electric guitar. To make sure you're emphasising just the right part of your signal, the M-EQ DRIVER lets you choose between 0.8, 1.0 and 1.3 KCS mid boost frequencies (yes, they even kept the old 'Kilocycles Per Second' label - Kilohertz in the present day).
Not only does this versatile mid boost guarantee compatibility with all kinds of guitars but, when pushed harder, can elicit a range of saturation from a classic 'mid-hump' overdrive to ferocious, resonant distortion tones. Equipped with a transformer, this carefully developed circuit adds harmonic richness, while faithfully recreating the sonic footprint of an original vintage Pultec.
Using the MID knob in conjunction with the DRIVE control lets you balance mid boost with overdrive, giving your clean or overdriven tones as much or as little mid-emphasis as you need.
To add something new to this classic design, Origin have equipped the M-EQ DRIVER with their Adaptive Circuitry, applied to the CUT control. Based on the High Frequency Attenuation band of a Pultec, the CUT control progressively removes treble as it is increased. With the ADAPT switch engaged, this high-end roll-off is reduced as the pedal cleans up, allowing for a smooth transition from warm overdrive to bright clean tones by adjusting your guitar's volume knob or playing dynamics.