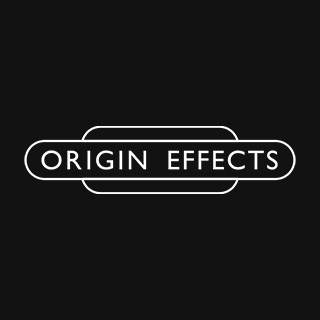 Origin Effects Overdrive Pedals | RD Compact Hot Rod
Hot-Rodded Amp Overdrive!
The RD Compact Hot Rod packs huge, hot-rodded amp tones into a compact enclosure. Following in the tradition of the amp technicians whose experiments helped define the sounds of Hard Rock and early Heavy Metal, we have endowed our RevivalDRIVE Compact pedal with more gain and a whole new personality. The RD Compact Hot Rod recreates the entire signal path of a classic, modified valve amp using allĖanalogue circuitry, bringing you not only the sounds but also the dynamics and feel of these coveted, hot-rodded amps.
View In Showroom
Request an appointment with one of our team
WAYS TO PAY:

MODDED TO PERFECTION
When the legendary amp techs of the Ď70s and Ď80s went in search of new, aggressive, sustaining Rock guitar tones, they took tried-and-tested amps and explored the limits of what they could do. Thatís exactly what Origin have done with the RD Compact Hot Rod Ė taken their already popular RevivalDRIVE Compact pedal and pushed it to the extreme.
Built on that pedalís authentic, amp-like overdrive, the RD Compact Hot Rod increases the gain for huge overdrive and saturation. The voicing has also been tweaked for a more cutting, in-your-face character, while the power supply sag has been reduced to make percussive riffs hit even harder.
Make no mistake, this pedal is not a one-trick, Hard Rock machine. Its valve-amp style circuit can still clean right up, just like the real thing.
REAL AMP OVERDRIVE
Just like all the pedals in the RevivalDRIVE range, the RD Compact Hot Rod is all about real amp overdrive. By replicating every stage of a valve ampís signal path using all-analogue components, with discrete transistor-based circuitry standing in for the valves, the RD Compact Hot Rod delivers stunningly realistic tone, feel and dynamic response, ranging from clean to fully cranked.
The simplified control set allows you to directly shape key properties like preamp voicing, break-up characteristics and low-frequency distortion, to get straight to the components that govern great amp tone.
POWERFUL POST-DRIVE EQ
While most overdrives will work well with some amps and not so well with others, the RD Compact Hot Rodís built-in Post-Drive EQ lets you tailor the output of the pedal to work with just about any amp, as well as flat-response power amps, FX loop returns, mixers and recording interfaces.
The Post-Drive EQ means you donít have to compromise your preferred clean settings to get the perfect drive sound. Simply set your amp how you like it, then adjust the RD Compact Hot Rodís proprietary EQ filter until it matches.
BUILT FOR THE ROAD
Housed in a hand polished, brushed stainless steel enclosure and furnished with aluminium controls, Neutrik jack sockets and heavy-duty footswitch, the RD Compact Hot Rod is equally at home on the road or in the studio.