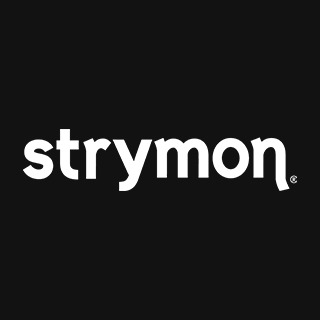 Strymon El Capistan V2 | dTape Echo
Vintage Vibe Machine
Plug in, play a note or chord, and you feel it: All the warm, saturated, distinctive qualities and subtle nuances of vintage tape echo combine to instantly create an unmistakable atmosphere.
Everything from classic slapback echoes to psychedelic space explorations have stunning richness and depth, responding to each note and knob turn in a musically inspiring way.
Turn up the repeats for organic delay feedback with just the right amount of grit. Dial in some spring reverb to further enhance the sense of space. Effortlessly create multi-layered ambient soundscapes with the tape-style sound on sound looper.
Transform your pedalboard into the inspiration machine it was meant to be.
View In Showroom
Request an appointment with one of our team
WAYS TO PAY:

El Capistan provides three different tape machine types in one pedal, each with three unique modes and extensive control over tape quality, machine health and tone shaping.
Go from the full-range sonic stability of a fresh-from-the-factory echo machine, to the heavily fluctuating sound of a road-worn unit in need of service. Enjoy the full bodied sound of fresh tape, or dial in the dark, gnarled and vibey qualities of worn out tape.
Strymon's meticulously handcrafted dTape technology and powerful ARM DSP give you a range of tape experiences that would be unattainable with a single traditional tape machine. Plus you get sound on sound looping, all without the headaches of tape machine maintenance and repair.
Classic Sound, New Features.
Strymon's second generation El Capistan keeps the same rich magnetic tape echo tones from their original and adds significant new features, incorporating technological advancements, hardware improvements and design enhancements to give you additional flexibility, power, and ease of use on stage and in the studio.
MIDI - Full MIDI implementation means you can control just about every switch, knob, and setting remotely by sending MIDI commands from your controller or DAW via El Capistan's EXP/MIDI jack or USB-C connection. Delay time can be synchronized via MIDI Clock Sync, and the sync setting can be saved for each preset. 300 MIDI preset locations are available for loading and saving your favourite settings.
Hardware Improvements - A premium analog JFET input circuit ensures superb responsiveness to your playing, and you can select mono or stereo input with the flick of a rear panel switch. All this, plus a new ARM DSP chip provides more processing power for every sonic nuance, with less energy consumption on your pedalboard.
Spring Reverb - Some classic tape echo machines included small integrated spring reverb tanks tuned for limited bandwidth. For El Capistan, Strymon captured this vintage vibe while creating a spring reverb algorithm with a gorgeous, gentle character that stands on its own, in addition to enhancing delayed signals.
Echo Through Eternity.
Classic single-note slapback. Rhythmic multi-head delays. Ambient, washed-out echoes that dissolve into waves of noise. El Capistan's three different tape machines provide a huge variety of vintage delay sounds, offering unique functionality depending on what the Mode switch is set to.
The fixed tape head machine creates a classic delay effect with tape speed controlled via the Time knob. The Mode switch selects between three playback heads, each a specific distance from the record head for a specific delay interval. Choose between: (A) short delay with 1/16 note tap tempo, (B) medium delay with dotted 1/8 note tap tempo, and (C) long delay with 1/4 note tap tempo.
The multi tape head machine has the same three playback heads as the fixed version, but simultaneously uses two of the three playback heads to create rhythmic delays that groove with one another. The Mode switch selects which two playback heads are active: (A) Heads 1 and 2 are active.(B) Heads 2 and 3 are active. (C) Heads 1 and 3 are active. The Time knob adjusts tape speed.
The single tape head machine changes things up by running the tape at a fixed speed while the Time knob sets the delay time by adjusting the position of a sliding record head. This tape machine also features a sound on sound looper. The Mode switch offers the following options: (A) Tape motor runs at double speed for higher fidelity with shorter delay times. (B) Tape motor runs at normal speed for lower fidelity with longer delay times. (C) Sound on Sound mode for tape-style looping with instant tape splice, bulk erase, and two tape speeds.
Take Control.
A full suite of traditional delay controls make El Capistan a practical addition to any board.
Set your preferred delay time using the dedicated Time knob, and dial in everything from snappy slapback delays to long, spacious echoes. Need to dial it on the fly? Use the dedicated Tap switch to lock in to your desired tempo without needing to turn a single knob.
Use the Mix knob to make your delayed signal as subtle or noticeable as you need. From fully dry to fully wet, and everything in between.
El Capistan's Repeats knob lets you select just the right amount of repeats - from a single echo for double-tracking delays, to runaway oscillation madness at its upper settings.
Need Some Space?
Like certain echo machines of yesteryear, El Capistan features a finely-tuned spring reverb to add another dimension to your echoes.
Use it to add subtle space and dimension to your delays at lower settings, or turn things up a notch for big, splashy waves of old-school spring reverb.
Just want reverb? Turn the Mix knob to minimum to hear only your reverberated signal.
Add A Little Movement.
El Capistan captures the nuances of the dozens of moving parts that contributed to the sound of classic tape echoes.
A dedicated Wow & Flutter knob adjusts the amount of mechanically related tape speed fluctuations.
From the crisp delays of a fully cleaned and serviced machine, to the warbly, pitch modulated echoes of a road worn piece of gear - El Capistan gives you all the vibe and none of the maintenance.
Better With Age.
Strymon's goal with El Capistan was to offer the most authentic tape echo experience in a modern, compact form factor. A component of that was replicating the tonal effects that the tape medium itself can have on your signal depending on the age and condition of the tape itself, as well as taking into account the significant effect of the bias setting of the tape machine.
A dedicated Tape Age knob lets you decide whether you want the full bandwidth of brand new, glossy tape - or the warm top end of older well-used tape.
As a part of keeping things simple up-front, Strymon added secondary functions for added control over the tape crinkle and tape machine bias.
The Tape Crinkle secondary function controls the amount and severity of tape irregularities, including friction, creases, splices and contaminants. Go from smooth and well-cared for tape, all the way to tape that's been chewed and mangled. Just like the real thing, Tape Crinkle characteristics track accordingly to tape speed.
While not a characteristic of the tape itself, how much bias signal is added to the tape's audio signal can make huge tonal differences. By adjusting the Tape Bias secondary function, you can get high-headroom, extra clean, crisp echoes at lower settings, or crunchy, saturated echoes with higher bias levels. Higher bias settings also limit the echo volume, which can be useful at very high Repeats settings when you want to create high feedback and self-oscillation effects while still keeping output level under control. For 'optimal' bias, set the knob at approximately 9 o'clock.
Round Things Out.
El Capistan's Low End Contour secondary function gives you an extra layer of tonal control by shaping the low frequency content of the echo repeats.
At the far left of the control, you get extended low frequency bandwidth for full, deep repeats.
As you turn the Low End Contour knob clockwise, low frequencies are gradually filtered from the repeats, giving you the ability to create extremely high-passed echoes at the far end of the knob's range.
Over And Over Again.
Just like one of Strymon's favorite moving head tape echo machines, El Capistan gives you a Sound on Sound mode, but with some cool new features.
When you enter Sound On Sound mode (Single Tape Head, Mode C), the machine is already recording, just like a traditional tape echo machine. Strymon go several steps further by giving you instant tape splice and bulk erase functions. It's like having a built-in tape-style looper!
To set the length of your tape, press Tap once to set your splice 'in' point, and press Tap again to set your splice 'out' point. All of the tone shaping knobs are active and affect your loop as it plays back and re-records. Press Tap a third time to completely erase the tape. You get 20 seconds of tape at slow speed, 10 seconds at fast speed.
High impedance ultra low-noise discrete Class A JFET TRS stereo input.
Low impedance independent TS stereo outputs.
Expression pedal input allows the connection of a TRS expression pedal, MiniSwitch, MultiSwitch Plus, or TRS MIDI connection.
USB jack for controlling via MIDI from a computer or for performing firmware updates.
Dedicated tap tempo & On/Off footswitches
Premium JFET analog front end
Ultra low noise, high performance 24-bit 96kHz A/D and D/A converters provide uncompromising audio quality
520MHz ARM Superscalar processor
32-bit floating point processing
20Hz to 20kHz frequency response
Audio Input Impedance: 1M Ohm
Audio Output Impedance: 100 Ohm
Strong and lightweight anodized dark grey aluminium chassis
9V DC power supply included
Power requirements: maximum 9 volts DC centre-negative, with a minimum of 300mA of current
Dimensions:

4.5" deep x 4" wide x 1.75" tall
11.4 cm deep x 10.2 cm wide x 4.4 cm tall

Designed and built in the USA