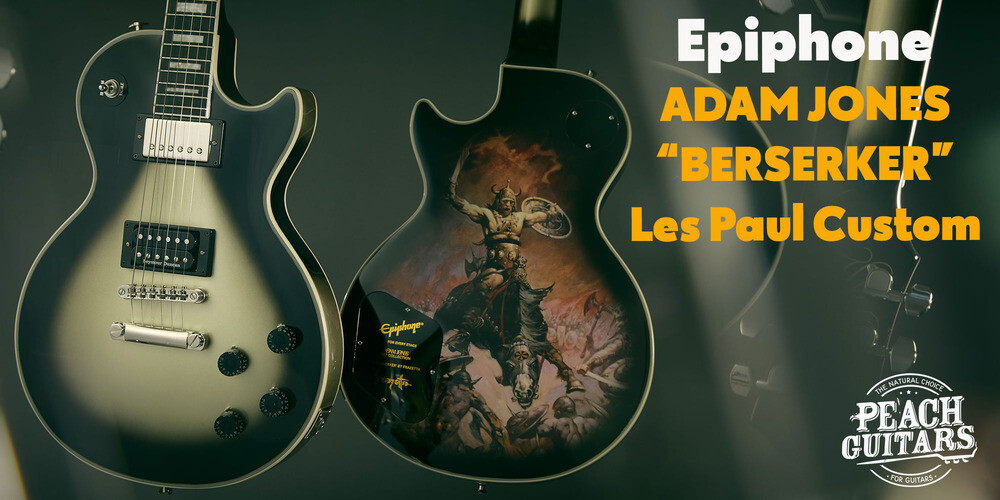 Peach Guitars | New Release | Epiphone Adam Jones Berserker
Adam Jones is a creative mastermind, and his creative endeavours stretch far beyond his legacy as the driving force behind experimental rock band, Tool.
Not only is he considered to be one of the most iconic guitar players of his generation, but his talents extend to visual arts, sculpture and special effects. He has worked on films such as Ghostbusters II and Predator 2, developed and directed multiple Tool videos and even won a Grammy for his work as Art Director on the Tool record 10,000 days, he is a multi talented visionary, who thrives on thinking outside of the box.
His work with Tool will long be revered, and it's here that he has found incredible success. 4 Grammy wins, over 14 million albums sold and a legion of die hard fans who follow them with cult-like enthusiasm.
As a long-time Gibson artist, it was no surprise when The Gibson Adam Jones Silverburst Les Paul Custom was announced shortly after the release of "Fear Inoculum". Silverburst is a lesser seen Gibson colour but it's by far one of the coolest and it was on display here to killer effect. Soon followed the Epiphone Adam Jones Les Paul Custom, equally as imposing but at a more attainable price point, they were a huge hit.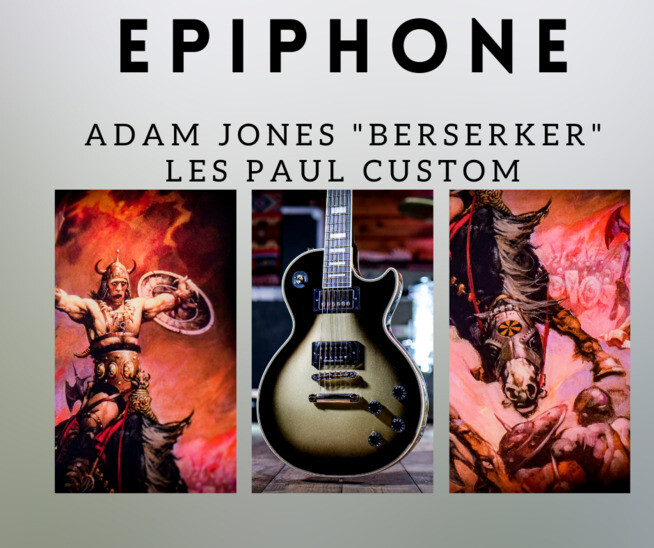 The latest collaboration has dived even deeper into the abyss and has certainly caught everybody's attention! The Epiphone Adam Jones Art Collection. Seven highly collectable Silverburst Les Paul Custom models, each featuring a fine art design, carefully selected by Jones himself.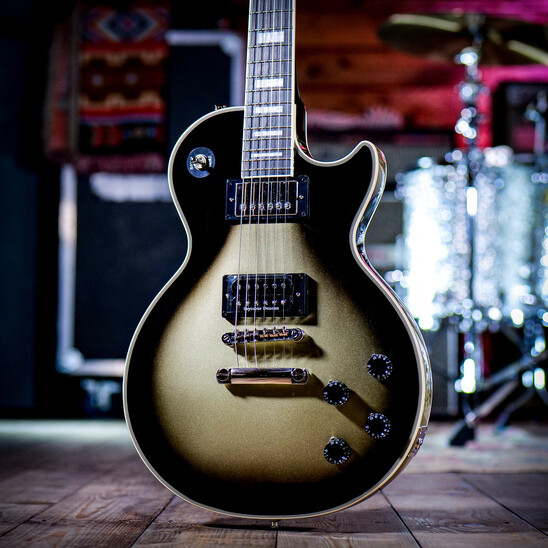 The first release saw Mark Ryden's "The Veil of Bees" take centre stage.
"Mark's work is instantly recognizable, uniquely his own." Adam says. "While he started in fine art, he has expanded into music and theatrical productions. What a perfect partner to kick off this series with."
The second instalment is just as impressive and lands this week. The Epiphone Adam Jones "Berserker" Silverburst Les Paul Custom, featuring custom art by Frank Frazetta. Berserker is a bloodthirsty gift from the old Gods, a depiction of the glory of battle and the fight for a place in the hallowed halls of Valhalla!
These guitars are sure to move before you've even had a chance to blink, so if you want one you better get in touch now! But, fear not, if you miss out this time, it won't be long before Art Collection piece number 3 is locked in and ready to rock and roll!
As always, you can buy with confidence from Peach Guitars. From meticulously inspecting each piece of equipment, professionally setting up each guitar, tracking every package, and delivering the best after-sales customer service, our team will do our best to make you feel welcome and offer genuine, professional advice.