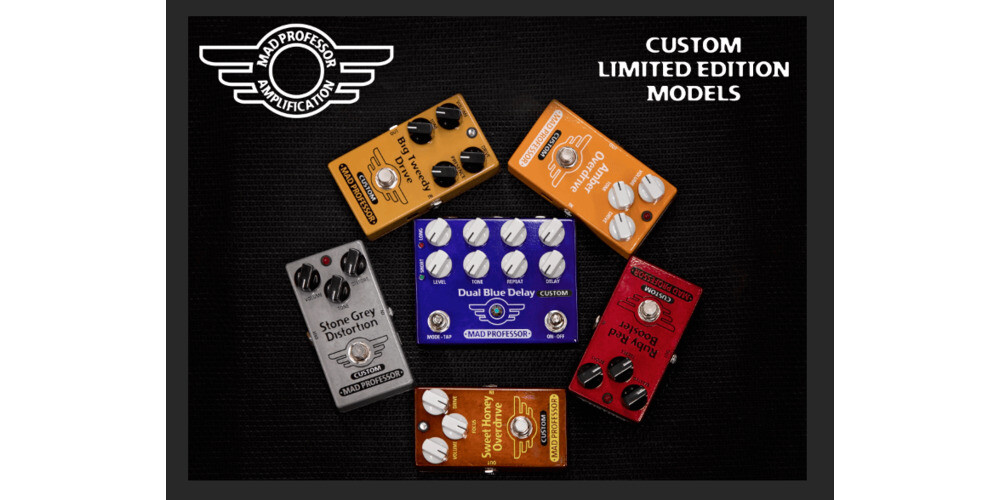 Peach Favourites | Mad Professor
Buried deep among the dense woodlands and icy plains of Finland, a group of pioneering guitar wizards have been forging pedals from the furnace of tone. While this might not be strictly factual, it's not a million miles from the truth, Mad Professor pedals are the stuff of legend. Crafting some of the finest and most revered pedals around, fusing player focussed features and acres of majestic tone, these guys deserve their place in pedal folklore.
While we've all been locked down, Mad Professor have been busy building a Limited Edition series of pedals, taking some of their most popular designs and injecting them with a series of often requested modifications.
With 6 classics getting a fresh spin, these pedals will inevitably become staples on boards across the world. From the gnarly roar of the Stone Grey Distortion with its Modernized mod, the gritty highs of the Sweet Honey Overdrive with it's Fat Bee mod to the luscious sparkle of the Dual Blue Delay, Mad Professor somehow managed to squeeze even more magic out these circuits.
But they didn't stop there, they have also released the extremely Limited Fuzz 32, a vintage inspired germanium fuzz without all of the normal complexities of such units. Mega tone, a small footprint and reliable functionality, it's what we all crave!
Available from Peach Guitars now, you are not going to want to wait, because these pedals are not going to hang around!