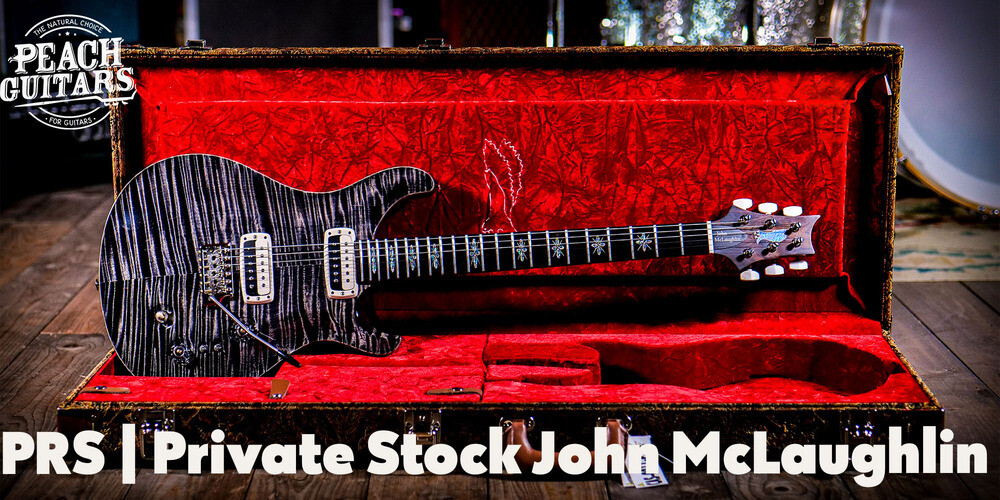 New Release | PRS Private Stock John McLaughlin Limited Edition
We all know Paul Reed Smith, right? He's one of the most influential and inspiring minds of the modern guitar movement. For over 30 years he's been crafting guitars that offer class leading quality control, precision and playability to die for. Consistency and quality are buzzwords that are fully justified when talking about Paul! He's a true innovator, and if you've been fortunate enough to spend any time with him, his enthusiasm and commitment to his craft are impossible to ignore.
PRS have long pushed the boundaries of guitar design, seeking to straddle that line between honouring the past and pushing forward to the horizon in search of new ideas. The BRAND NEW PRS Private Stock John McLaughlin Limited Edition, is possibly the most impeccable, and arguably important, of the recent PRS releases.
I think it's important to note that this is so much more than another signature model, this guitar is the culmination of almost 40 years of PRS development, and this particular guitar exemplifies the qualities of a PRS guitar more than any other.
Sporting a pristine Flame Maple top, picked from the PRS Private Stock Vault, this guitar benefits from an incredible Charcoal Phoenix stain. Thanks to the High Gloss Nitro finish the top looks three-dimensional and powerful, while the Nitro finish also allows the wood to breathe more effectively compared to other finishes. Pairing the Flame Maple with an African Mahogany body is a tonewood match made in heaven. Rich, resonant and tonally versatile, this is the epitome of high performance.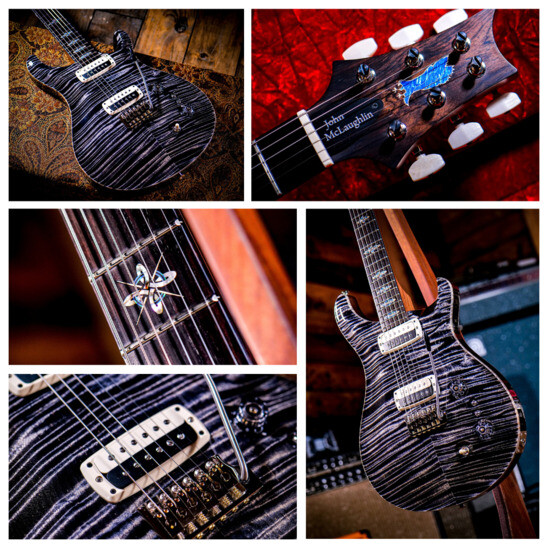 The Hormigo neck is absolutely sublime, it features incredible, intricate natural grain figuring which really highlights the beauty of this lesser-known tone wood. Traditionally Hormigo is used in the production of Marimba's due to its durability and natural resonance. Utilising the PRS Pattern neck-carve, which is smooth and super comfortable, the PRS John McLaughlin allows for quick and easy movements across the neck.
The African Blackwood Fingerboard is one of many eye-catching features of this Private Stock. One particular highlight is the stunning Celtic Knot and Abalone Knot inlays, the craftsmanship on display is truly unparalleled!
All these luxury appointments would be irrelevant though if it wasn't equipped with a pickup selection to match. A pair of Paul's TCI pickups deliver just the punch that this guitar needs, with a whole range of tonal variations, the John McLaughlin is a powerhouse both on stage and in the studio. Featuring a master volume and tone with a 3 way pickup switch alongside two mini EQ switches which act as tuned high-pass filters when engaged, you really can sculpt this guitar to your own personal taste.
Only 200 of these incredible instruments will be made. Housed in a PRS Private Stock Paisley hardcase, it's a real masterpiece.
As always, you can buy with confidence from Peach Guitars. From meticulously inspecting each piece of equipment, professionally setting up each guitar, tracking every package, and delivering the best after-sales customer service, our team will do our best to make you feel welcome and offer genuine, professional advice.