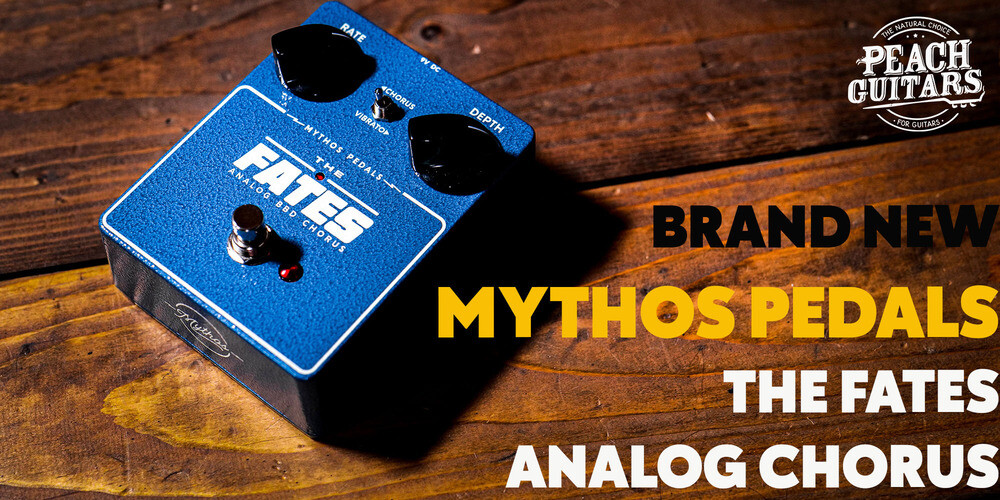 New Release | Mythos Pedals
We've been big fans of the work of Zach Broyles for a long time, for Zach and his small team of intrepid tone searchers are the masterminds behind the incredible Mythos brand. One of Nashville's hottest pedal brands, Mythos have crafted a product line rich in classic tones with refreshingly modern feel and application. You've gotta be good to survive out in the global home of tone, and Mythos don't just survive, they thrive!
And here we are with another absolutely incredible new release, the Mythos "The Fates" Analog BBD Chorus.
We've stocked Mythos for a couple of years now and we just can't get enough! These really are pedals for players, I know this sounds contrived and just another marketing ploy, but really they are. Zach and the team are players and they know as well as anyone what we're looking for when we dive into tone searching, and they know just how to deliver.
So, without firther delay, behold, The Fates! Inspired by the Japanese Chorus pedals of yesteryear, The Fates is the first modulation pedal by Mythos, and what an absolute winner it is!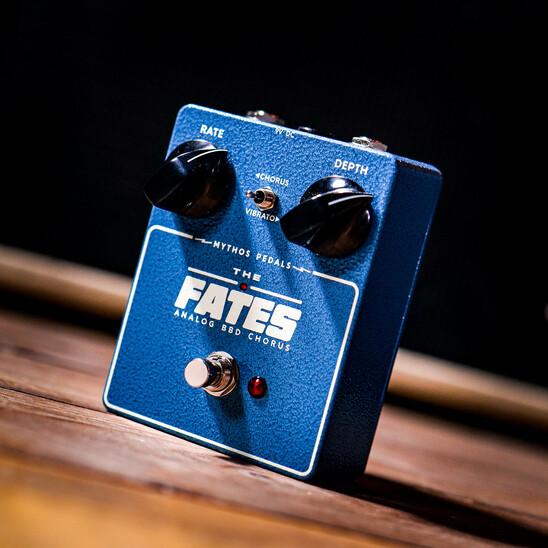 Utilizing the iconic MN3207 chip, this BBD Analog Chorus has all the swirly tones you'd expect from those classic 80's units. Mythos wanted to put their own spin on that iconic sound and create a tribute that lived up to the Mythos standard. The Fates features finely tuned Rate and Depth controls so that you have the most musical range of sounds. The Vibrato mod has been finely tuned to shift select components so that it does not have that extreme warble from the depth pot. Both the Chorus and Vibrato modes will run the gamut of swirly shimmer to rotary speaker like vibes.
The Fates features a JFET buffered bypass/input stage which helps keeps the noise down but also helps push the signal. This JFET stage gives you a sweet output bump and EQ voicing that plays well with both clean and driven sounds. On the face of the unit is Rate LED that will flash in relation to the Rate setting. This Analog Chorus is not for those who want presets, infinite controls, and other modern feature sets. The Fates is for the player who wants to plug in and enjoy the simplicity of iconic Chorus tones with ease.
The Fates was designed in conjunction with Brian for Madbean Pedals. We love it, a real rad take on a classic sound! Check out our video and head to the product page for more details!
As always, you can buy with confidence from Peach Guitars. From meticulously inspecting each piece of equipment, professionally setting up each guitar, tracking every package, and delivering the best after-sales customer service, our team will do our best to make you feel welcome and offer genuine, professional advice.