New Release | Gibson Jerry Cantrell Fire Devil Songwriter
When you look at the list of true music pioneers from recent times one name that stands out is of course Mr Jerry Cantrell. Known for his ferocious playing and relentless work ethic which helped build the foundation on which grunge royalty Alice in Chains have stood for over 30 years. For 2022 we are super excited that our good friends at Gibson Custom are back with a new Cantrell signature! But not in the way you might think, Ladies and Gentlemen please welcome…The Jerry Cantrell "Fire Devil Songwriter"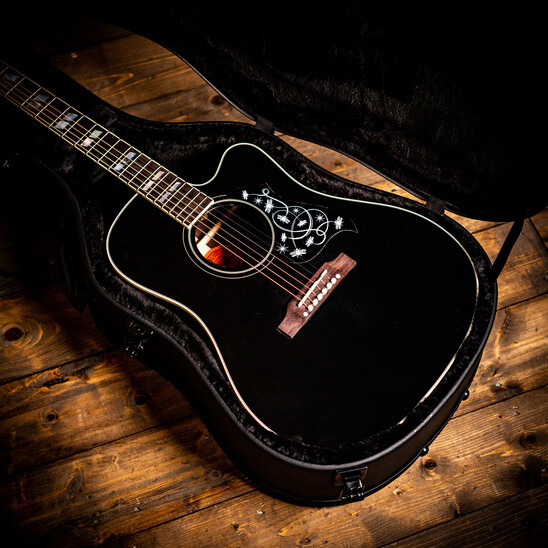 Whilst Cantrell is known for his crushing grunge rock tone it's safe to say he certainly has some acoustic mojo in his locker! When Alice in Chains appeared on MTV Unplugged back '96 the world stood still. Featuring beautifully haunting renditions of classic hits from the grunge pioneers back catalogue. The concert certainly went down in pop culture history, and still to this day it's seen as one of the most significant live albums and performances of all time.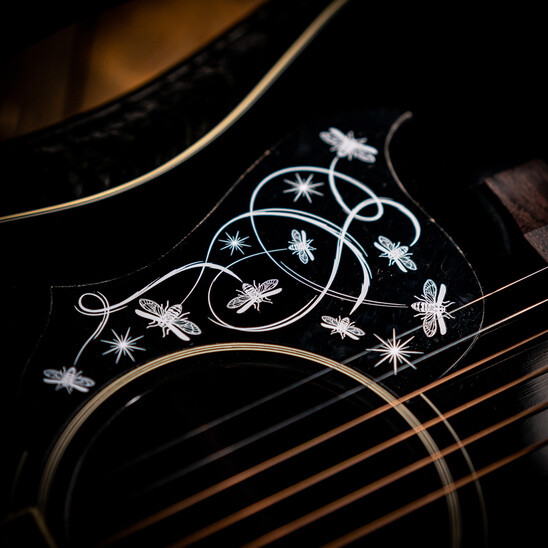 The Jerry Cantrell "Fire Devil" Songwriter is beautifully dark both sonically and visually, constructed with Rosewood back & sides as well as a Sitka Spruce top it has a deep woody tone, perfect for big complex chords and moody lead lines. It builds upon the traditional Gibson Songwriter platform but with some unique personalized features such as a thinner body depth for playing comfort, custom inlays and a Double J waterslide decal on the back of the headstock. Finished in Ebony with a custom "Fire Devil" pickguard it's both visually striking and audibly breath taking.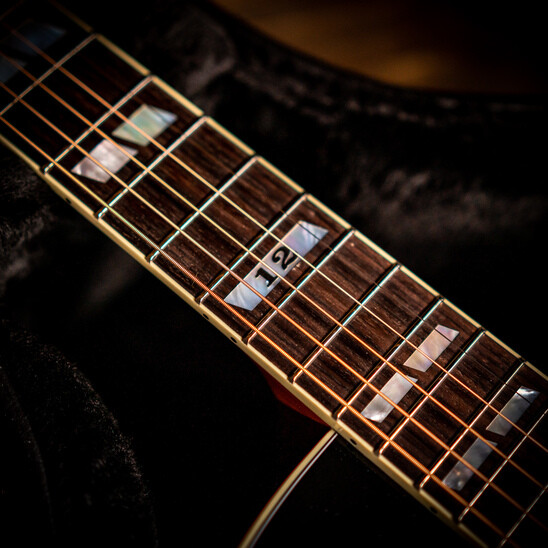 The Mahogany neck features an Advanced Response profile, allowing for quick and easy movements right across the playing surface. It boasts an Indian Rosewood fingerboard adorned with 20 Standard Small Crown frets, a 25.5" scale length, 16" radius and of course Mother of Pearl parallelogram inlays with a custom "12" inlay on the 12th fret.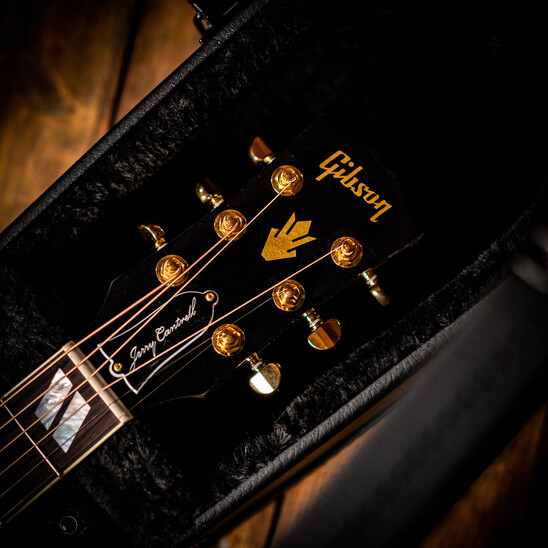 Thanks to the L.R. Baggs VTC under saddle pickup the "Fire Devil" Songwriter is ready for the stage and have no worry about tuning stability! Thanks to the Grover mini rotomatic tuners this acoustic is secure and stable no matter the situation.
The Jerry Cantrell "Fire Devil" Songwriter is limited to only 100 units world-wide and will be made by the expert luthiers and craftspeople of the Gibson Acoustic Custom Shop located in Bozeman, Montana, USA.