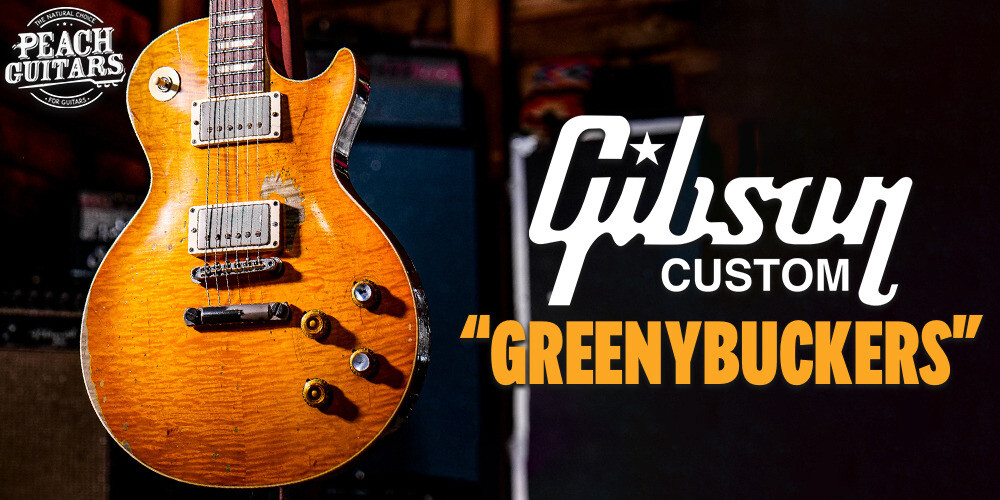 New Release | Gibson "Greenybucker" Pickup Set
There are very few guitars that can be considered as important or iconic as the people that played them, Clapton's Blackie, Jimi's Izabella, David Gilmour's Black Strat and Stevie Ray Vaughan's Number One are the obvious options, but there is one that arguably outranks them all…..
Greeny.
Originally owned by the legendary Peter Green, Greeny, a '59 Les Paul, featured on "Oh Well", "Black Magic Woman" and "Albatross", delivering some of the greatest moments of blues rock history while with Fleetwood Mac. In 1970 however, Peter Green sold the guitar to a young up and comer by the name of Gary Moore who added his own dose of rock history to Greeny's legacy. Now under the ownership of Kirk Hammett, Greeny continues to inspire and excite!
We all want that Greeny tone, but it hasn't always been an easy task to dial it in. There was something really special about those PAFs and many people have tried to recreate that magic, but nobody has really nailed it.
That is until now! Introducing the Gibson Greenybucker Pickup Set! Available for the first time as a standalone set, Gibson have managed to capture the magic of Greeny in an easy to install aftermarket mod!
What sets the Greenybuckers apart is their distinct sonic character, a characteristic partially attributed to the out-of-phase middle switch position, a result of the neck pickup's reverse magnetic polarity.
As you can imagine, the development process for these pickups was intense, and couldn't have been done without the input and collaboration from none other than Kirk Hammett, the current custodian of Greeny. The specifications for these pickups were derived directly from the original Patent Applied For humbuckers and this includes features like asymmetrical coil windings and unpolished Alnico 2 magnets, ensuring that the essence of those vintage tones is faithfully recreated.
You can get a feel for the majesty of the Greenybuckers by checking out the video content above, they really are an impressive spectacle and we're sure that you guys will dig them as much as we do!
As always, you can buy with confidence from Peach Guitars. From meticulously inspecting each piece of equipment, professionally setting up each guitar, tracking every package, and delivering the best after-sales customer service, our team will do our best to make you feel welcome and offer genuine, professional advice.