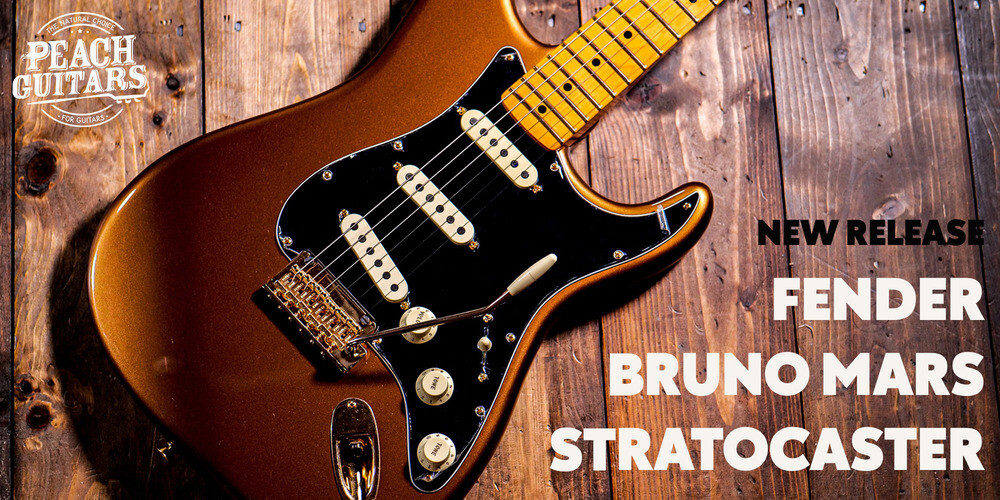 New Release | Fender Bruno Mars Stratocaster
Back in the '70s and '80s we were blessed with elite showmen, guys like Prince, Michael Jackson and James Brown were more than just elite songwriters and singers, they brought an energy and flair to the stage that very few have been able to match.
One guy who has undoubtedly been inspired by those illustrious talents, but also has the unique skills and vision to back it up, is Bruno Mars. A performer in the very truest sense, Bruno Mars brings the real flavour of R&B and funk to the 21st century.
An established Fender player, we're really excited to introduce the BRAND NEW Fender Bruno Mars Stratocaster! A killer Strat with some really cool appointments, this is your own slice of 24K Magic!
Crafted from super resonant Ash, the body is direct from the incredible American Ultra range, which boasts some delicious body contours for unrivalled comfort and upper register access! The first thing you notice about this guitar is the colour, it's a stunning custom "Mars Mocha Heirloom" nitro. It's really tastefully aged, with some great lacquer checking, this is a feature you just don't see on USA production run guitars.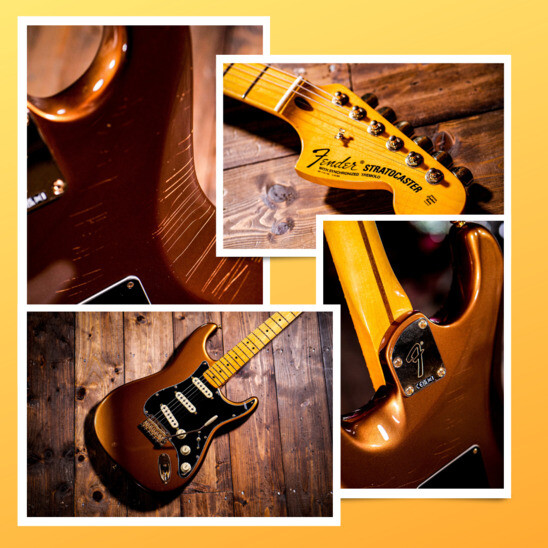 The 9.5"-12" compound-radius maple fingerboard and stainless-steel frets provide a silky, polished feel for smooth bending and effortless playability. Whether you're ripping up a slick solo or laying down those groove centred chords, this neck feels so good underhand and really encourages you to let loose!
The custom Bruno Mars Stratocaster pickups are fine-tuned to achieve Bruno's favourite tones for classic Strat sparkle and singing lead sounds. They offer a real cool take on those glassy Strat tones that funk players use to such devastating effect!
This is an absolute delight to look at, play and listen to, it's a real standout in the Fender signature model arsenal!
As always, you can buy with confidence from Peach Guitars. From meticulously inspecting each piece of equipment, professionally setting up each guitar, tracking every package, and delivering the best after-sales customer service, our team will do our best to make you feel welcome and offer genuine, professional advice.