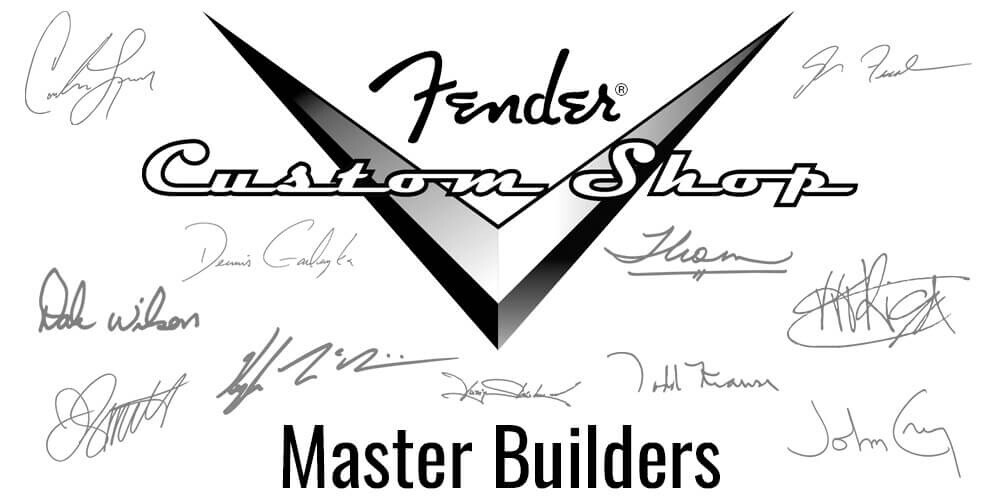 Fender Custom Shop: The Master Builders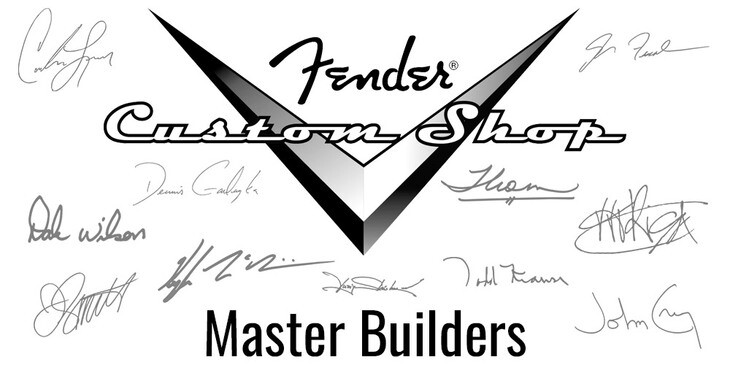 I don't think many could argue that we are in the golden age of guitar production right now. Innovations in design and technology have allowed manufacturers to deliver consistently high quality guitars time after time. Drawing inspiration from over 70 years of electric guitar heritage and pushing the bar ever further forwards, it's a great time to be a player.
Whether you crave vintage inspired players pieces or ultra modern, high gain powerhouses, the options are vast and the build quality never higher.
Of all the high profile builders around the globe, none can quite match the illustrious Fender Master Builders. The best of the best, they are a select group of the worlds most esteemed luthiers, tasked with pushing the boundaries of classic Fender construction, these guys fuse history with innovation with stunning results.
Here at Peach Guitars we enjoy a great relationship with the Fender Custom Shop and have an ever changing collection of FCS guitars, the most popular models always stemming from the hands of a Master Builder. With such a rich variation in their personal histories and inspirations, each builder brings a different flavour and their own distinct qualities in to the mix.
On our visit to the Fender Custom Shop last year we met with a number of builders and observed their processes and incredible ability to sense the potential of each component, unleashing it in the most remarkable ways.
Dale Wilson is one of the most highly respected Master Builders, we have an almost constant influx of his guitars and they never stay long! His ageing process is meticulous, authentic and undeniably astonishing, relics are a controversial topic right now but you can't argue with his results. If you are looking for a vintage flavoured Fender with vibe by the bucket load, Dale is your man!
John Cruz is a firm favourite for artist line guitars. His work with Gary Moore and Stevie Ray Vaughan's Strats and now Phil Lynott's Precision have earned him a reputation as a recreation king! With an amazing capacity to replicate even the most intricate of wear patterns, John has the most incredible attention to detail.
The Fender Custom Shop is in Jason Smith's DNA, son of FCS legend Dan Smith, Jason apprenticed under another FCS icon, John English before taking the title of Master Builder himself. We love Jason's guitars as they often stray from the traditional and offer a brand new take on classic design, check his Celadon Green Esquire on our website, it's a stunner!
At NAMM this year we had the honour of chatting with 2 of Fender's newest Master Builders, Carlos Lopez and Vincent Van Trigt. These guys were among the stars of the show, Carlos delivered the incredible Eric Johnson "Virginia" Strat, a revamped and revitalised Marauder and a brand new design of his own, the Brawler. Vincent, a slick bass player himself, stunned us with some of the most flawlessly executed Fender basses we've ever seen, one of them is currently proudly hanging in our FCS room!
These guys are ensuring that the future of the Master Builder title is certainly in safe hands!
We also have guitars from Kyle McMillin, Dennis Galuszka and a Master Design by Todd Krause, it's one of the best collections of Master Built guitars anywhere in Europe. All in store and online, all comprehensively set up by in our house technician and all available to purchase on finance from the comfort of your own sofa.
So grab a cuppa, put some tunes on and check out our selection!