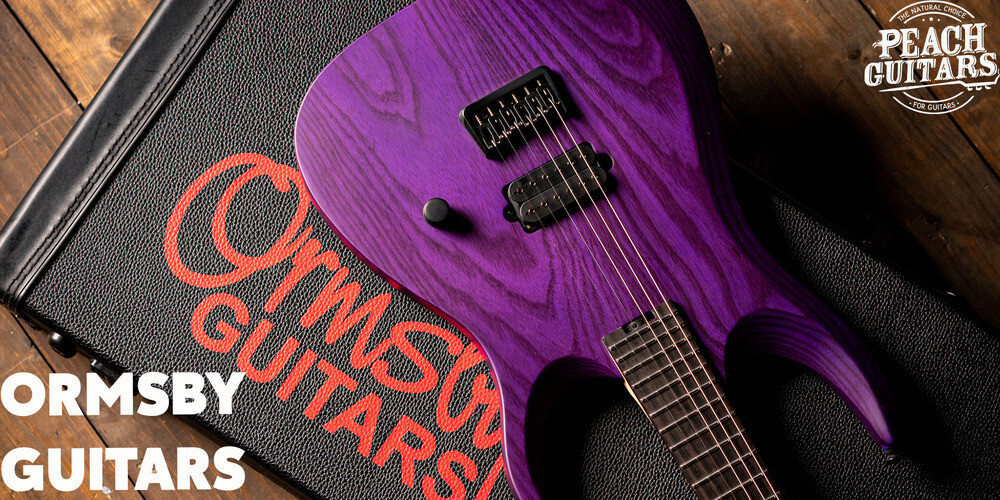 Peach Guitars | Ormsby Guitars!
Progressive metal has seen a massive surge in popularity over the last few years. With its clinical and colossal guitar mastery, players are requiring instruments that can match the intricacies of their sound. There are some great brands out there, but one that really stands out right now is Ormsby, our friends from down under!
Headed up by master luthier, Perry Ormsby, the Ormsby team consistently craft some of the most outrageous modern and progressive guitars on the market. With Fear Factory's Dino Cazares and Psycroptic's Joe Haley featured as signature artists, you know these guitars are not only tonal monoliths, but built to withstand the rigours of the road!
And the Joe Haley signature SX GTR is exactly where we want to direct your attention! We've got 3 incredible variations on this monstrous guitar available and you really need to check them out!
With a Mahogany body, the SX GTR is super resonant, well-balanced, and with some rad finishes, it looks wild! The bolt-on neck is crafted from laminated Wenge and boasts an Ebony fingerboard, but the real magic comes via the multiscale format. Effortlessly comfortable at both ends of the neck, these extended range guitars allow for some really mad tunings without compromising on tuning stability or intonation.
As with all the GTR models, the Joe Haley utilises Ormsby's custom designed pickups to produce a variety of tones that allow your guitar, effects, and amp to function in unison and retain their individual characteristics. In this case, they've used a Hot Rock humbucker at the bridge and an Old School single coil at the neck. We've got both 6 and 7 strings varieties available and you can check them out via the videos below!
So what about the Dino Cazares model? Well, that's another beast altogether! Dino has a monumental right hand, it's swift and strong, a real hammer. The co-founder of Fear Factory, and a former Roadrunner United team captain, Dino is a real force to be reckoned with, just as his signature DC GTR Baritone suggests!
Swamp Ash is a fantastic tonewood and it's Dino's preferred option here, and it's easy to hear why! The 26.5" baritone neck is crafted from Rock Maple and its shape has been made to Dino's Custom Shop specifications; a consistent 18mm flat D shape which is topped with an Ebony fretboard and block inlays to the sides.
A single Dino Cazares Seymour Duncan "Machete" humbucker delivers instant tonal brutality! It's a crushing and punishing selection and one that really captures that Dino sound. Complete with a hardcase and signed Dino Cazares COA, this is a serious piece!
We've got a great selection of Ormsby guitars in stock and you should really check them out!
As always, you can buy with confidence from Peach Guitars. From meticulously inspecting each piece of equipment, professionally setting up each guitar, tracking every package, and delivering the best after-sales customer service, our team will do our best to make you feel welcome and offer genuine, professional advice.