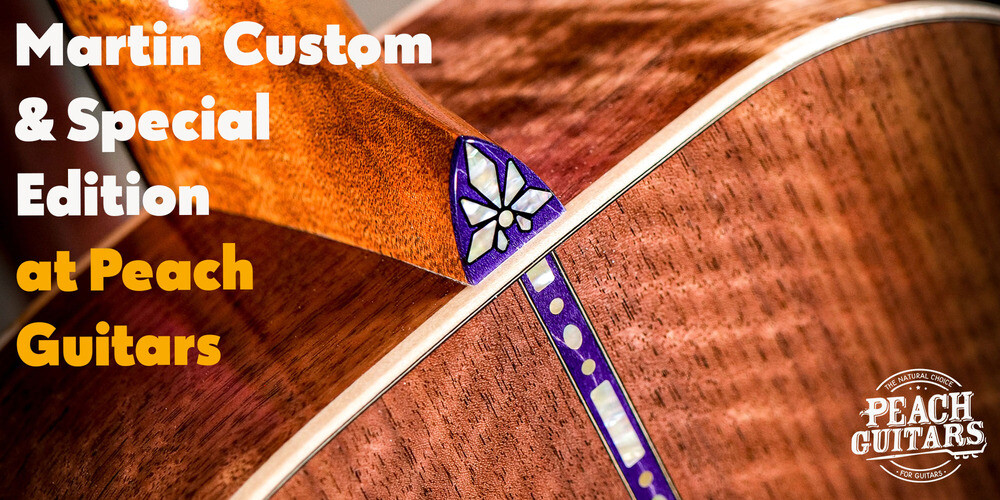 Peach Guitars | Martin Custom & Special Editions
A few weeks back we pulled a blog together with a specific focus on the incredible Martin Custom & Special Editions John Mayer OMJM, a truly stunning piece and a great example of the impeccable work of C.F. Martin.
But…..the Martin Custom & Special Editions range offers so much more, and we'd love to highlight a few of the other exceptional pieces we've got available here at Peach Guitars!
At the time of writing we've got 10 perfect examples, we'll link them on the side so you can check them out in more detail, but for this blog I've picked 3 of my favourites. I think you'll be able to see why we dig them so much, they are some of the greatest acoustic guitars on the market. Keep reading because number 3 will blow your mind!
Martin have an enviable artist roster, and what would you expect with the history that they have, and one of the most recent additions to the signature roster is singer songwriter, Brooke Ligertwood. Best known for her hit single "Something in the Water", Brooke also won a Grammy for her track "What a Beautiful Name" with the famed Hillsong Worship group.
The Brooke Ligertwood 000-28 is packed with premium appointments, custom features and that good ol' Martin magic. The body benefits from a pairing of Sitka Spruce on top and East Indian Rosewood on the back and sides, it's a classic tonewood partnership and it's used to glorious effect here. Rich, vibrant and with loads of really sweet tonal subtleties, this guitar is suited to both the pickers and the heavy strummers. The top also boasts the amazing VTS treatment, which makes a brand new guitar sound like an 80 year old vintage instrument. The top is heat treated to remove the moisture, giving it the quickest response and the most detailed tone.
The neck is an absolute dream to play, offering a comfortable and pleasurable playing experience. The Ebony fingerboard is the perfect partner for this neck, it features a 16 radius, 24.9 scale length and a 1 11/16" nut width as well as dot inlays. It's a beautiful guitar, both tonally and visually, and one we'd really encourage you to explore a little further!
If you're more of a rebel troubadour and disciple of the original outlaw badass, then maybe the Martin Custom & Special Editions Johnny Cash D-35 will be more your thing! I don't think there are many who can match the "Man in Black" for effortless cool and swagger, and that's before we've even considered his influence as a songwriter and performer. We're approaching the 20th anniversary of Johnny's departure from this mortal realm and there has still not been another like him, a true pioneer.
With a naturally percussive playing style, Cash relied on guitars with great projection to accompany his iconic vocals, and his weapon of choice was almost always a Martin. This D-35 brings together all the elements that Cash required and packages them up into a player's dream. With a solid Engelmann Spruce top & East Indian Rosewood back and sides, it's brash, bold and punches right through, you feel the bass notes right in your chest! A fitting tribute to one of the greatest, you have to hear this thing!
I promised something special for guitar number 3, and this will not disappoint. The Martin Custom & Special Editions DSS Hops & Barley. There's only 100 of these in the world and whoever ends up with one of these will have one hell of a guitar in their hands!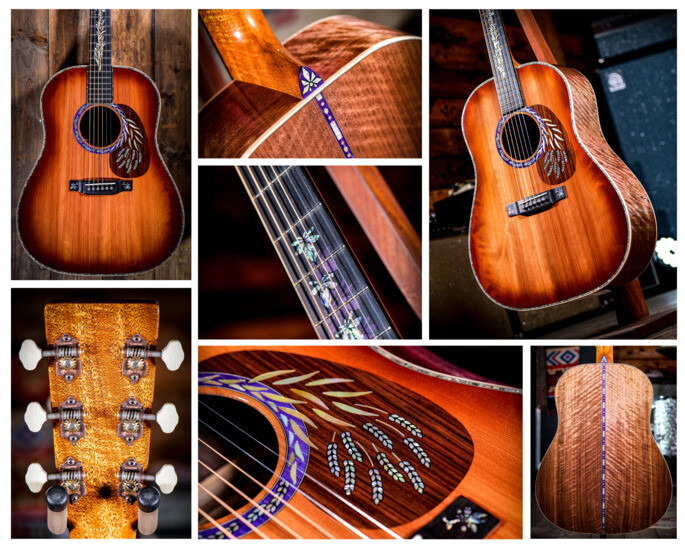 Firstly, how good does it look! The colouring and timber selection are just incredible, the premium appointments and intricate inlay and detailing work, wow. A round-shouldered dreadnought, this Martin really projects, loud and crystal clear. The definition of each note is unmatched and whether you're playing with fingers or a pick, you get a really unique flavour.
Crafted from highly figured Walnut, the top is made from Sinker Redwood, it's a real tonewood masterclass. The pickguard is Guatemalan Rosewood and it's actually recessed into the body, it's a work of art and a really special feature of this guitar. The headstock, fingerboard, rosette, pickguard, and bridge are adorned with a combination of abalone, mother-of-pearl, and wood inlay, which depict hops and barley in various forms.
An incredible fusion of authentic construction techniques and ideas with modern player focused features, the Martin Custom & Special Editions DSS Hops & Barley is out of this world!
Give the videos a click and give each guitar a listen, you won't regret it, it'll be the best 15 minutes of your day, I promise. Unless you decide to pull the trigger and add one of these masterpieces to your collection, that would probably beat the videos!
As always, you can buy with confidence from Peach Guitars. From meticulously inspecting each piece of equipment, professionally setting up each guitar, tracking every package, and delivering the best after-sales customer service, our team will do our best to make you feel welcome and offer genuine, professional advice.