Peach Guitars | Gretsch G2657TG Peach Guitars EXCLUSIVE
We love a cheeky exclusive deal here at Peach Guitars, and one that we are particularly excited to bring you is our Gretsch G2657TG in Imperial Stain offer. This special production run was limited to just 30 pieces and we got the lot! And because we got them all, we're able to offer you a super impressive guitar for a truly fantastic price!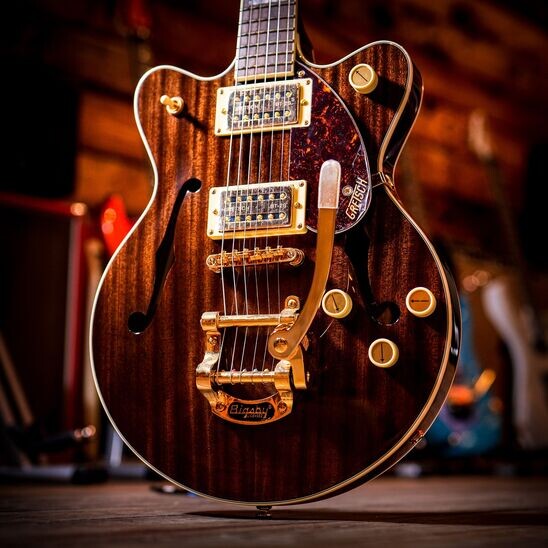 Now you might mistakenly think that all Gretsch guitars are built for those intricate rockabilly riffs and fleet fingered country licks that we all enviously admire, and sure, they are, but these are no one trick ponies. No sir, the G2657TG Streamliner Centre Block Jr. (catchy name!) is built for so much more.
Designed for three simple things, hi-gain friendly performance, easy playability and effortless retro style, the G2657TG is a real triple threat, a total all-rounder. It delivers that classic Gretsch sound but if you're brave enough to venture further, it won't let you down!
The laminated Maple body features a chambered construction with a spruce centre block, allowing for incredible sustain and definition. Finished in a gorgeous Imperial Stain with gold hardware and torty pickguard, it looks super slick and walks the line between retro and modern with a real finesse.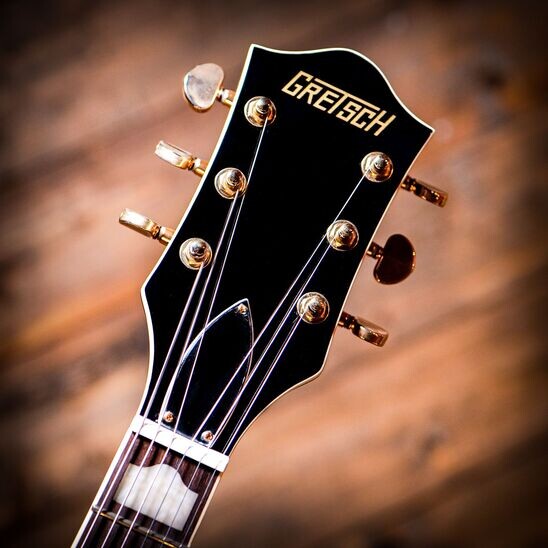 With a Nato neck and Laurel fingerboard this Streamliner is incredibly stable and secure and thanks to the thin "U" profile you can move around freely and quickly. No matter your style you will feel perfectly at home with the G2657TG.
The iconic Gretsch tone is delivered by a pair of Gretsch Broad'Tron BT-2S pickups, these are incredibly dynamic and respond beautifully to your every touch, allowing for improved definition with a tighter bass response for robust lows, pristine highs and a throaty midrange.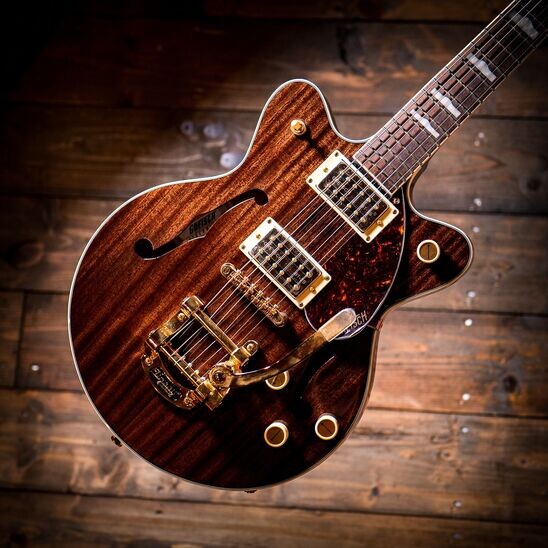 Would a Gretsch be complete without a Bigsby? Probably not and this guitar doesn't fail to deliver here either!
This Gretsch is perfect for those who demand a lot from their instruments. This limited run is exclusive to Peach so make sure to check these out whilst you can!
As always, you can buy with confidence from Peach Guitars. From meticulously inspecting each piece of equipment, professionally setting up each guitar, tracking every package, and delivering the best after-sales customer service, our team will do our best to make you feel welcome and offer genuine, professional advice.