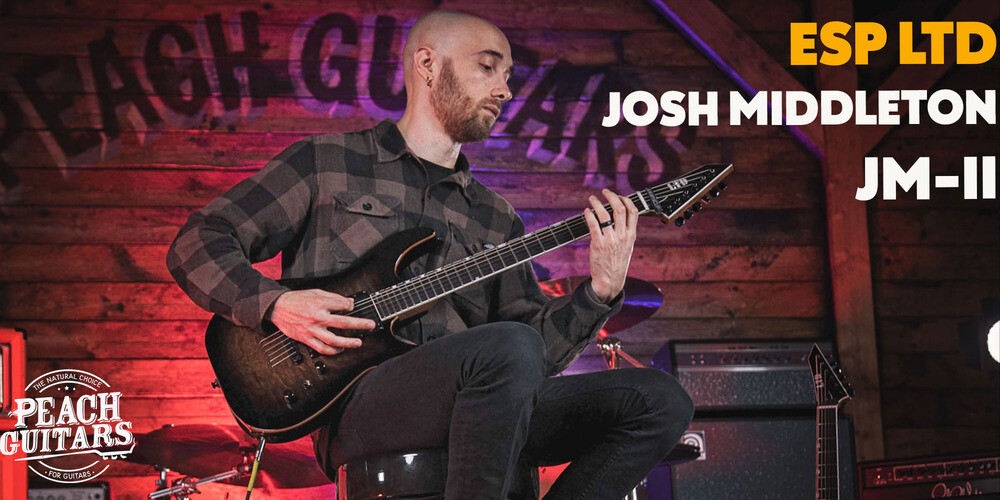 Peach Guitars | ESP LTD Josh Middleton JM-II
Metalcore behemoths Architects have been laying down the fiercest of riffs for almost 20 years now. Formed back in 2004, they are 10 albums deep and have fully cemented their place as one of the UK's premier live acts, dominating stadiums and arenas all over the planet!
The last 3 albums have featured the imposing guitar mastery of Sylosis main-man, Josh Middleton. A slick riffer with a monster right hand, Josh has stepped admirably into the cavernous void left by the untimely passing of original guitarist and band founder, Tom Searle.
Combining his brutal metal playing with production duties, Josh has been pivotal in the bands evolution, bringing a new flavour and skillset to the Architects sound.
That sound needs a guitar that can match the demands of the player, and for Josh that comes in the form of his signature ESP LTD Josh Middleton JM-II, a full-throttle, high performance instrument with a monstrous tone.
Inspired by Josh's favourite guitars, the JM-II features an Alder body with a stunning Quilt Maple top, finished in Black Shadow Burst, it's got that 80s super-shredder aesthetic. The body is based around the ESP M-Series and features a flat-top with super comfortable arm contours, the perfect platform for pendulum-like right hand action.
The bolt-on neck is crafted from Roasted Maple and boasts an impressive Macassar Ebony fingerboard. The Extra Thin "U" shape profile and 24 extra jumbo stainless steel frets, mean this guitar can withhold the demands of such a punishing set as Architects while remaining comfortable and allowing fast, precision playing right up the neck.
Punch, clarity and depth are vital characteristics of the pickups Josh requires and the Fishman Fluence Modern humbuckers deliver just that. Super dynamic and responsive, these active pickups allow you to dial in a plethora of huge sounds thanks to the voicing controls.
We were really blessed to spend some time with Josh in the Peach Studio last year, and he showed us exactly what the JM-II is all about! You can check out our interview and playthrough in the videos above and you can check the guitar out in more detail by clicking on the product listing to the left!
As always, you can buy with confidence from Peach Guitars. From meticulously inspecting each piece of equipment, professionally setting up each guitar, tracking every package, and delivering the best after-sales customer service, our team will do our best to make you feel welcome and offer genuine, professional advice.