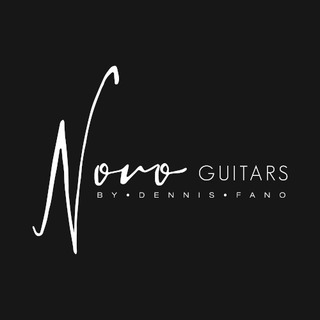 Novo Select Idris | '64 3-Tone Burst - Tortoiseshell Pickguard
Fralin Vintage Hot Strats - MannMade Vibrato - Kluson Supreme Tuners - Thin Nitro Finish - Mono Case
We are thrilled and immensely proud of the relationship between Peach and Novo. Our fearless leader, John, has been a devoted customer of the brand for years, amassing a significant collection of these guitars due to his genuine passion for them. For the last few years, Novo handled all sales directly, but now we are delighted to announce that Peach will be stocking and selling these exquisite instruments exclusively in the UK. Our entire staff understands the perfect combination of retro-cool aesthetics, outstanding reliability, and innovative features that Novo guitars embody. They possess a timeless yet contemporary appearance that defies description but exudes undeniable coolness.
Moreover, once you hold one of these guitars in your hands, you'll be astounded by the unparalleled feel of the neck. It truly sets a new standard. We are thrilled to offer these guitars to customers without the need for a custom order or overwhelming choices. However, we urge you to act swiftly, as once a model is sold out, it may be unavailable for an extended period.
View In Showroom
Request an appointment with one of our team
WAYS TO PAY:

Experience the pinnacle of tone, craft skills, and playability with the Novo Select Idris. Meticulously crafted to ignite your musical inspiration, this extraordinary instrument combines exceptional components and thoughtful design elements to deliver an unparalleled playing experience. Let's explore the advantages that make the Novo Select Idris an absolute must-have for discerning guitarists like you:
Prepare to be mesmerised by the rich, vintage-inspired tones emanating from the Fralin Vintage Hot Strat pickups. These pickups are renowned for their exceptional clarity, warmth, and dynamic range. They capture the timeless essence of classic Stratocaster sound while injecting a touch of modern power, allowing you to effortlessly express yourself across a wide range of musical genres.
Unlock the expressive potential of your playing with the MannMade vibrato system. This industry-leading tremolo unit offers smooth and stable pitch modulation, allowing you to add tasteful vibrato and dive-bombing effects with unrivalled precision. Whether you crave subtle embellishments or wild, soaring bends, the MannMade vibrato empowers you to infuse your music with soulful expressiveness.
Crafted from tempered pine, the Novo Select Idris exudes a unique tonal character that combines warmth, resonance, and a lively response. This tonewood choice imparts a distinctive sonic signature, giving your playing depth and complexity. With each note you play, the body resonates in perfect harmony, producing an organic, rich sound that captivates both you and your audience.
The tempered maple neck provides exceptional stability and durability, ensuring optimal playability throughout your musical journey. This carefully selected wood offers a perfect balance of strength and resonance, resulting in a neck that feels incredibly comfortable in your hands. The smooth, fast-playing surface of the maple neck enables effortless transitions across the fretboard, allowing you to unleash your creativity without limits.
Indulge your fingers in the luxurious feel of the rosewood fingerboard, providing a lush, smooth playing surface that enhances your playing experience. The MOTO dot inlays not only offer a touch of classic aesthetic elegance but also serve as visual markers, ensuring you never lose your way while navigating the fretboard.
The Novo Select Idris boasts a medium 'C' neck carve, meticulously designed to fit naturally in your hand. With a comfortable .830" thickness, this profile strikes the perfect balance between substantial feel and effortless playability. Experience the joy of hours-long playing sessions without any discomfort, and let your fingers dance freely along the frets.
The fingerboard radius of 9.5"-14" offers the best of both worlds: a vintage-inspired feel with modern playability. This carefully selected compound radius ensures comfortable chording and effortless string bending, allowing you to explore every inch of the fingerboard without limitations. Whether you're strumming open chords or shredding blazing solos, the Novo Select Idris adapts seamlessly to your playing style.
The classic 25.5" scale length of the Novo Select Idris provides optimal string tension, allowing you to achieve exceptional note clarity and articulation. Each note springs to life with precision, ensuring your melodies and chords ring out with clarity and sustain, while also providing a familiar feel for players accustomed to this traditional scale length.
With 22 medium frets, the Novo Select Idris strikes the perfect balance between accessibility and versatility. Reach new heights as you explore the upper registers of the fretboard, enabling you to effortlessly explore complex chord voicings and soaring melodic passages.
The thoughtfully designed 1.65" nut width offers a comfortable spacing between the strings, allowing you to execute intricate chord shapes and lightning-fast runs with ease. You'll find your fingers naturally falling into place, facilitating fluid movement across the neck and ensuring accurate note execution.
Experience enhanced sustain and resonance with the perfectly cut unbleached bone nut, a mark of exceptional craft skills. This premium material maximises the transfer of energy from the strings to the body, resulting in improved clarity and richness of tone. Every note you play will ring out with unrivalled purity and precision.
Enjoy rock-solid tuning stability with the Kluson Supreme tuners. These precision-engineered tuners feature staggered posts, which eliminate the need for string trees and reduce friction at the nut. Experience hassle-free string changes and stay perfectly in tune, even during intense performances or extended playing sessions.
Immerse yourself in tonal bliss with the Emerson Custom paper in oil capacitor. This meticulously selected component offers enhanced signal clarity and smooth frequency response, allowing your guitar's true voice to shine through. Every nuance and subtlety of your playing will be faithfully reproduced, ensuring an immersive and inspiring playing experience.
The Novo Select Idris is adorned with a thin nitrocellulose lacquer finish, providing both protection and tonal enhancement. This delicate, hand-applied finish allows the natural resonance of the wood to breathe and evolve over time. As you continue to play and create, your Novo Select Idris will develop its own unique personality, reflecting your musical journey and becoming a true extension of your artistic expression.
Discover the perfect balance between playability and versatility with the Stringjoy 10-48 strings. These high-quality strings deliver exceptional tone and feel across various musical styles, whether you're strumming chords or unleashing blistering solos. Prepare to experience superior intonation, resilience, and a delightful tactile response that will inspire you to reach new musical heights.
The light distress on the Novo Select Idris adds a touch of vintage character and aesthetic allure. Every scrape, ding, and hint of wear tells a story, reflecting the rich history of beloved, well-played guitars. It gives your Novo Select Idris a distinguished personality from the moment you lay eyes on it, making it an instrument that stands out from the crowd.
Protect your Novo Select Idris with the utmost care using the Mono M80 hybrid case. Designed with the touring musician in mind, this rugged and stylish case offers exceptional protection against the rigours of the road. The hybrid design combines the lightweight portability of a gig bag with the durability and impact resistance of a hard case, ensuring your prized instrument stays safe, secure, and ready for every performance.
Elevate your playing to new heights with the Novo Select Idris. Crafted with uncompromising attention to detail and equipped with exceptional components, this instrument embodies the perfect fusion of vintage inspiration and modern innovation. From its heavenly tones to its impeccable playability, the Novo Select Idris will empower you to explore new sonic territories and unlock your true creative potential. Experience the pinnacle of guitar craft skills and ignite your musical passion with the Novo Select Idris.