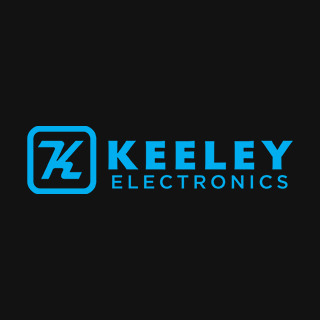 Keeley ECCOS | Delay Looper
Delay-Looper Workstation With Superb Sound Quality & Abundant Features
The ECCOS Delay Looper is based on a new stereo, flanged delay tone. Create beautiful sounding tape style delay lines and then spin them endless with the Looper! Designed to be at home in live pro rigs or bedroom studios while experimenting. The Keeley ECCOS is a delay-looper workstation with superb sound quality and abundant features.
View In Showroom
Request an appointment with one of our team
WAYS TO PAY:

The true-stereo Keeley ECCOS artfully combines a delay pedal and a looper. At the heart of the ECCOS is a neo-vintage delay with unprecedented control over tape-style echoes. Create long and majestic sounding tape flanged delay lines and then switch to the feature-packed Looper to record endless layers of sound! Dual stomp switches in delay mode are for true-bypass, tap-tempo and even endless feedback - but in looper mode they allow you to record, play, reverse, half-speed and even trigger a play-once. Live or as a studio workstation the delay and looper work together giving you endless room for creating and experimenting in a small footprint. With over four years of development on the Quad 24/56-bit Dream DSP, Keeley has reached the pinnacle of delay sound quality with the amazing new tones in the ECCOS.
The ECCOS features Sound on Sound Mode! Sound on sound mode lets you record without erasing the original loop. The volume of the loops degrade over time, recreating a vintage reel to reel recording technique. To set the decay of the loops, hold down the FDBK knob and adjust the Depth control. This alt control comes in handy when using Sound on Sound Mode.
The ECCOS features advanced independent switching. The Delay or the Looper can be turned on and off independently. You can start the Looper with or without a Delay Setting.
Tape-Flanged Delay Trails. Thatís what makes the ECCOS delay pedal unique; a new style of tone-modulation that isn't pitchy. It's the sound of just the echoes being flanged with vintage reel-to-reel tape decks. The shape and tone of your repeats are constantly changing, creating lush movement to your delay trails! Listen as your delay trails move with flanged tonalities that are beautifully filtered and sound tone-modulated, not just pitch modulated. Simply adjust the Rate and Modulation parameters to hear the flanged delay trails mixed with your pure analogue blended guitar. Modulation without undue pitch bending.
The ECCOS is also a Looper. Record and playback loops while you play live. ECCOS features like Reverse, Half Speed, and Play-Once are easy to use creatively. Create guitar magic using the delay with its own tap tempo (up to 1.5 seconds); all while layering on endless loops of audio. The ECCOS offers loop times of up to 120 seconds in mono, and up to 60 seconds in stereo.The Keeley ECCOS features true stereo processing with mono and stereo inputs and outputs. Uber-clean, all-analogue audio for the pure guitar dry/blend. Experience next level audio DSP using the Dream quad 24/56-bit processor. There are nine adjustable controls for crafting the tone of the delay trails. Manual or remote operation of looper, bypass, presets, and tap tempo. Dynamically assign controls to be used with a foot expression pedal. Switch back and forth between the Delay and Looper to choose custom delay sounds and then record additional layers, hands-free, while looping.
ECCOS is a True Stereo Delay and Looper
Studio quality delay with tape flanged modulation
Features include 3 memory presets, subdivisions, trails, runaway feedback
Huge array of tone and time-based controls with the Alt Hold feature
Full-featured Looper with reverse and half-speed loop effects
2 minutes of looping in mono, 60 seconds in stereo,
Endless layers of recording!
True-Bypass and Tap Tempo on-board or remotely with any style pedal-switcher
Expression pedal assignment over any parameter and in any direction
Pro Rig designed, remote control thru 1/4 jacks for live use with pedal switcher systems
100% analogue dry signal, audiophile designed input to output
Stereo True-Bypass/Trails, switchable on the fly
9 Volt DC, 146mA low-current design
Made in Edmond, USA