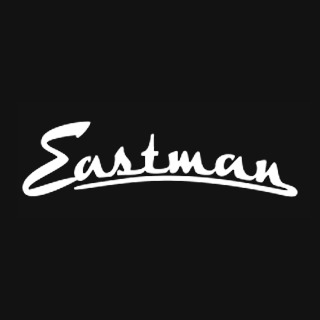 Eastman Traditional Series | E1OM - Natural
Solid Sitka Spruce Top, Solid Sapele Back & Sides
Discover the E1OM acoustic guitar, meticulously crafted for exceptional tone and playability. With a mahogany neck, ebony fingerboard, and hand-scalloped X bracing, it offers outstanding resonance and responsiveness. The solid Sitka spruce top and sapele back/sides provide a balanced and versatile sound. Its timeless design features a classic rosette, pearl dot inlays, and tortoise binding. Equipped with an ebony bridge, bone saddle, and nickel hardware, it ensures optimal performance. The E1OM comes with a deluxe padded gig bag and truss rod wrench. Elevate your music with this exceptional instrument.
View In Showroom
Request an appointment with one of our team
WAYS TO PAY:

Introducing the E1OM acoustic guitar, a true embodiment of craftsmanship and sonic excellence. This meticulously crafted instrument is designed for musicians who demand exceptional tone, playability, and timeless aesthetics. Whether you're a seasoned performer or a passionate songwriter, the E1OM is ready to inspire and elevate your musical journey.
The E1OM features a mahogany neck that delivers a warm and rich tonal character. Its ebony fingerboard offers a smooth and responsive playing surface, ensuring effortless navigation across the frets and precise note articulation. The traditional even "C" neck profile and comfortable 12" fingerboard radius provide a familiar feel, allowing you to play with ease and confidence.
One of the standout features of the E1OM is its hand-scalloped X bracing, meticulously crafted to enhance the guitar's tonal response and resonance. The solid Sitka spruce top delivers a balanced and versatile sound, with exceptional clarity, dynamic range, and projection. The solid sapele back and sides contribute to the guitar's warm and well-defined tonal characteristics.
The E1OM showcases timeless aesthetics, featuring a classic rosette, pearl dot inlays, and tortoise binding on the top and back. The pearl headstock logo adds a touch of elegance and distinction to the instrument's visual appeal. The white side dot markers provide convenient reference points while playing, ensuring accuracy and precision.
Equipped with an ebony bridge and bone saddle, the E1OM ensures optimal string-to-string separation and excellent tonal transfer. The 2 5/32" string spacing offers comfortable fingerpicking and chord voicings. The nickel hardware adds durability and a touch of sophistication to the guitar's overall aesthetic.
The E1OM is built for playability and longevity. The dual-acting truss rod allows for precise adjustments to maintain ideal neck relief and action, ensuring optimal playability in any musical setting. The 20 Jescar-FW43080 fretwire provides smooth and comfortable fretting, while the 24.9" scale length and 1-3/4" bone nut offer a comfortable and familiar playing experience.
Included with the E1OM is a deluxe padded Eastman gig bag, offering reliable protection for your instrument on the go. Additionally, a 4mm truss rod wrench is provided for convenient adjustments and maintenance.
In summary, the E1OM acoustic guitar is a testament to the dedication and expertise of Eastman's skilled craftspeople. With its exceptional tone, effortless playability, and timeless aesthetics, this instrument is a true companion for musicians who strive for excellence. Whether you're recording in the studio, performing on stage, or simply enjoying a moment of musical inspiration, the E1OM will exceed your expectations and inspire your creativity.