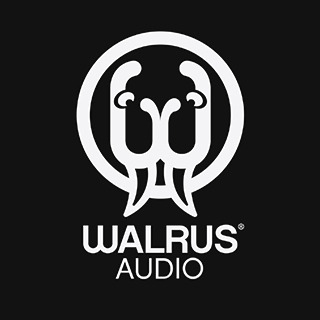 Walrus Audio Canvas Tuner | State-Of-The-Art Tuner
Highly Customisable Tuning Function, Bypass Modes & Style
Walrus Audio bring the tuner pedal right into the 21st century with the Canvas Tuner. We didn't think we'd be getting so excited over a tuner pedal at Peach but the Canvas is just too cool and unique not to! It has a bunch of customisable features and different tuning and bypass modes whilst letting players stylishly accessorise their pedalboard. Find out the full capabilities of this pedal down below.
View In Showroom
Request an appointment with one of our team
WAYS TO PAY:

Walrus Audio have brought a new and exciting take on the classic tuner pedal with Canvas Tuner. Don't worry, they've in no way tried to reinvent the wheel here - it works just how you'd expect with needle and strobe tuning modes and variable reference pitch - but they've brought it into the current age of technology with some unique and cool twists that we're sure you'll love!
The main attraction of this tuner is its 2.8" TFT LCD display. Bright enough to easily be read under almost any stage lighting conditions, the display can also be rotated to any orientation so you can really squeeze this small form factor pedal anywhere on your board and still have the screen face the correct way! These are some huge quality of life upgrades. This tuner is also extremely accurate with better than +/-0.1 cent accuracy and has a flat frequency range of 20Hz to 20kHz so no matter how low or high your tuning, the Canvas Tuner has you covered.
The Canvas tuner is also customisable; whether you prefer needle or strobe tuning, choose between your favourite mode and set your reference pitch to be anywhere between 390Hz and 490Hz. Also customisable is the colour of the tuning display to add flare of unique style to your board. You can go even further by uploading a custom picture to be displayed when in standby mode via the USB C port - not only is this for aesthetics but it has practical applications too, like displaying your set list! Now thats nifty.
Experience unparalleled versatility with the Canvas Tuner's buffered bypass, guiding your audio through a pristine, low-noise, and high headroom audio buffer featuring an impressively low Total Harmonic Distortion ratio of 0.001%. Boasting a high input impedance of 1M Ohms and a low output impedance of 400 Ohms, this buffer ensures the utmost preservation of signal integrity. Additional bypass modes, including relay bypass, monitor mode, and pass-thru, further enhance your control over the audio routing, providing a comprehensive solution for your sonic needs.
We didn't think we'd be getting so excited over a tuner pedal at Peach but the Canvas is just too cool and unique not to!