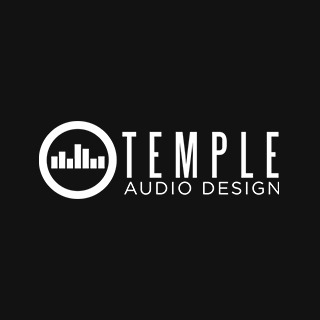 Temple Audio Modules | Hi5 MOD Kit - High Current Isolated Power
Clean Power Than Uses Minimal Real-Estate
The Hi5 is a small pedal power supply with a whole lotta slap! It lets you spend less time asking "Will this power my pedal?" and more time playing. Features 5 fully isolated high current channels. Each channel is individually configurable to 9, 12, 15, or 18 volts. The module mounts into the modular endpanel of your Templeboard and saves precious real-estate on top/bottom of your board.
Need more outputs? Link multiple Hi5's together with a 24V link cable and increase the amount of isolated channels to 10, 15, 20+, limited to the current of the AC adapter being used.
The included AC Module is a 40W AC to DC adaptor that mounts in the micro module slot of your Templeboard (just like the IEC MOD). It is used to power the Hi5MOD or other power supply on the market using the same 24VDC style connector. The AC MOD delivers enough output power to power A LOT of pedals by linking multiple Hi5 units in series to gain more isolated outputs.

Also included is a selection of flex cables in varying lengths and styles:

(3) Flex Cable 1030 - 5.5/2.1mm, centre negative, 12" (black)
(2) Flex Cable 1050 - 5.5/2.1mm, centre negative, 20" (black)
(1) Flex Cable 2050 - 5.5/2.1mm, centre positive, 20" (red)
(1) Flex Cable 4050 - 5.5/2.5mm, centre positive, 20" (green)
(1) Flex Cable 1035 - 5.5/2.1mm, Split Flex, centre negative, 12"+20" (black)
(1) Flex Cable 1533 - 5.5/2.1mm, 3-way daisy chain 12"+12"+20" (black)
View In Showroom
Request an appointment with one of our team
WAYS TO PAY:

SUPER POWERED HIGH FIVE!
Partnering with CIOKS, the Hi5 MOD will power-up your Templeboard. Provide power for up to five pedals or link multiple units for all the power you could ever need.
POWER UP!
Includes the AC MOD -power adaptor that mounts into the Micro Module slot of your Templeboard and provides
DC power to your Hi5 MOD(s).
Clean Power
Five incredibly clean high-current isolated channels (660ma per channel).

Compatible
Capable of powering any commercially available DC pedal. 8 flex cables included.
Compact Lightweight Design
Weighs only 5.6oz and mounts perfectly to the Modular Endpanel of your Templeboard.
EASY INSTALL
All Temple MODs install easily with two screws..
4 VOLTAGE OPTIONS
Change the voltage for any of the five outputs. DIP switch configurable.
MORE MODS, MORE POWER
The 24V DC link outlet allows you to connect multiple Hi5 MODs together and gain more isolated outputs.