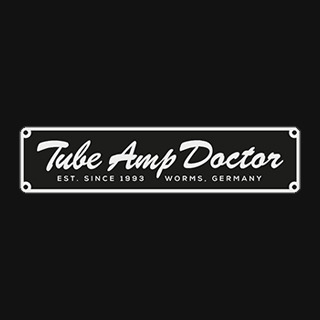 TAD Premium Selected Power Valves | EL34-STR Redbase - Matching Pair
High Performance Audio Power Pentode
The TAD EL34-STR REDBASE is a glass envelope pentode with a plate dissipation rating of 25 Watts with convection cooling. It is intended for audio frequency power amplification service in either pentode, ultralinear or triode connection and single ended or push-pull/parallel applications.
It is designed to be a direct replacement for any EL34 / 6CA7 / KT77 or equivalent. Close manufacturing specification tolerances, gold wire grid, improved processing and final testing and QC at TAD in Germany provides enhanced reliability, superior sonic performance and grants overall consistency. This valve provides electrical and audio performance very similar to that of the original Telefunken EL34.

Please scroll down for further info.
View In Showroom
Request an appointment with one of our team
WAYS TO PAY:

The new TAD EL34-STR REDBASE developed completely from scratch! Yet, the results are phenomenal.
In the tradition of the legendary Telefunken EL34, it provides a gorgeous, dynamic and amazingly open in-your-face tone with just the right amount of aggressiveness. Expect a clear, harmonic and open top end, a lovely spot-on midrange, with vocal low-mids and a great bass response, as you would expect it from a TAD EL34.
Extra rugged glass envelope, golden control grid wire, two especially large cooling grids and special high-precision construction with the smallest tolerances guarantee maximum stability and reliability.
This valve differs from other EL34 tubes in particular by the extreme quality control in the production and the special formatting of the tubes by TAD in Germany before the actual matching.
It can be used for any EL-34 and also instead of 6CA7 and KT77 making it ideal not just for guitar amplifiers but for hi-fi equipment as well.
This valve is part of TAD's Redbase series, which combines the latest manufacturing technologies with traditional design and flawless quality. The TAD Redbase series is exclusively built on a TAD production line that has been optimised especially for the TAD Redbase series. At TAD in Germany, the tubes of the STR series receive a special, additional burn-in treatment and formatting process in preparation for the TAD Premium-Matching, which optimises the quality of the cathode emission and opens up an exceptionally detailed sound structure.
Another advantage of this valve is that it is part of TAD's Premium Selected series. All power tubes labelled as such have passed the following tests:
Plate Current (PC) and Amplification (TC)
Low Noise Test
Microphonic Test
Sonic Tests
Shock Tests
Listening Tests
Shorts & Leakage Tests
This pair is part of TAD's Premium Matching range, which means they have identical Plate Current (PC) and Transconductance (TC).
The new EL34 Standard.