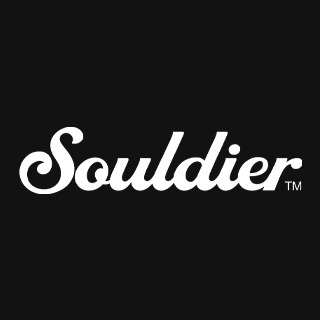 Souldier Torpedo Guitar Straps | Arabesque - Turqouise
Ornate Arabian-Inspired Tapestry Design In Turquoise & Brown w/Gold Accents
An ornate Arabian-inspired tapestry design in turquoise and brown with gold accents. This particular strap has its pattern set into a bespoke brown 2-ply leather strap that is guaranteed to last.
View In Showroom
Request an appointment with one of our team
WAYS TO PAY:

Welcome to the world of Souldier Torpedo Guitar Straps - where vintage flavour and soulful craftsmanship converge in a mesmerising symphony of style and quality. Handcrafted with passion and dedication in their Chicago workshop, Souldier has mastered the art of delivering guitar straps that resonate with musicians from all walks of life.
At Souldier, diversity is celebrated through an extensive array of unique designs, each infused with its distinct character. But that's not all! Souldier's ingenuity lies in their meticulous recreation of some of the most iconic guitar straps in history. With unwavering commitment, they embarked on a quest that spanned the United States and beyond, seeking out original manufacturers to gain access to the very materials used in those legendary straps. The result? An awe-inspiring collection that mirrors the essence of the past while captivating the present.
Souldier's attention to detail knows no bounds. Authenticity is at the core of their brand ethos, and they use genuine, new old-stock (NOS) fabric sourced from the golden eras of the '60s, '70s, '80s, and '90s, immortalised by the rock and roll icons of yesteryears and today. As you wrap your fingers around a Souldier strap, you're not just embracing a piece of history; you're holding a timeless link to the music that has shaped generations.
Now, let's talk craftsmanship! The new Torpedo straps embody the pinnacle of Souldier's design mastery, intertwined with an extraordinary display of leather artistry. These straps boast double thickness, providing unrivalled strength and support for your cherished instrument. Securely stitched with the trademark Souldier pattern, these straps exude unmatched durability, ensuring they withstand the rigours of your wildest performances. Worried about wear and tear? Fear not! Souldier thoughtfully designed the button hole to be small, preventing unsightly overstretching and preserving the strap's integrity over time.
Trust is earned, not given, and Souldier recognises this. Their unshakeable faith in their craft allows them to offer a lifetime guarantee on every strap they create. That's right! When you invest in a Souldier strap, you're investing in a lifelong companion for your musical journey. And, what better way to affirm their pride in their creations than to emblazon them with the iconic Souldier brand, a symbol synonymous with excellence and authenticity.
Exciting news! We are honoured to be the exclusive UK dealer for this iconic brand. At Peach, we share Souldier's vision and passion for music, and we are thrilled to showcase their remarkable straps. Step into our Saloon, and you'll be met with an awe-inspiring sight - a treasure trove of Souldier straps adorning our walls and displays. In fact, we proudly house over twice as many Souldier straps than any other brand, a testament to the indomitable spirit of Souldier.
Moreover, Souldier's commitment extends beyond the art of crafting straps; it transcends borders as they continually support emerging artists worldwide and invest in local music education facilities. When you purchase a Souldier strap, you're not just acquiring a piece of functional art; you're contributing to a cause that nurtures the future of music.
So, what are you waiting for? Come and immerse yourself in the legacy of Souldier Torpedo Guitar Straps at Peach. Feel the passion in every thread, the history in every fibre, and the magic in every design. Let's embark on this musical journey together, hand in hand with Souldier.