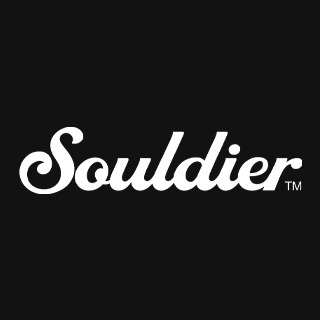 Souldier Classic Guitar Straps | Koi
Tranquil Woven Depiction Of A Koi Pond - As Seen On Guthrie Govan
A beautifully tranquil depiction of a koi pond in green with gold and red accents - a wonderful addition to the Souldier line-up! This design is set onto a red upcycled seatbelt with a gold buckle and black 2-ply leather ends that are guaranteed to last a lifetime. The globally acclaimed Guthrie Govan has even taken up the strap on occasion!
View In Showroom
Request an appointment with one of our team
WAYS TO PAY:

Welcome to the world of Souldier Classic Guitar Straps - where craftsmanship meets vintage flair and soulful designs. Handcrafted in their renowned Chicago workshop, Souldier is a brand that brings an exquisite range of guitar straps infused with the nostalgia of bygone eras and a touch of contemporary elegance. Their dedication to delivering quality and authenticity has made them a captivating and cherished brand for Peach and countless musicians around the world.
One of the most fascinating aspects of Souldier's offerings lies in their meticulous recreation of iconic guitar straps that have left an indelible mark in rock and roll history. Through relentless research and an extensive network, they have managed to establish connections with the original manufacturers, allowing them to accurately reproduce these legendary straps using the very same materials. The commitment to preserving the legacy of these iconic pieces showcases their passion for the art of guitar playing and reverence for music history.
Souldier guitar straps boast an unparalleled authenticity, utilising genuine, new old-stock (NOS) fabric sourced from the 60s, 70s, 80s, and 90s - the very fabrics that adorned the shoulders of legendary guitarists throughout history. Each strap tells a story of its own, carrying the essence of rock and roll's golden era while celebrating the innovation and creativity that define the present-day music scene.
Comfort and functionality are at the heart of Souldier's design philosophy. Their straps are backed with upcycled seatbelts, a unique and eco-conscious choice that ensures smooth gliding on your shirt, granting you the freedom to move effortlessly while playing. Putting the strap on and taking it off is a breeze, making your guitar-playing experience seamless and hassle-free.
Moreover, Souldier leaves no room for compromise when it comes to protecting your cherished instrument. The metal hardware is thoughtfully welded with smooth, rounded edges, ensuring your guitar remains scratch and nick-free. The 'snake head' leather ends, an iconic trademark of Souldier, are double thickness and securely stitched, enhancing durability and preventing wear and tear. The precision-cut button hole minimises the risk of overstretching, promising a snug and reliable fit.
The Souldier Classic Guitar Strap's versatility is unparalleled, extending from 35" to 58" with reinforced seams and a width of 2". This adaptability caters to musicians of all sizes and preferences, ensuring an optimal and personalised playing experience. Additionally, Souldier stands firmly behind their craftsmanship, guaranteeing the strap ends for the life of the product, a testament to their unwavering commitment to durability and customer satisfaction.
Peach Guitars takes immense pride in being the exclusive UK dealer for the iconic Souldier brand. Our admiration for Souldier's dedication to vintage authenticity aligns seamlessly with our shared passion for music and the artistic spirit. Within our renowned Saloon, Souldier straps claim a prominent presence, showcasing a diverse and extensive collection that easily surpasses any other brand's offerings. We invite you to explore this treasure trove of vintage-inspired designs, where you're sure to discover the perfect, soulful companion for your beloved guitar.
Beyond crafting exceptional guitar straps, Souldier demonstrates a deep commitment to the music community. Supporting upcoming artists worldwide and investing in local music education facilities, they actively contribute to nurturing musical talent and ensuring a vibrant future for the world of music. Their visionary approach extends beyond manufacturing products; it embodies a profound love for music and the people who make it.
At Peach Guitars, we are enthusiastic supporters of Souldier's mission and their unwavering dedication to artistry and authenticity. With our extensive collection and knowledgeable staff, we are here to help you find the ideal Souldier strap that resonates with your style and musical journey. Step into our world of music and history, as we celebrate the timeless allure of Souldier Classic Guitar Straps.