Peach Guitars | New Release | Epiphone Limited Edition 1958 Korina Flying V & Explorer!
You might remember that a few months back we took delivery of some simply incredible Gibson Custom 1958 Korina models, a deadly duo of Flying V and Explorer. Brimming with cool and every bit as radical and ferocious and they were back in the day, these stunners caught the eye big time. Unfortunately they had a price tag that left many of us contemplating which organs and family heirlooms we could do without!
Well, it seems that Gibson were privy to our collective thought and have just announced the release of a couple of guitars that should quench our lust for those sweet, sweet Korina builds!
Designed in partnership with the Gibson Custom Shop, the Epiphone Limited Edition 1958 Explorer and 1958 Flying V bring iconic Gibson styling and legendary vintage flavour to the middle market, and at an incredible price point.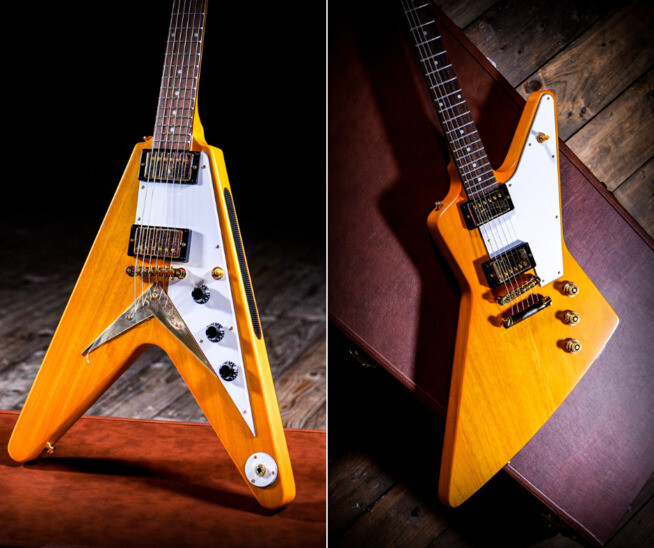 The first thing you notice with these guitars is the impressive Epiphone hardshell case. You can never be too careful when transporting and storing your pride and joy and there's no doubt that these cases will provide all the protection you need. Pop the case though and that's where the real magic happens!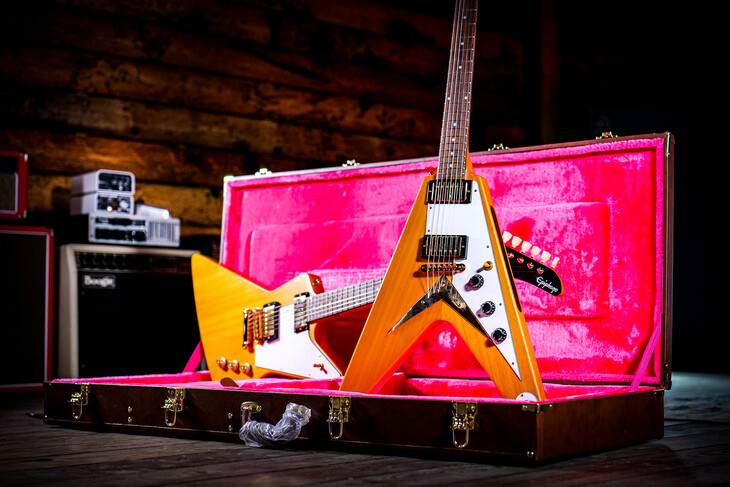 Just like its illustrious older counterparts, the Epiphone 1958 Flying V and Explorer are crafted from genuine Korina. Korina is a highly sought after tonewood, also known as White Limba, it has a real distinct tonal character. It's slightly less dense than Mahogany and as such has a little more snap and brightness to it, perfect for those soaring leads and monstrous riffing that these 2 body shapes have become synonymous with.
Both guitars also feature Korina long-tenon necks, topped with Indian Laurel fingerboards. Balanced and ready for action, the neck feels great underhand and with access right up the neck you'll be ripping it up and down the fretboard with ease!
Epiphone have loaded these beauts with Gibson Burstbucker 2 and 3 humbuckers. These monster pickups give you genuine USA tones and power, a great match for a pair of guitars as off the hook as these!
We've got stock of these and we are ready to ship! So check out the listings to the side, give our videos a watch and get your order in now!
As always, you can buy with confidence from Peach Guitars. From meticulously inspecting each piece of equipment, professionally setting up each guitar, tracking every package, and delivering the best after-sales customer service, our team will do our best to make you feel welcome and offer genuine, professional advice.