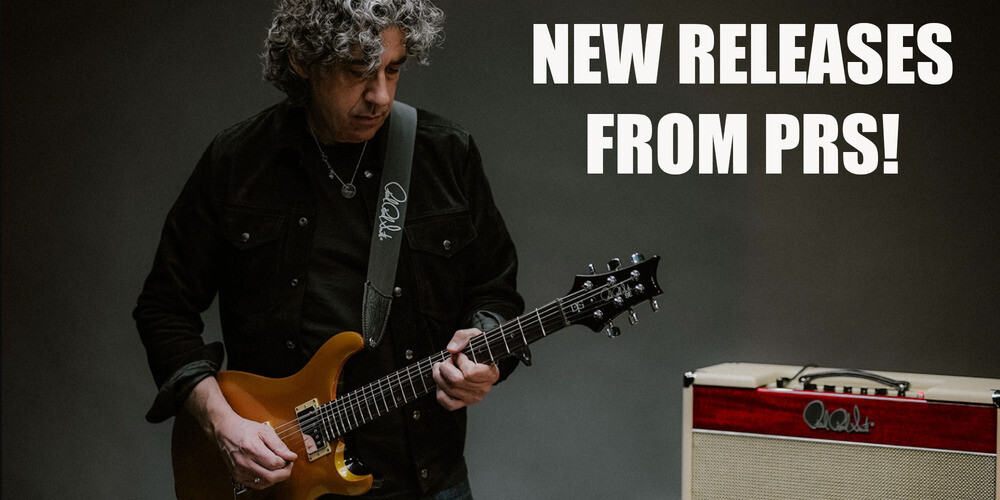 Peach Guitars | 2023 NEW RELEASES FROM PRS!
What might have started as a bleak, cold, early January morning, ended with an inferno of incredible new releases from the pioneering genius of Paul Reed Smith!
From the SE range to S2 and up to the Core Line, PRS have delivered a killer blow to all who stand in their way! We're spoilt for choice at the best of times with PRS but this latest drop of new lines have really captured our attention, and our imaginations in a way that only PRS could. There are far too many to highlight here, so we're going to be bringing 3 of our favourites to your attention!
The DGT has long been a staple in the PRS Core Line, with many actually considering it the most well thought out and versatile of the arsenal. The signature model of virtuoso sideman, David Grissom, the DGT now boasts an SE sibling for company. Capturing much of the magic of its established older sister, the SE DGT features PRS vintage-voiced humbuckers. These work in partnership with individual volume controls for each pickup and a push/pull master tone control that taps the humbuckers for those delicious, chimey single coil inspired sounds. Control and versatility are the name of the game here and the SE DGT delivers in a big way. The time tested combination of a Mahogany back and Maple top are once again deployed to stunning effect. Resonant, rich and perfectly weighted, it's everything you would expect from a guitar stamped with the names of not one but two icons of modern guitar. This isn't just a DGT on a diet, this is a standalone vision and one that David Grissom has been heavily involved with. For more details make sure you check out our product listings.
The Modern Eagle is something of a mythical beast, swooping down from the clouds every so often to grace us with its song. Now, at the dawn of a new year, the Modern Eagle V takes its place as a fully fledged member of the PRS Core Line for the very first time. PRS have long pushed the boundaries of guitar design, seeking to straddle that line between honouring the past and pushing forward to the horizon in search of new ideas. No guitar delivers on this vision quite like the Modern Eagle V. Utilising a hum/single/hum (five-coil) pickup layout and unique electronics configuration, the Modern Eagle V gives players a vast and glorious array of tones in one guitar. The 5-way blade switch selects the pickups in intuitive groupings: treble, treble and middle, middle, middle and bass, and bass. There is a single volume and a push/pull tone control that activates both humbuckers when engaged; this allows players to access all three pickups simultaneously. Finally, the mini toggles allow players to individually separate the humbucker coils, turning the outside pickups into true single coils. There are almost no limits to the tonal possibilities of the Modern Eagle V, it's a titan of the modern guitar world and one that we're expecting to see in the hands of many players over the next year.
We could have picked a number of new models to fill the final spot on our highlight list, the new Blue Burst Mark Holcomb signature perhaps, maybe the hardtail version of the incredible Dustie Waring signature, or even the new SE McCarty 594 singlecut. All more than worthy selections, but we couldn't resist the PRS 10th Anniversary S2 models! It's hard to believe that it's only been 10 years since the S2 Series was born, such is it's popularity and stature that it's difficult to remember what PRS were like before them. Designed to bridge the gap between the SE and Core Line, the S2 Series affords players the chance to get a full fat USA PRS in a slightly stripped back, less elaborate package. Everything you'd expect from a USA PRS is on display here, immaculate finishes, craftsmanship of the highest order and an attention to detail befitting of the PRS name. Available in both Custom 24 and McCarty 594 variants, there are just 1000 of each, and trust me, they are worth every penny!
We'll be photographing each and every model, filming listing videos and doing our best to provide you guys with all the information you could need as these models hit the store over the coming months. As always, you can buy with confidence from Peach Guitars. From meticulously inspecting each piece of equipment, professionally setting up each guitar, tracking every package, and delivering the best after-sales customer service, our team will do our best to make you feel welcome and offer genuine, professional advice.