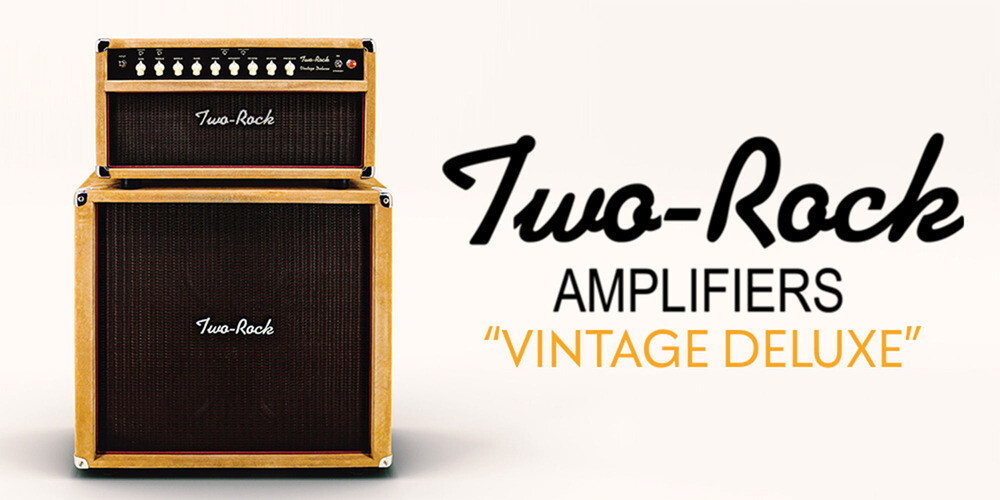 New Release | Two-Rock Vintage Deluxe
If you've spent any time watching our Youtube channel, (and if you haven't you really should!), you'll probably have noticed a couple of magnificent amps peering out from the back of the studio. These suede covered beauties are the jewels in the studio amp collection crown, crafted by the gifted hands of our friends over at Two-Rock!
Two-Rock Amplifiers were founded back in '99 and rapidly climbed their way to the top of the boutique amp food chain. Finding favour with players such as John Mayer, Matt Schofield and Oz Noy, they deliver ultra-high end valve tones perfect for the working player. In 2016 the company was purchased by longtime Two-Rock artist Eli Lester and Operations Exec Mac Skinner who reinstated Two-Rock legend and co-founder Bill Krinard as designer/engineer, completing the Two-Rock dream team!
We adore Two-Rock, the amps and the people, and in this blog we'd love to draw your attention to a few of the incredible amps we've got in stock and ready to ship, and also to something super special that was only recently announced at NAMM!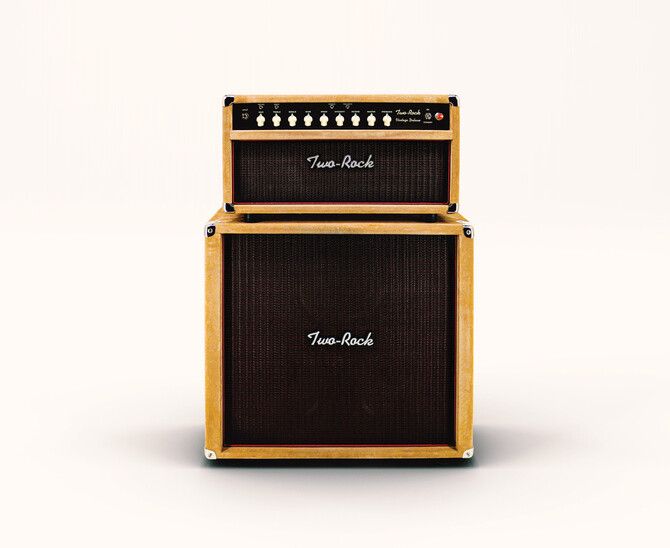 Let's kick things off in style shall we? BRAND NEW for 2023, we're incredibly excited to announce the Two-Rock Vintage Deluxe! This amp takes the golden single channel amp formula and turns it up all the way to 100! It perfectly blends traditional values with Two-Rock's modern design techniques
This 35 watt single channel amplifier is built on a steel chassis and features a pair of 6L6 tubes alongside a single Gz34 rectifier tube, this thing is loaded for power! The control layout feels familiar and is extremely intuitive, if you're used to Two-Rock amps then you'll feel right at home. The Vintage Deluxe also features a brand new "Texture" switch which drastically changes the feel of the amp, going from a soft, scooped front-end to a faster attack with an increased amount of harmonic content. It also features a revised "Tone Stack" switch, this allows you to bypass the front panel tone stack and engage a secondary tone stack which is controlled via a single knob located on the back of the amplifier.
One of the real highlights of this incredible amp is the inclusion of a full-tube analogue reverb with a bias tremolo circuit, giving you the nostalgic feeling of golden era amps but with all the performance, reliability and unique voice that you expect from Two-Rock.
If you can't wait to get your hands on a Vintage Deluxe, maybe check out the Two-Rock Classic Reverb Signature, a single channel monster and one of Two-Rocks most popular models. With extensive tone shaping offered via the treble, middle, bass, bright, mid, deep and EQ controls you can really hone this amp into your own sound. There's a Contour control facility that responds uniquely to humbuckers and singlecoil pickups while also adjusting to the room's acoustics.
This latest version features a new 3-stage gain structure switch, this changes the overall sensitivity and feel of the preamp. When turned down it kicks out a sweet vintage Blackface vibe, the middle offers a feel similar to the Matt Schofield signature front end but running slightly hotter, finally, the full up position is traditional Two-Rock frontend. This version also features the Two-Rock proprietary output transformer that allows the wattage to be dropped from 100 to 50 without impacting on tone or impedance. It allows for fatter, richer harmonics and a full fat punch that tone hounds are going to love!
The footswitch is great and offers a switchable FET preamp stage, EQ bypass and Reverb defeat, it's a real players amp. Great for any player who craves the ultimate boutique tone.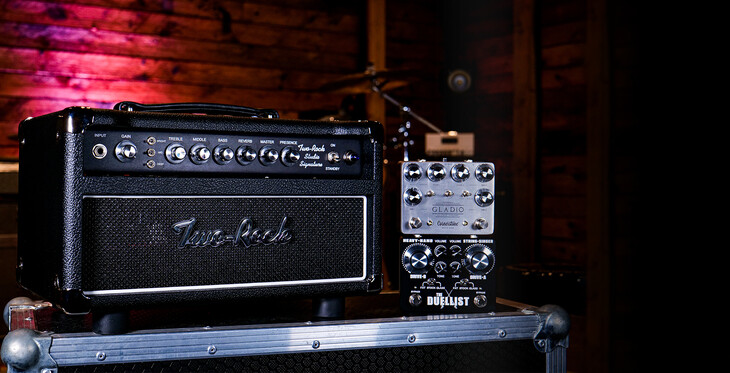 The Two-Rock Studio Signature is the latest generation of the single channel 35 watt amplifiers. Making some changes to the original Studio Pro 35 to bring the product line current to new techniques, the new Signature model remains a 6L6 clean amplifier for a solid pedal platform with some additions that will make the Studio Signature a continued legendary Two-Rock product.
New build techniques, layouts, and materials implemented over the last few years were the key starting points to this amplifier's new construction. The added boost toggles are an obvious change at first glance, allowing the use of potentiometers with custom tapers. The reverb send control on the back panel and a Return control on the front gives room for these toggles. The Gain Structure switch can also be found on the back, allowing the same functions as the flagship Classic Reverb Signature essentially giving 3 front-end types to this already versatile clean amplifier.
Check out our videos, click through to our listings and admire these incredible amps in all their glory!
As always, you can buy with confidence from Peach Guitars. From meticulously inspecting each piece of equipment, professionally setting up each guitar, tracking every package, and delivering the best after-sales customer service, our team will do our best to make you feel welcome and offer genuine, professional advice.