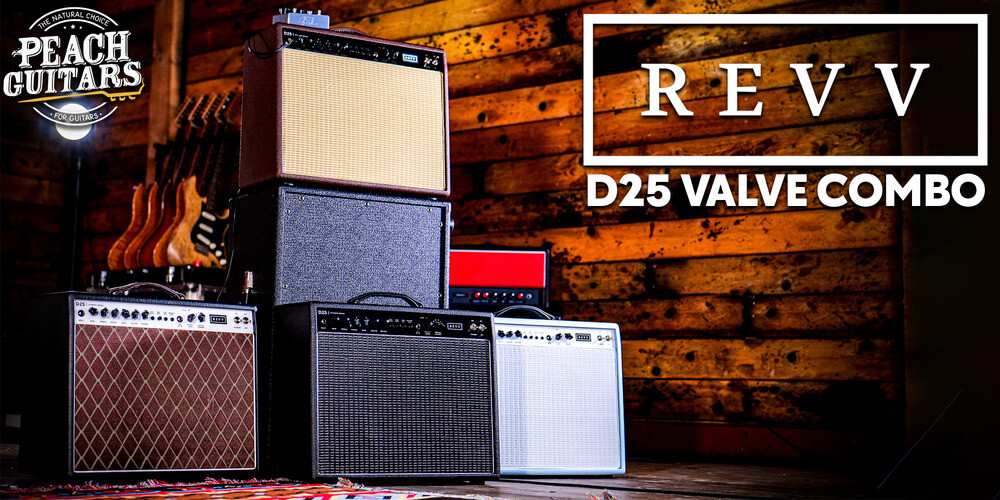 New Release | REVV D25 Combo
REVV are one of our favourite brands right now, everything they do just seems to hit the spot. Whether it's the D20 amp head, a studio fave which we used on all our listing videos, the incredible Shawn Tubbs Tilt pedal, or their latest creation, the D25 combo, these Canadian tone wizards have made it a habit to blow our little minds!
The D25 is a compact powerhouse designed for the modern player, it's a flexible platform that allows you to create and sculpt your own sound, and then deliver it with flawless finesse every time you plug in, some might even say it's the ultimate grab-and-go amp!
Built on the award-winning framework of the D20, the D25 adds a switchable gain boost and musical reverb to deliver the most complete single-channel clean amplifier experience available. Plug straight in and you'll be greeted with an enviable tone straight outta the box, but pair it up with your effects and you'll find that sweet spot is easier to find than ever. The D25 comes loaded with Two-Notes Torpedo tech embedded, and this gives you a selection of pre-loaded Virtual Cabs which can be controlled via the 6-position rotary switch and even edited via USB on the Two-Notes software.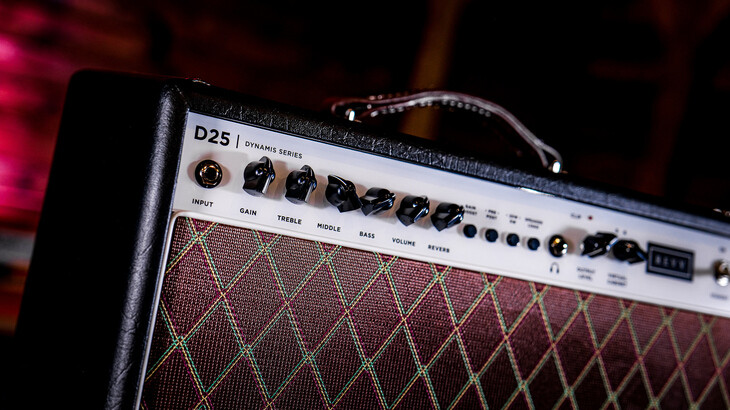 With gain, master volume, and a 3-way EQ you can really dial in this amp to taste. The controls are extremely responsive, a requirement for today's versatile and nuanced players.
With this Celestion equipped combo, you can play loud through the Vintage 30 speaker, or use the incredible Two-Notes reactive load & impulse response XLR-out for direct performance, or both! The D25 also includes a switchable gain boost, helping you to nail those classic rock riffs! With touch-sensitive, record-ready clean & edge of breakup tones perfect for pedals, the D25 is the perfect tone tool for any gig.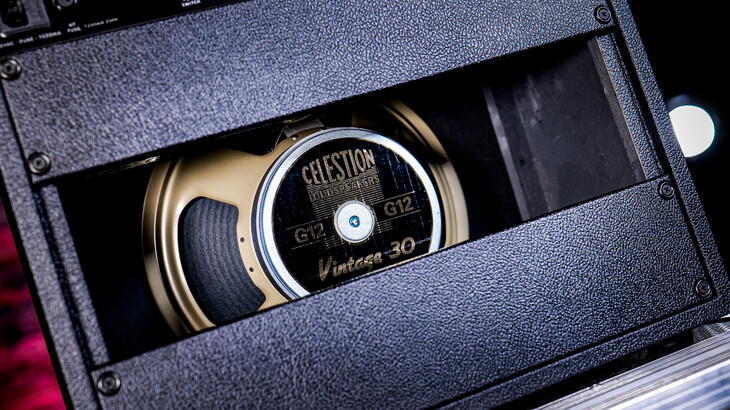 Revv's Dynamis Series represents a decade of innovation and the evolution of what a valve amp is capable of. The D25 is the logical conclusion of that platform, a high quality, rock solid combo that offers vintage tone with incredible reliability.
We've got some incredible options available, including the sublime Black Taurus version which is a Peach Guitars European Exclusive!
As always, you can buy with confidence from Peach Guitars. From meticulously inspecting each piece of equipment, professionally setting up each guitar, tracking every package, and delivering the best after-sales customer service, our team will do our best to make you feel welcome and offer genuine, professional advice.