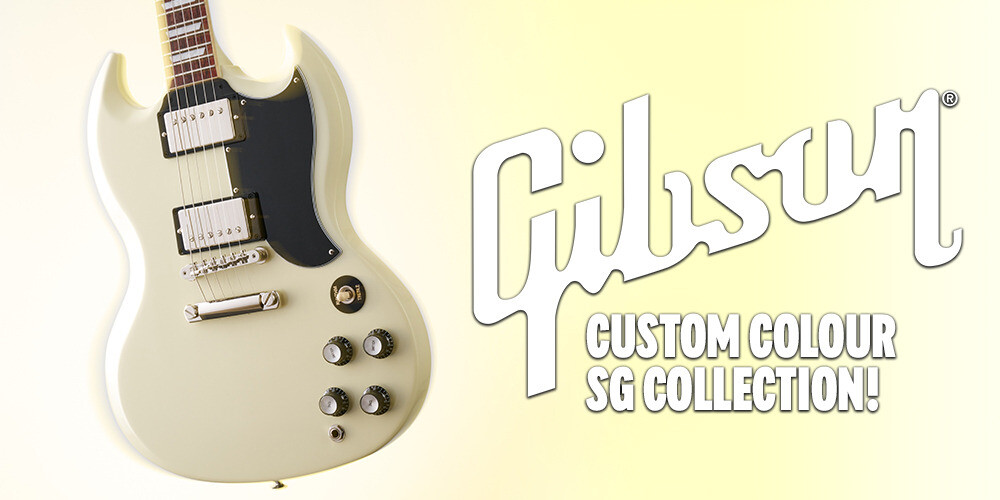 New Release | Gibson USA Custom Colour SG Collection!
The Gibson SG, guitar royalty. There's not much that can be said about this legendary instrument that hasn't already been said a thousand times before. One of the most important guitar designs of all-time, it offers a completely different output and attitude to its more sought after sibling, the Les Paul. But to those who know how to unlock the magic of an SG, it's every bit as important!
You might remember a few months back we announced the BRAND NEW Gibson USA Les Paul Custom Colour selection, a stunning batch of plain and figured top 50's and 60's USA Les Paul Standard models, with, you guessed it, super cool custom colour finishes!
I'm sure you can guess where we're going with this, right? Yep, you've guessed it, it's the turn of the mighty SG to benefit from the Custom Colour treatment!
For the initial launch period, dealers have exclusivity on various colours, and here at Peach Guitars we've been fortunate enough to secure both the Standard '61 and SG Standard in Classic White. Inspired by some of the sweetest, and often long forgotten, finishes of yesteryear, these custom colours offer a really cool take on the classic SG Standard.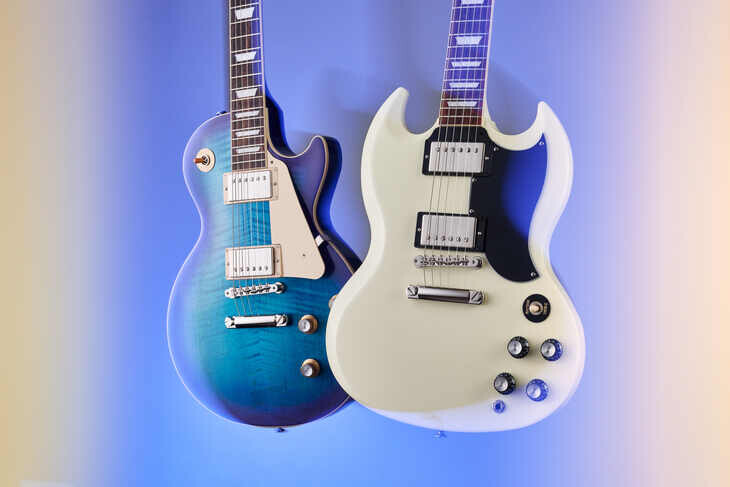 So let's take a look, starting with the Gibson USA SG Standard '61. Returning to the classic design that made the SG such a popular option, the Standard '61 was initially considered to be a replacement for the more labour-intensive Les Paul. It featured a thinline profile, SlimTaper neck and came in at a reduced weight without compromising on the quality of material used. With a Mahogany construction and a Rosewood fingerboard, this was a simple yet elegant design. This latest tribute features '60s Burstbucker pickups and is handwired with Orange Drop Capacitors for a truly glorious tonal experience!
The SG Standard draws its inspiration from the latter part of the '60s, a time when rock was getting harder and the styling was a little more on edge than the more traditionally styled '61 model. The extended pickguard is a real fan favourite and gives a real cool alternative aesthetic. It features a rounded profile Mahogany neck with a bound Rosewood fingerboard, long tenon 19th fret neck joint, and a solid Mahogany body that provides the backbone for that singing sustain! Loaded with a 490R&T humbuckers, the SG Standard is a timeless classic!
Both models come complete with a soft shell case for great protection at home and on the road.
We've got an incredible range of USA Gibson SG's, all individually photographed and with our own unique videos. We aim to give you the most comprehensive overview of each guitar here at Peach Guitars, we even provide the weight for each individual guitar!
As always, you can buy with confidence from Peach Guitars. From meticulously inspecting each piece of equipment, professionally setting up each guitar, tracking every package, and delivering the best after-sales customer service, our team will do our best to make you feel welcome and offer genuine, professional advice.