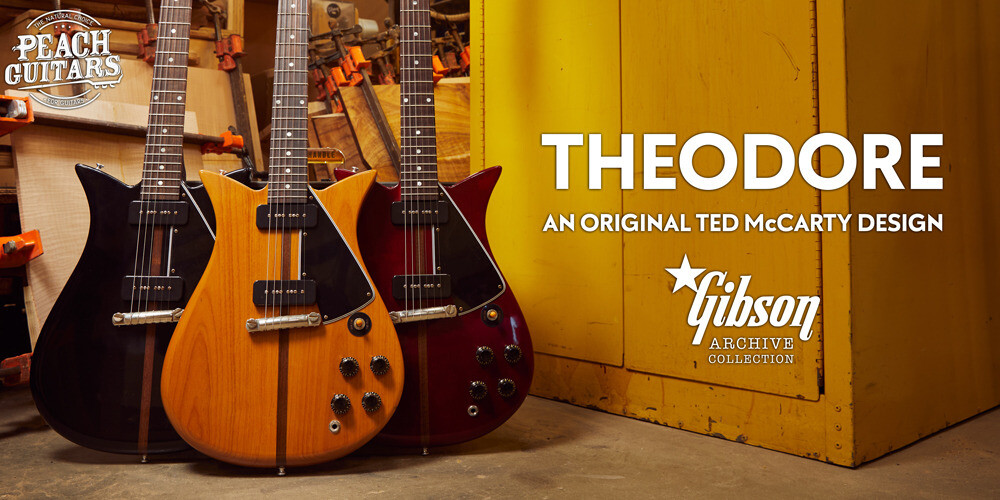 New Release | Gibson Custom Archive Collection Theodore
There are certain guitar builders out there whose work was just a cut above the rest, some might even call them true pioneers in the world of guitar design. Leo Fender, Orville Gibson, Friedrich Gretsch, Les Paul and of course Paul Reed Smith himself…But there's one name often missed. That is of course Mr Ted McCarty! With a rich history spanning decades it's safe to say Ted's up there with the very best!
Not many designers out there boast a resume as decorated as Ted McCarty. Having worked at both Bigsby and Wurlitzer Ted achieved some truly great things, but it's really Ted's time as Gibson's president where things get interesting! As the original mastermind behind the Les Paul, ES-335 and Flying V he certainly knew his way around the guitar. But it didn't stop there, Ted also made leaps and bounds in the world of pickup design, without him the iconic PAF humbucker tone wouldn't exist! As Gibson's custodian from '49 right through till '66 McCarty guided Gibson through their incredible "Golden Era". It's because of his guidance that Gibson became the brand we all know and love today…It's easy to see why he's held in such high esteem.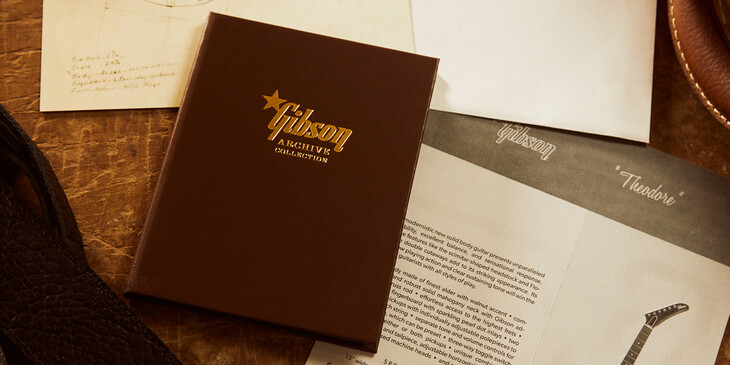 Buried deep in the Gibson archives is a wealth of historical information unknown to the general public, including extensive historical ephemera, memos, photographs, shipping records, concept drawings, and blueprints for instruments that, for one reason or another, were never produced - until now. Gibson is proud to introduce the Gibson Archive Collection - instruments that were initially conceived years ago that have been refined and updated for today's players. For the first time since '66, Gibson are proud to present a brand new, never seen design by Mr Ted McCarty himself…Ladies and Gentlemen please welcome the Gibson Archive Series "Theodore"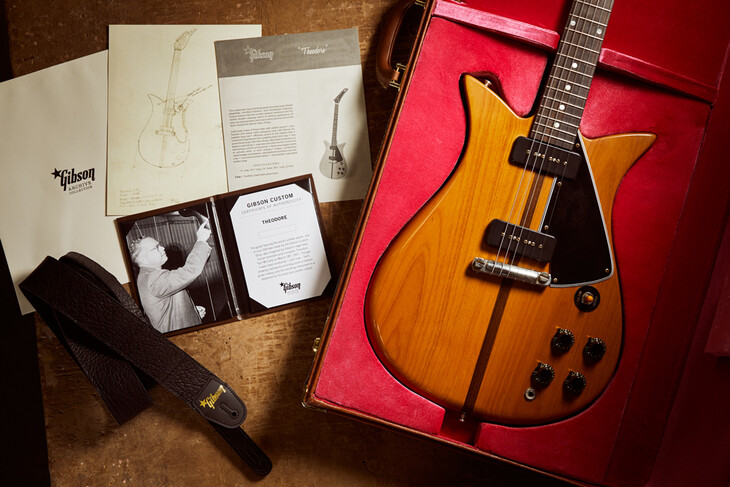 On March 18th, 1957 Ted detailed and signed his drawing for a brand new Gibson solid body guitar. With its double cut design and Alder body this guitar was both visually striking and revolutionary. Sadly, this instrument was never produced and was lost to the Gibson archives…until now. Within the world of Gibson Custom, the Theodore has been resurrected! Inspired by Ted's original design and built by Gibson's master luthiers this run is certainly something special!
The Gibson Custom Theodore features an Alder body with a unique double cut design unlike anything we have seen from Gibson before. It's just as revolutionary now as it would have been back then! Thanks to the Alder body these guitars have a tonal palette unlike any found on a Gibson before. Available in Ebony, Cherry and Natural these guitars certainly fit the part and have that iconic Gibson feel and mojo.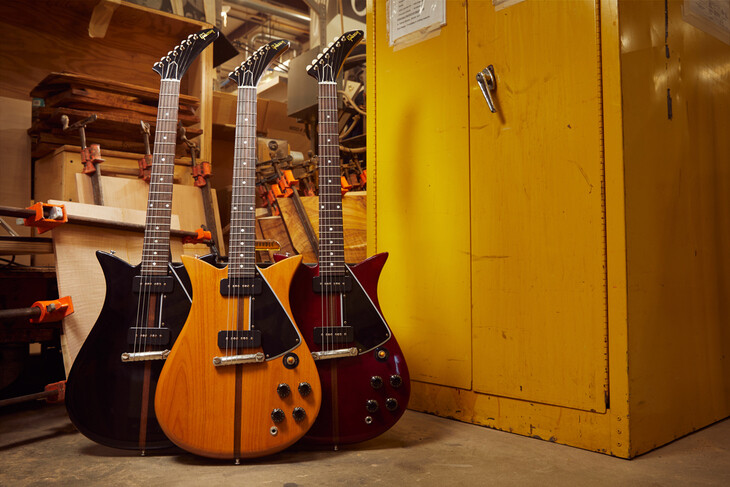 But the Theodore doesn't stop there! The chunky '57 C Mahogany neck is both comfortable yet familiar, it instantly feels like an old friend. The Indian Rosewood fingerboard is adorned with pearloid dot inlays, 22 vintage frets, 24.75" scale length and a 42.85mm nut width. No matter your style you're sure to feel right at home. It even has a scimitar headstock…How cool is that!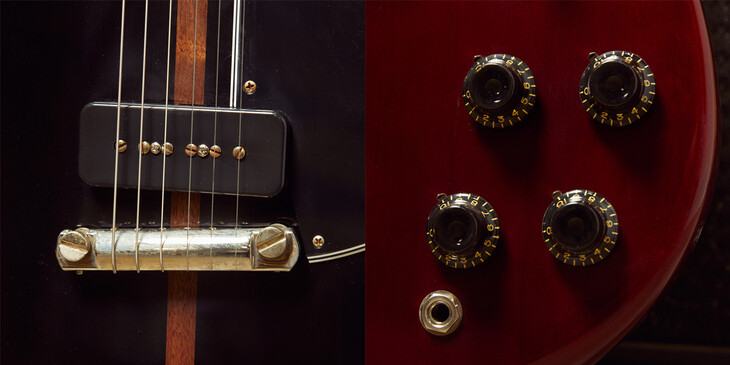 A pair of power P-90 pickups provide effortless sustain and a rich warmth. If you're after that mid to later '50 Gibson tone then these have it by the bucket load! It also includes a pair of volume and tone controls for further tone shaping! Finished off with a wraparound bridge and six-in-line Kluson tuners this really is Ted McCarty at his very best!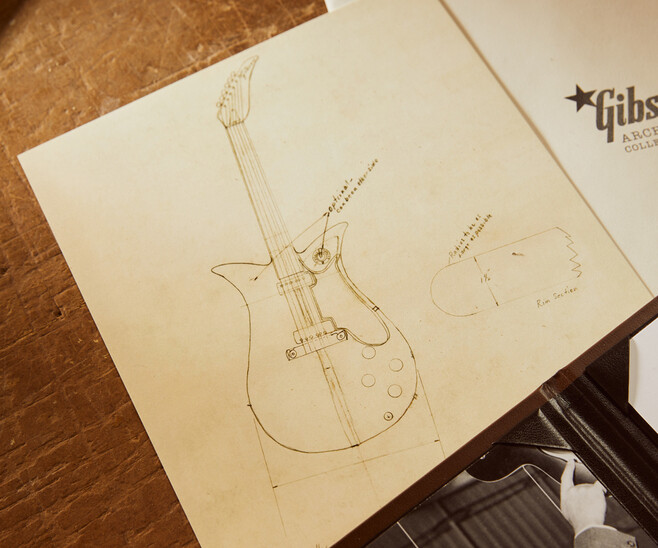 This very special "Archive Collection" run is limited to just 318 total instruments to represent the date of Ted's original design sketch, March 18th 1957. Each will include a historic-style brown/pink case, a premium leather strap, a print of the original signed drawing, a 1957-style catalogue page print and a deluxe certificate of authenticity booklet.