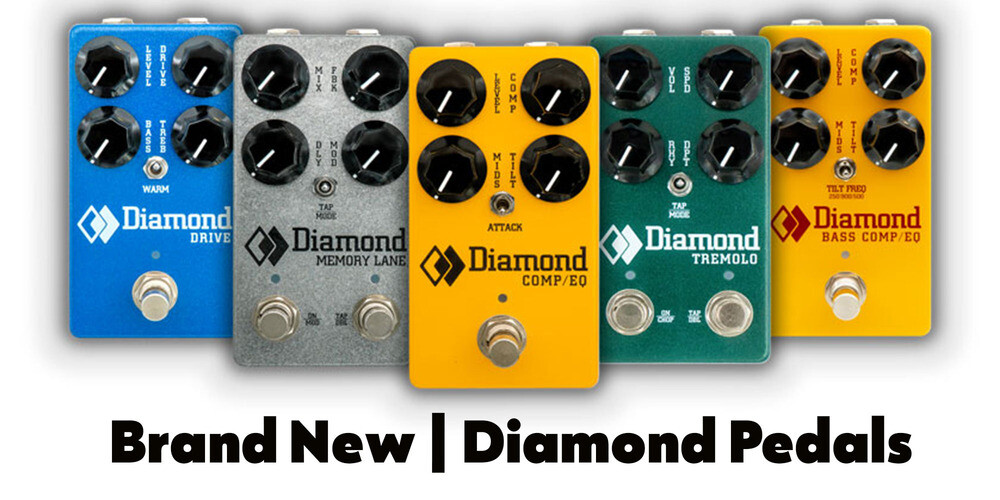 New Release | Diamond Pedals
Let's talk about Diamond Pedals, if you're a pedal nut like us then you've probably already heard of these guys, if not, then you're in for a treat! Favoured by the likes of Andy Timmons, The Edge and John Mayer, these guys know tone and how to turn the sound in your head into a tangible and usable sound.
Late last year there were rumours that Diamond were quietly going to wind down their production and fade into nothing more than a happy memory. This would have been disappointing to say the least, but fear not, because another tone titan, SolidGoldFX, has stepped up and saved this cult brand from the abyss.
SolidGoldFX operate out of Montreal, Canada, and have a stellar lineup of pedals themselves, favourites of ours include the "If 6 Was 9" Fuzz and the "Ether" modulated reverberator, (you can check out these products in more detail by clicking on the listings to the side).
SolidGoldFX are keen to ensure that, while both companies will operate from the same workshop, they will remain 2 individual entities, bringing their own flavour and uniqueness to the table.
With a new and improved lineup, Diamond Pedals will continue to be a force, under the guidance and considerate eye of SolidGoldFX only good things can come! We're super excited to be able to offer these fantastic pedals to you guys and you can expect some more fantastic videos from our studio as soon as stock lands!
We're particularly excited to get our hands on the "Memory Lane" delay, a totally fresh take on the classic Diamond "Memory Lane". This new version offers double the delay time, a more compact housing and extended frequency response, essential upgrades for today's modern players. This pedal is sure to be a massive hit!
As always, you can buy with confidence from Peach Guitars. From meticulously inspecting each piece of equipment, professionally setting up each guitar, tracking every package, and delivering the best after-sales customer service, our team will do our best to make you feel welcome and offer genuine, professional advice.