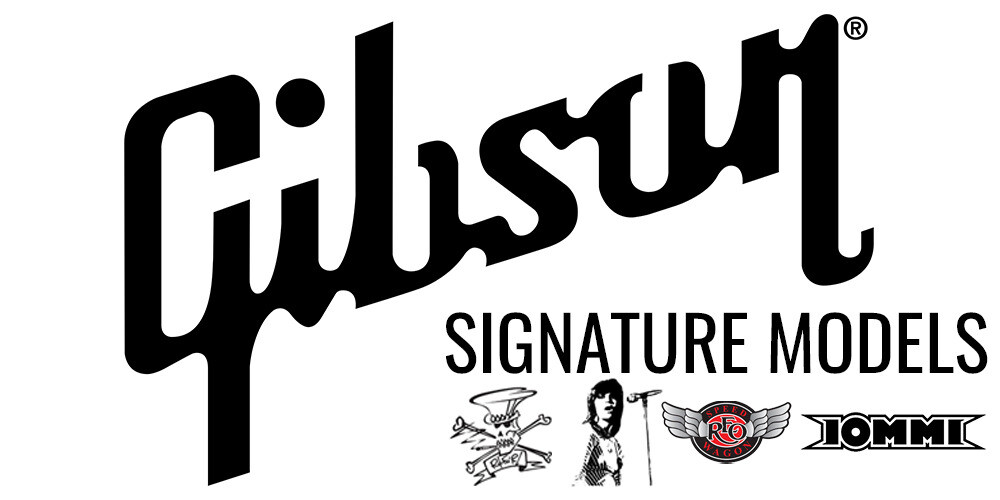 Gibson Signature Guitars at Peach Guitars
Gibson have been at the very top of the guitar game since the 1950s. Building some of the most iconic guitars of all time, they have a real magic that many have tried, and failed, to replicate.
It's no wonder that some of the worlds most elite players have become synonymous with their Gibson guitars. From the hands of Robert Johnson right through to modern day heroes like Lzzy Hale and Richie Faulkner, there's no mistaking that classic Gibson mojo. We have a great selection of Gibson Signature line guitars in store right now and you are not going to want to miss out!
NAMM 2020 was a huge event for Gibson and saw the announcement that one of rock music's most important pioneers would be honoured with a new signature model. The father of modern day metal, Tony Iommi. For almost 50 years Tony Iommi was the heart and soul of Black Sabbath, his dark, minor key riffing, high gain distorted tone and use of alternate tunings put him at the very forefront of guitar. Over his long career, Iommi has been a loyal player of the Gibson SG, and now for 2020, you can get your hands on the Limited Edition Custom Artist Series run of the iconic 1964 "Monkey" SG that graced many of the early Sabbath records.
Nicknamed "Monkey", this guitar is the Holy Grail of Black Sabbath guitars. Heavily modded, reverse engineered and painstakingly replicated, this is the blue print to Iommi's tone. Available as an extremely limited run pair, featuring both a left handed and right handed model, the "Monkey" is a collectors dream!
On the list of iconic Gibson Les Paul players, there are not many that will rank higher than Slash. With his leather trousers, top hat and a low slung Les Paul, Slash inspired a whole generation of guitar players. Fresh off the back of a number of Gibson Custom signature lines, Gibson USA have jumped in on the action and released the brand new Slash Les Paul Standard and J-45. Representing the iconic guitars that Slash continues to take to the stage with him night after night, these guitars are peak Gibson USA.
With an AAA Flame Maple top and available in 4 prominent Slash finishes, November Burst, Appetite Burst, Vermillion Burst and Anaconda Burst, these guitars are bold, vivid and the perfect look for a player as standout as Slash.
Slash inspired a whole generation of guitar players and such is his impact that it came as no surprise when Gibson announced him as their first ever Global Ambassador, their latest Custom Shop project? The Gibson Slash 1966 EDS-1275 Double neck.
Double neck guitars are an almost mythical concept, only the greatest and bravest can truly harness the power of one, and Slash is one of those players. Picked up from a small Indiana guitar store in 1990, it quickly became a part of his rotation. Only 11 of these beauties are coming to the UK with only 125 available worldwide. Each one is hand signed by Slash himself and comes housed in a vintage replica hardcase with a custom Slash concho guitar strap and COA.
Joan Jett is punk rock royalty. A founding member of The Runaways and Joan Jett and the Blackhearts, she has a reputation for raucous riffs and high energy performance.
Most well known for her favouring of the Gibson Melody Maker, recently Joan has been taking to the stage with a Gibson ES-339. Compact and rich in tone, it's a great choice. Gibson have now released a special edition Joan Jett signature 339. This limited run signed version is one of only 50 worldwide!
Dave Amato has a pretty impressive rock CV, not only is he the lead guitarist for multi-million selling rock band REO Speedwagon but he has served as a worthy sideman for the likes of Cher, Ted Nugent and Richie Sambora.
A player with an enviable collection of guitars, his preferred weapon of choice currently is the awesome Dave Amato Signature Gibson Les Paul Axcess.
With such an incredible roster of signature artists it's no surprise that Gibson continue to dominate.
All of these guitars are available with FREE UK shipping and you can grab one via our great range of finance offers, apply online via the website and pay it off in instalments rather than one lump sum!