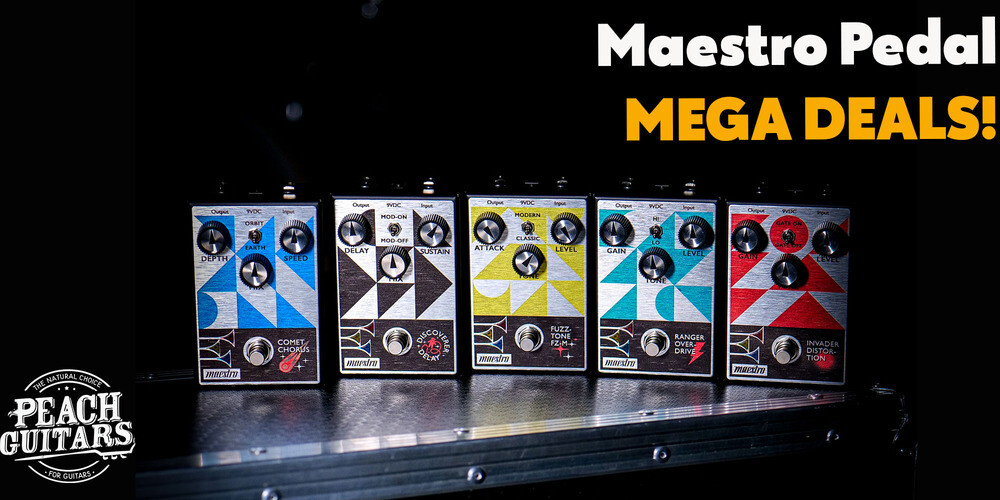 Peach Guitars | Maestro Pedals Mega Deals!
A year on from their big reintroduction in the big wide world of guitar effects, Maestro are going from strength to strength! Part of the Gibson family of brands, Maestro have a long and proud history of effects supremacy and their latest endeavours are equally as impressive.
Widely regarded as the "Founder of Effects", Maestro pedals are something of rock 'n' roll royalty. When they delivered the flagship FZ-1 back in 1962, the game was changed forever. Everyone from Pete Townshend, Peter Frampton, George Harrison and Keith Richards were diggin' what Maestro was putting down. Maestro have always strived to capture the sound you hear in your head, direct to your guitar.
With a second batch of incredible pedals now out in the wild, including the Agena Envelope Filter, Mariner Tremolo, Arcas Compressor and Titan Boost, we'd love to draw your attention to a selection of the first run that we've got available for ridiculous prices!
First up, The Invader Distortion. If you've got a hankering for an all-analogue, hi-gain distortion that has a delicious harmonic response and rich sonic character, this little box of wonders is exactly what you're after! With a simple yet effective 3-knob control layout, the Invader features a built-in noise gate which can be kicked in via a toggle switch, giving you total tonal sculpting control. That's a mouthful but you get what I mean!
We love it, you'll love and because we love you, you can have one for just £79. That's right, £79 Great British Pounds. Madness.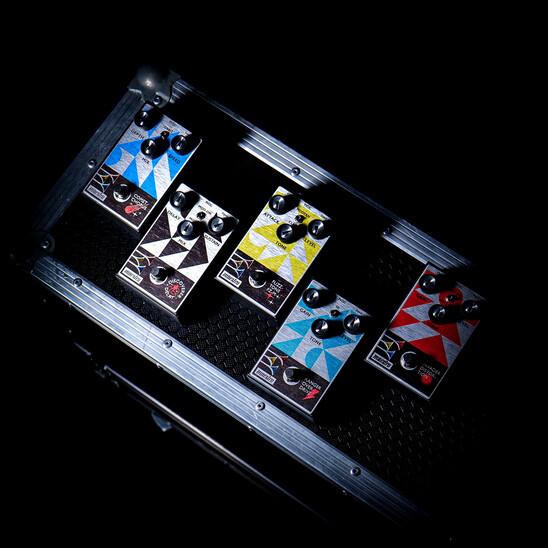 Everybody loves chorus, right? Those silky smooth '70s and '80s tones just fall out of pedal number 2, the Maestro Comet Chorus. Utilising the legendary bucket brigade technology, the Comet is warm, fluid and shimmering. Aside from the usual chorus based delights, the Comet features a rad "Mode" toggle switch which allows for extra tonal possibilities. The Earth mode provides an optimised, shimmering chorus effect, while Orbit mode adds some amplitude modulation to the chorused sound, more accurately simulating the sonic complexities of a rotary speaker.
Sound like it's the missing ingredient from your pedalboard? Well, it's also £79 so grab one while you can and see what the fuss is all about!
Really, another pedal at just £79? Yep, and this ones a doozy, the Maestro Ranger Overdrive.
The Ranger is a modern, all-analogue overdrive pedal inspired by the overdriven tones of some of the world's most cherished vintage tube amps. The super useful Mode toggle switch provides you with two different tonalities; a warm, expressive, amp-like overdrive and a second tonality that's slightly cleaner and exceptionally touch-sensitive; it blends in some of the clean signal and is a great choice for use as an "always on" effect.
Last but by no means least, is the Maestro Discoverer Delay, an absolute treat of a delay and a regular feature in our video studio!
The Discoverer is a modern analogue delay pedal that utilises legendary analogue bucket brigade device technology to deliver classic, warm and inviting delay sounds. Hit the toggle switch and you engage the built-in modulation that applies anything from a lightly saturated tape effect to a heavily pitch-shifted modulation effect. With a pair of internal trim pots you can adjust the rate and width of the modulation for those extra tone shaping needs. It's a fantastic delay and can fulfil a range of applications, we love it paired up with vintage fuzz pedals and amp drive!
We've got a few of these beauties left and you can get one for just £89, a bargain!
Mat Koehler, Head of Product Development, Gibson Brands says "We're using the distinct Maestro aesthetic to develop unique takes on each of these effects, in a way that's fun and looks back at the past, but with an awareness of what modern guitarists require. Everyone at Gibson felt a responsibility and obligation to revive Maestro because it's so important to pedal history."
Check out our video to get a flavour for what these pedals are all about, browse the listings to the side and get your order in NOW!
As always, you can buy with confidence from Peach Guitars. From meticulously inspecting each piece of equipment, professionally setting up each guitar, tracking every package, and delivering the best after-sales customer service, our team will do our best to make you feel welcome and offer genuine, professional advice.