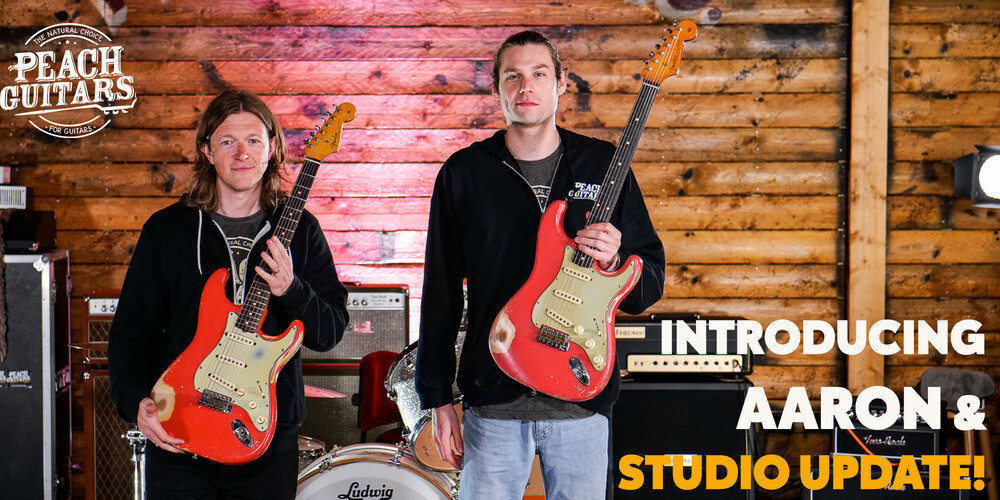 Peach Guitars | Introducing Aaron & updated studio rig!
Fans of our Youtube channel will have already experienced the fantastic playing ability of our new Video Demonstrator, Aaron, but we thought you guys would like to get to know him a little better! So settle in and check out the video below as John asks the questions you're all eager to hear Aaron answer!
Aaron's arrival also seemed a fitting time for us to re-evaluate our studio rig. We've had a pretty settled rig for several years now but in the spirit of improvement and evolution, we've spent a considerable amount of time tweaking, experimenting and hopefully settling on a new set up that will take our tone to new heights!
This, of course, is a work in progress, we know as well as anybody that your rig is never truly finished! We'll be looking to improve both the tone and quality of our videos as we find our groove with Aaron, but I'm sure you'll agree that the videos we've put out so far are as good as anything we've done previously!
If you fancy trying some of the studio gear for yourselves, we've put links to all the available products in the bar at the side. If you click through you'll get full product descriptions, stock availability details, and where available some great videos and studio photos!
As always, you can buy with confidence from Peach Guitars. From meticulously inspecting each piece of equipment, professionally setting up each guitar, tracking every package, and delivering the best after-sales customer service, our team will do our best to make you feel welcome and offer genuine, professional advice.