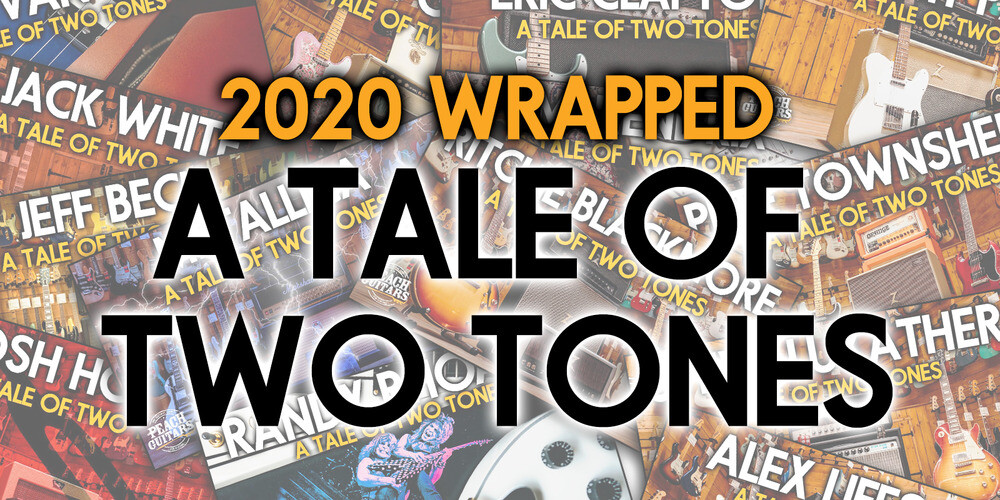 A Tale of Two Tones : Wrapped!
Well, the year is (finally) drawing to a close, and it's been quite the experience for us all! Though there have been many harrowing incidents out there in the real world, the virtual one provided by YouTube has been a necessary comfort to us all, and we at Peach Guitars have certainly been thriving in all areas when it comes to engaging with customer and viewers, keen to funnel their extended screen-time at home in to a positive direction - geeking out about guitars!
Just over half way in to the worst year in recent memory, we decided to test out a new idea - what if we filmed a video, focusing largely on the recent addition of a Masterbuilt, signature Fender guitar, pairing it with a legendary amp rig, as used by said artist. Then, why not throw in a reference point, contrasting this latter-day setup with the one that made them famous - a throw-back to when their playing style, and thus their tone, was vastly different to what it would later become? In short, we birthed the idea of the 'Tale of Two Tones' series, featuring Mr. Eric Clapton. Not a bad start!
Since that original video piqued many of our existing (and many new) viewers' interests, we figured that we may have just landed on an interesting concept to apply to some other legendary names of the guitar world - tracking the transition from the earliest tonal exploits, usually more raw and stripped-back in nature, through to their evolved, more polished rigs that followed many years of artistic development and stylistic changes. In short, an old rig, and a newer rig!
This poses an obvious hurdle - the tone is largely in the hands of those players, right? Well, correct! Without meticulous study of every single one, it would be near-impossible to recreate a specific tone entirely, let alone with just the gear available to us in the store… so instead, we used reference points to try and get inside the heads of those artists: to understand WHY they chose the gear they did, and how it informed their playing. Despite using this approximated approach, on many occasions, we managed to get pretty close, with guitar tones those artists themselves could be proud of!
So, to celebrate how well the series was received, we just wanted to say a big thank you for your incredible support. If you found out about Peach Guitars through watching a video of the tale of one YOUR favourite guitar player's tones, then thank you! Maybe you haven't had the chance to check out the series in its entirety, so to save you some time, we've wrapped up the series for 2020, and would like to present the Top 5 'Two Tones', as voted for by you, the viewers!
Check out the video, let us know what you think of the Top 5 in the comments, and if your favourite player from the Two Tones series didn't make the cut, then let us know your top pick, too!
We'd like to offer huge thanks to every single one of you for watching and supporting what we've been doing this year. Despite being a dismal year for most, the enthusiasm for all-things guitar is truly unwavering, and we're thrilled that so many of you share the love for our favourite artists, and how they continue to inspire our own gear choices to this day.
Have yourselves a great holiday season, and we'll be back with plenty of fresh and exciting content for 2021.
Take care of yourselves, and we'll see you soon!
Jack