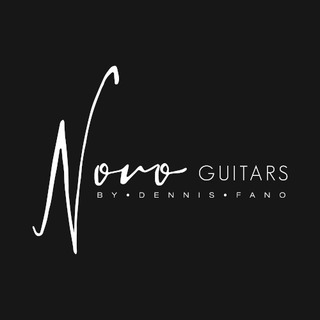 Novo Select Serus P2 | Gold Top Gold - Tortoiseshell Pickguard
Fralin P-90s - TonePros TOM w/Stoptail - Kluson Supreme Tuners - Thin Nitro Finish - Mono Case
We are thrilled and immensely proud of the relationship between Peach and Novo. Our fearless leader, John, has been a devoted customer of the brand for years, amassing a significant collection of these guitars due to his genuine passion for them. For the last few years, Novo handled all sales directly, but now we are delighted to announce that Peach will be stocking and selling these exquisite instruments exclusively in the UK. Our entire staff understands the perfect combination of retro-cool aesthetics, outstanding reliability, and innovative features that Novo guitars embody. They possess a timeless yet contemporary appearance that defies description but exudes undeniable coolness.
Moreover, once you hold one of these guitars in your hands, you'll be astounded by the unparalleled feel of the neck. It truly sets a new standard. We are thrilled to offer these guitars to customers without the need for a custom order or overwhelming choices. However, we urge you to act swiftly, as once a model is sold out, it may be unavailable for an extended period.
View In Showroom
Request an appointment with one of our team
WAYS TO PAY:

Experience the pinnacle of craft skills and sonic versatility with the Novo Select Serus P2. Meticulously designed and built to perfection, this exceptional electric guitar is the ultimate instrument for discerning musicians who demand the best. Let us take you on a journey through the remarkable features that make the Novo Select Serus P2 a true masterpiece.
The heart and soul of the Novo Select Serus P2 lies within its powerful Fralin P-90 pickups. Renowned for their rich and expressive tone, these pickups deliver a wide range of sonic possibilities. From sparkling cleans to searing leads, the Fralin P-90s offer exceptional clarity, warmth, and dynamic response. Prepare to be captivated by the expressive nuances and articulate character that these pickups bring to your playing.
Equipped with a TonePros TOM bridge with a stoptail, the Novo Select Serus P2 ensures rock-solid stability and exceptional intonation. No matter how hard you play or how intricate your riffs become, you can trust this high-quality bridge system to keep your strings perfectly in tune. It's time to unleash your creativity without any limitations.
Crafted from tempered pine, the Novo Select Serus P2 offers a unique tonal palette. This carefully selected wood enhances the guitar's resonance, resulting in a balanced and resonant tone that cuts through the mix. Complementing the body, the tempered maple neck provides a perfect combination of stability and comfort, allowing you to effortlessly navigate the fretboard.
Its contoured body shape is designed to fit your body closely, allowing for a more comfortable playing experience. The contours can provide a natural resting position for the player's arm and torso, reducing fatigue. It also adds visual appeal and uniqueness to the guitar, showcasing the craft skills and artistic vision of the Novo team, making the Serus P2 visually striking and distinctive.
Experience ultimate playing comfort with the Novo Select Serus P2's rosewood fingerboard. The smooth texture and exquisite feel of rosewood allow your fingers to glide effortlessly across the strings. From gentle chords to lightning-fast runs, the rosewood fingerboard provides the perfect platform for expressing your musical ideas.
Effortlessly find your way across the fretboard with the elegant MOTO dot inlays. These tasteful markers offer a visual reference while maintaining the guitar's clean aesthetic. No distractions, just pure focus on your performance.
Designed with your comfort in mind, the Novo Select Serus P2 features a medium 'C' neck carve. The carefully sculpted profile (.830") provides an ergonomic grip that fits naturally in your hand, reducing fatigue during long playing sessions. Get ready to unleash your creativity without any hindrances.
Enjoy exceptional playability and effortless string bending with the 9.5"-14" compound fingerboard radius. This ergonomic design ensures a comfortable playing experience in all positions, allowing you to explore new musical territories without any limitations.
The Novo Select Serus P2 boasts a 25.5" scale length, striking the perfect balance between string tension and resonance. This carefully calculated scale length enhances note definition and sustain, giving your playing a distinct voice and ensuring every nuance is heard.
The 22 medium frets (.047"x.095") of the Novo Select Serus P2 offer exceptional playability and allow for effortless bends and expressive playing. With these perfectly crafted frets, you'll unlock a world of melodic possibilities, from smooth legato lines to blistering solos.
Designed with comfort in mind, the Novo Select Serus P2 features a 1.65" nut width. This wider nut allows for easy chording, giving your hand more space to navigate complex chord shapes with precision and accuracy.
Enhance the natural resonance and sustain of your notes with the unbleached bone nut. This premium material ensures optimal energy transfer from the strings to the body, resulting in enhanced tone and clarity. Prepare to be blown away by the rich harmonic overtones and pristine note articulation.
Experience effortless tuning stability with the Kluson Supreme tuners. Their staggered posts provide the perfect string tension, eliminating the need for string trees and enhancing tuning accuracy. No matter how aggressive your playing style, these reliable tuners will keep your strings locked in tune.
Unleash the full potential of your tone with the Emerson Custom paper in oil capacitor. This premium component enhances the clarity, warmth, and musicality of your guitar's electronics, ensuring that every note sings with exceptional detail and nuance.
The Novo Select Serus P2 features a thin nitrocellulose lacquer finish that allows the natural resonance of the wood to shine through. Not only does it protect the guitar's body, but it also enhances the overall tonal response, providing a rich and resonant sound. Prepare to be mesmerised by the sonic beauty of the Novo Select Serus P2.
Unlock the true potential of your Novo Select Serus P2 with Stringjoy 10-48 strings. These high-quality strings offer exceptional balance, clarity, and responsiveness across all registers, allowing you to achieve the perfect blend of punch and articulation.
The Novo Select Serus P2 features a light distress finish that adds a touch of vintage character and mojo. This tasteful distressing gives the guitar a well-worn look, reminiscent of beloved vintage instruments, while still maintaining its exceptional playability and reliability.
Protect your Novo Select Serus P2 in style with the included Mono M80 hybrid case. Designed with durability and convenience in mind, this case ensures your guitar is safe during transportation, allowing you to take your tone wherever you go.
With its impeccable craft skills, premium components, and exceptional tonal versatility, the Novo Select Serus P2 is the epitome of guitar perfection. Whether you're a discerning professional or an aspiring enthusiast, this instrument will ignite your creativity and allow your true tone to shine. Prepare to embark on a musical journey unlike any other with the Novo Select Serus P2.