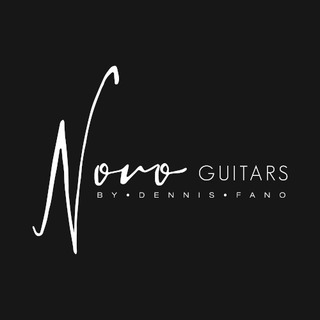 Novo Select Serus J | Foam Green - Aged Pearloid Pickguard
Fralin P-90s - Mastery Bridge & Vibrato - Kluson Supreme Tuners - Thin Nitro Finish - Mono Case
We are thrilled and immensely proud of the relationship between Peach and Novo. Our fearless leader, John, has been a devoted customer of the brand for years, amassing a significant collection of these guitars due to his genuine passion for them. For the last few years, Novo handled all sales directly, but now we are delighted to announce that Peach will be stocking and selling these exquisite instruments exclusively in the UK. Our entire staff understands the perfect combination of retro-cool aesthetics, outstanding reliability, and innovative features that Novo guitars embody. They possess a timeless yet contemporary appearance that defies description but exudes undeniable coolness.
Moreover, once you hold one of these guitars in your hands, you'll be astounded by the unparalleled feel of the neck. It truly sets a new standard. We are thrilled to offer these guitars to customers without the need for a custom order or overwhelming choices. However, we urge you to act swiftly, as once a model is sold out, it may be unavailable for an extended period.
View In Showroom
Request an appointment with one of our team
WAYS TO PAY:

Introducing the Novo Select Serus J - a guitar crafted with precision and passion to deliver an exceptional musical journey. Let us take you through the remarkable features that set this instrument apart:
Immerse yourself in the warm, rich tones produced by the legendary Fralin P-90 pickups. These pickups offer incredible clarity and a dynamic range, allowing you to express your musicality with every note. From smooth bluesy licks to gritty rock riffs, the Fralin P-90s will make your guitar sing.
Experience unrivalled stability and enhanced sustain with the Mastery Bridge and vibrato system. This innovative design ensures precise intonation and impeccable tuning stability, giving you the confidence to explore new sonic territories without limitations.
The tempered pine body of the Serus J provides a tonal resonance that is unmatched. This carefully selected wood not only offers a balanced and vibrant sound but also reduces the overall weight of the guitar, allowing for unparalleled comfort during those long sessions on stage or in the studio.
Its contoured body shape is designed to fit your body closely, allowing for a more comfortable playing experience. The contours can provide a natural resting position for the player's arm and torso, reducing fatigue. It also adds visual appeal and uniqueness to the guitar, showcasing the craft skills and artistic vision of the Novo team, making the Serus J visually striking and distinctive.
Designed for effortless playability, the tempered maple neck offers a smooth and comfortable feel in your hands. Combined with the rosewood fingerboard, this combination ensures superb note articulation and a warm, inviting tone.
The MOTO dot inlays on the fingerboard add a touch of elegance to the Novo Select Serus J. These eye-catching markers not only enhance the guitar's aesthetics but also provide visual reference points, making it easier than ever to navigate the fretboard with precision.
Designed to fit comfortably in your hands, the medium 'C' neck carve (.830") offers a familiar feel that is perfect for both rhythm and lead playing. Whether you're playing intricate chord progressions or unleashing blazing solos, this neck profile ensures a smooth and enjoyable playing experience.
The carefully calibrated 9.5"-14" fingerboard radius strikes the perfect balance between classic and modern playability. It allows for effortless string bending while maintaining excellent string-to-string clarity and consistency across the entire fretboard.
The 25.5" scale length and 22 medium frets provide an ideal platform for expressive playing. Enjoy effortless string tension and access to higher registers, empowering you to explore new musical territories and push your creative boundaries.
The 1.65" nut width offers ample spacing between strings, providing enough room for intricate fingerstyle playing or aggressive strumming. The unbleached bone nut ensures exceptional sustain and resonance, contributing to the overall sonic excellence of the instrument.
Experience smooth and precise tuning stability with the Kluson Supreme tuners. The staggered post design eliminates the need for string trees, reducing friction and enhancing the overall tuning accuracy.
Novo Select Serus J features an Emerson Custom paper in oil capacitor, ensuring a transparent and smooth tone control. Every subtle nuance of your playing will shine through, allowing you to sculpt your sound with precision.
The thin nitrocellulose lacquer finish not only provides a protective layer but also allows the natural resonance of the wood to shine through. This high-quality finish enhances the guitar's tonal characteristics while adding a touch of timeless elegance to its appearance.
Novo Select Serus J comes equipped with Stringjoy 10-48 strings, offering a balanced tension and a lively response. These strings provide a harmonious marriage between playability and tone, ensuring that every note you play is full of life.
With its light distress treatment, the Novo Select Serus J exudes a vintage vibe while retaining its modern reliability. This tasteful distressing gives the guitar a unique character and adds a touch of personality to your playing.
Protect your investment with the Mono M80 hybrid case, a stylish and rugged companion for your Novo Select Serus J. Designed to withstand the rigours of the road, this case ensures that your guitar stays safe and secure wherever your musical journey takes you.
Experience the Novo Select Serus J and unleash the full potential of your playing. Immerse yourself in its exceptional craft skills, unrivalled tonal capabilities, and effortless playability. Elevate your sound and captivate audiences with an instrument that embodies the perfect fusion of tradition and innovation. The Novo Select Serus J - where sonic excellence meets artistic expression.