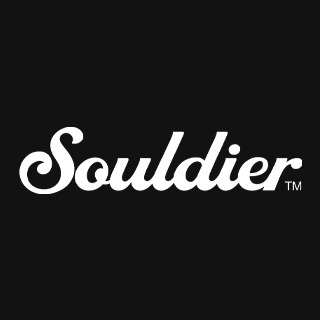 Souldier Seatbelt Guitar Straps | Classics - Brown
Simple & Classy w/Same Souldier Quality - Brown Upcycled Seatbelt Strap w/Dark Brown Leather Ends
For those that aren't into flashy looks and just want to get back to the classy basics without losing product quality. This particular strap features a brown upcycled seatbelt with silver buckle and dark brown 2-ply leather ends that are guaranteed to last a lifetime.
View In Showroom
Request an appointment with one of our team
WAYS TO PAY:

Are you tired of mundane, mass-produced guitar straps that lack soul and character? Look no further than Souldier Seatbelt Guitar Straps, the epitome of craftsmanship and vintage flair, proudly handcrafted in their Chicago workshop. Souldier brings a unique blend of artistic creativity and soulful passion to every strap they produce, and their Seatbelt range is no exception.
Dive into a world of creativity and expression with Souldier's vast selection of straps, each infused with distinctive designs that set them apart from the crowd. But that's not all! Souldier takes it a step further by meticulously recreating some of the most iconic guitar straps ever produced, letting you connect with musical legends of the past while playing your own tunes.
What sets the Seatbelt guitar straps apart is their focus on a more uniform design that subtly complements your guitar's aesthetics. However, for those who want to make a bold statement on stage, Souldier offers an array of neon strap colours that are sure to catch everyone's eye.
Unrivalled in quality, Souldier straps feature upcycled seatbelt materials that ensure smooth gliding on your shirt, enabling you to move freely while creating music. Putting on and taking off your strap becomes a breeze, thanks to the easy-to-use design that allows for quick adjustments.
Worried about potential damage to your beloved guitar? Fear not! Souldier's metal hardware is skilfully welded with smooth rounded edges, ensuring it won't scratch or nick your instrument while providing exceptional durability. The signature 'snake head' leather ends are double-thick and securely stitched with the trademark Souldier pattern, making them both sturdy and stylish. Additionally, the buttonhole is meticulously cut to the perfect size, preventing any unwanted overstretching.
Flexibility and comfort are paramount, and Souldier's Seatbelt straps deliver on both fronts. With reinforced seams, the 2" wide strap extends from 35" to 58", accommodating players of all sizes and preferences. The strap ends are backed by Souldier's guarantee for the life of the product, further highlighting their commitment to quality and customer satisfaction. Each strap proudly bears the iconic Souldier brand, a testament to the passion and pride infused into every piece.
Embrace the spirit of Souldier and indulge in the timeless authenticity of vintage patterns. As an exclusive UK dealer for this iconic brand, Peach is committed to sharing Souldier's dedication to supporting emerging artists worldwide and investing in local music education facilities. Step into our Saloon and witness an impressive display of Souldier straps, outnumbering any other brand by twofold. Take your time to browse and find the perfect matching strap that resonates with your style and guitar today!